Teambuilding
Teambuilding is essentieel voor een team! Doormiddel van verschillende teambuilding activiteiten en oefeningen te doen met jullie team, zorgen jullie er met elkaar voor dat jullie een betere onderlinge vertrouwensband met elkaar creëren. Wanneer jullie een goede onderlinge vertrouwensband hebben, zorgt dit automatisch voor betere samenwerkingen en een veiliger gevoel op de werkvloer. Buiten dat teambuilding erg leuk is om te doen en het ervoor zorgt dat je je collega's beter leert kennen, zorgt het er automatisch ook voor dat er beter wordt gepresteerd en er meer wordt meegedacht! Al met al, teambuilding is dus super belangrijk! Om ervoor te zorgen dat jullie team een super team wordt, vinden jullie hieronder een top 5 van de effectiefste teambuilding activiteiten!
De top 5 effectiefste teambuilding activiteiten
Paintball
Hunger Games
Highland Games
Expeditie Robinson
Escape Rooms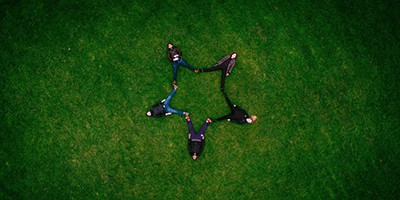 Paintball
Zijn jullie echte schietfanaten? Kies dan voor een paintball teambuilding uitje! Tijdens een paintball uitje strijden jullie in 2 teams tegen elkaar, waarbij er veel spelvarianten worden gespeeld. Zo kunnen jullie bijvoorbeeld; Team Deathmatch, Capture the Flag, Centre the Flag, Free-for-All en zombies spelen! Houden jullie wel van een uitdaging en zijn jullie niet bang voor een aantal verfvlekjes? Klik dan op deze link en boek jullie paintball uitje!

Hunger Games
Tijdens de Hunger Games gaan jullie verschillende spellen spelen waarbij behendigheid en samenwerking erg belangrijk zijn! De spellen die jullie gaan spelen tijden de Hunger Games zijn; Archery Tag, Electric Fence, Handboeienspel, Moerasspel en Shooting Games. Wat deze spellen inhouden blijft uiteraard een verassing en moeten jullie zelf komen ondervinden! Lijkt jullie deze teambuilding activiteit nou super tof? Klik dan op deze link en boek jullie Hunger Games uitje!

Highland Games
De Highland Games zijn traditionele clanspelen uit Schotland, die wij nu ook naar Nederland hebben gehaald. Ga de strijd met elkaar aan doormiddel van verschillende onderdelen tegen elkaar te spelen. Tijdens de Highland Games gaan jullie tegen elkaar; Band flipen, Paal werpen, Vat rollen en touwtrekken! Lijkt dit jullie een gave teambuilding activiteit om tijdens jullie teamdag te doen? Klik dan op deze link en boek jullie Highland Games uitje!

Expeditie Robinson
Iedereen kent natuurlijk wel het tv-programma 'Expeditie Robinson' en de proeven die erin dit programma gespeeld worden. Tijdens ons Expeditie Robinson spel gaan jullie vergelijkbare onderdelen spelen als in het tv-programma. Jullie balans, samenwerking en vuur maak skills worden op de proef gesteld tijdens deze spannende teambuilding activiteit. Welk team gaat er met de winst vandoor, Noord of Zuid? Klik op deze link en boek jullie Expeditie Robinson uitje!

Escape Rooms
Vinden jullie het leuk om raadsels op te lossen, houden jullie van spanning en kunnen jullie goed samenwerken? Kies dan voor een Escape Room als teambuilding activiteit! Doormiddel van verschillende raadsels en puzzels op te lossen, loodsen jullie jezelf door de Escape Room heen. Bij Fundustry Adventures hebben wij een ruim assortiment aan Escape Room thema's, waardoor er voor iedereen wel wat tussen zit. Klik op deze link en bekijk al onze Escape Room thema's!
Toch niks voor jullie?
Zit er nou toch geen geschikte teambuilding activiteit voor jullie tussen? Klik dan op deze link en bekijk ons volledige assortiment aan teambuilding activiteiten!
---
Geïnteresseerd in meer informatie over bedrijfsuitjes?
Meld je aan voor onze speciale Bedrijfsuitjes Nieuwsbrief!
---