Een workshop als teambuilding uitje
Vaak denken mensen dat actieve en sportieve activiteiten het beste zijn voor teambuilding uitjes, maar dit hoeft helemaal niet zo te zijn! Bij teambuilding gaat het er voornamelijk om dat de onderlinge band tussen collega's beter wordt, zodat iedereen beter met elkaar kan samen werken en ook meer op elkaar kan vertrouwen. Door met het team gezamenlijk leuke activiteiten te doen, ongeacht wat voor een activiteiten dit zijn, creëer je ook al een goede onderlinge band. Het gaat er vooral om dat iedereen het naar zijn of haar zin heeft en iedereen ook een keer iets met zijn of haar collega's doet wat niet werk gerelateerd is.
Samenwerking
Bij veel workshops die wij geven bij Fundustry Adventures, is het ook heel belangrijk om samen te werken. Een goede samenwerking is nodig om uiteindelijk tot een mooi en leuk eindresultaat te komen, maak bijvoorbeeld samen een mooi kunstwerk tijdens de workshop Action Painting of maak jullie eigen unieke geschilderde koe! Wanneer de samenwerking tijdens de workshop goed gaat, gaat dit automatisch op de werkvloer ook goed. Een uitstekende teambuilding activiteit dus!
Conclusie
Workshops zijn dus net zo goed en leuk om te doen met een teambuilding uitje als een actieve en sportieve activiteit! Het gaat er puur om wat jullie het leukste vinden om te doen!
Leuke teambuilding workshops
 Bij Fundustry Adventures hebben wij veel verschillende leuke workshops die je kunt doen als teambuilding activiteit! Een aantal van deze workshops vind je hier onder: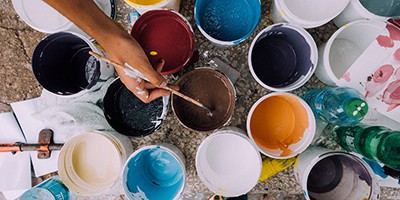 Zit er nou een workshop tussen die jullie leuk lijkt? Klik dan op de bijbehorende link en boek jullie persoonlijke workshop! Zit er niks tussen wat jullie leuk lijkt? Klik dan op deze link en zie ons volledige assortiment aan workshops!
Toch geen workshop als teambuilding uitje? Vind hier dan al onze andere teambuilding activiteiten!
---
Geïnteresseerd in meer informatie over bedrijfsuitjes?
Meld je aan voor onze speciale Bedrijfsuitjes Nieuwsbrief!
---