Ontsnap uit The Bathroom
"Het was een rustige maandagavond in het centrum van Dordrecht. We waren aangekomen op het afgesproken adres. We hadden echter geen flauw idee wat ons te wachten stond. Eenmaal door de deur begonnen we ons toch wel een beetje zorgen te maken. Een hele grote clown van 2 meter-weet-ik-veel-hoeveel stond ons op te wachten. Helemaal onder het bloed keek hij ons streng aan en wees naar de houten bankjes die tegen de muur stonden. De verder kale muur en het gebrek aan sfeervolle verlichting deed mij aan de binnenkant van een gevangenis denken. De grote clown stapte op ons af en sloeg ons in de boeien. Werden we nu gevangen genomen?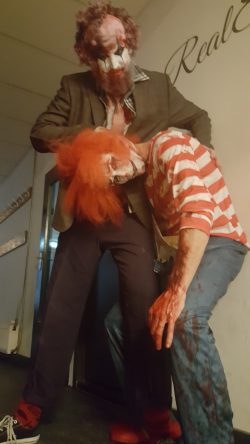 Met een harde, gemene lach draaide de grote clown zich om en smeet de deur achter ons dicht. Toen was het even stil… Plotseling ging er aan de andere kant van de kamer met een luid piepend geluid een deur open. Joshua en ik keken elkaar even geschokt aan, maar we stonden toch op en liepen richting de deur. Achter de deur zat een ruimte die op een badkamer leek. De badkamer zag er donker en verlaten uit onder de slechte, knipperende belichting.
Turend door de ruimte zagen we een douchegordijn hangen. Het zat onder het bloed en er waren handafdrukken op te zien. We keken elkaar weer aan en op dat moment werd de tweede deur dichtgesmeten. Achter de deur hoorde we die gemene lach weer. Hahahaaa! Er was geen uitweg meer, we zaten opgesloten. Even wisten we niet wat we moesten doen totdat we midden op de grond een envelop zagen liggen. Ik pakte hem op en staarde verdwaasd naar het stukje papier in mijn handen.
Ik wilde hem eigenlijk niet openen, maar Joshua drong aan…"
---
The Real Escape Bathroom
Je wordt met een groepje mensen in een kamer gedropt en de enige manier om te ontsnappen is door alle puzzels op te lossen. De Real Escape Room in Dordrecht heeft vijf verschillende kamers waar je uit kunt kiezen. Alle vijf de kamers hebben een ander thema en een andere graad van spanning, van fun voor kids tot en met dikke horror voor de echte die hard thrill seekers. Als je van een beetje spanning en avontuur houdt, is het zeker de moeite waard om het een keer uit te proberen.
"Hoe het met mij en Joshua is afgelopen? Wij wisten vijf van de zes puzzels op te lossen. En terwijl Joshua nog wanhopig een poging deed de laatste puzzel op te lossen, had ik nog net genoeg batterij in m'n laptop om dit verhaal te schrijven…"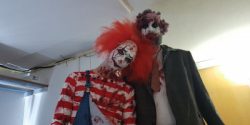 Durf jij het aan?
Durf jij nu nog Mr. Clown te ontmoeten? Boek nu voor The Bathroom in Dordrecht. Noteer bij reservering in het opmerkingenveld de code 'MRClown13' en betaal maar €99,- i.p.v. €120,-! *Korting wordt verrekend op locatie van Fundustry! Alleen geldig in The Bathroom op Vrijdag 13 juli 2018.*
---