Fundustry en Corona
Laatst geüpdatet 1 augustus 2020 – Bij Fundustry Adventures staat FUN altijd voorop. Toch volgen wij nauwlettend en secuur de adviezen van de overheid, en waar nodig nemen wij extra maatregelen om te voorkomen dat onze bezoekers mogelijk in aanraking komen met het coronavirus. Inmiddels is op al onze locaties een flink aantal aanpassingen gedaan.
Coronaproof uitjes
Om de afstand van 1,5 meter te kunnen waarborgen zijn enkele uitjes op dit moment niet mogelijk. Bekijk hier welke uitjes wel kunnen op 1,5 meter afstand. De maximale groepsgrootte is tijdelijk verkleind, grote groepen zijn welkom, maar worden opgesplitst in kleinere groepjes.
Aanpassingen voor enkele specifieke uitjes:
Bij gemotoriseerde activiteiten nemen er minder deelnemers in de voertuigen plaats
Bij paintball/airsoft is de capaciteit met 50% verlaagd per speelterrein, om nog meer ruimte te creëren
1,5 meter op Locaties
De capaciteit op onze locaties is fors verlaagd om de 1,5 meter afstand te kunnen garanderen. Op locaties is waar nodig:
eenrichtingsverkeer ingesteld
een aparte in/uitgang gecreëerd
aparte ontvangst en aanmeldruimtes gemaakt
Ook is er extra aandacht voor:
ruim opgezette horeca
meer pauzemogelijkheden, het liefst zitten wij buiten
voldoende ventilatie in binnenruimtes
veelvuldige reiniging en desinfectie van: materialen tijdens je uitje, toiletten, deurklinken en andere voorwerpen in en rond het gebouw
We vragen zowel deelnemers als collega's om thuis te blijven bij klachten. Met extra signing en communicatie vragen we aandacht voor het houden van afstand en het wassen van handen. Onze begeleiders attenderen je ook graag op deze twee gedragsregels voor ieders veiligheid en gezondheid.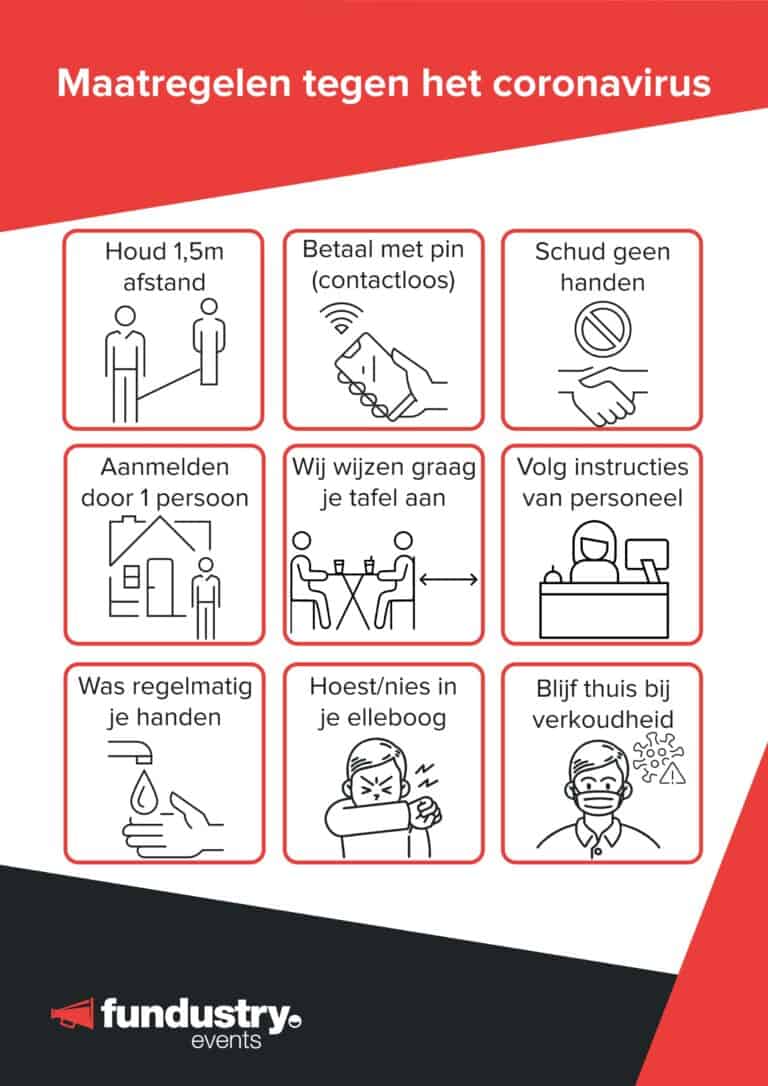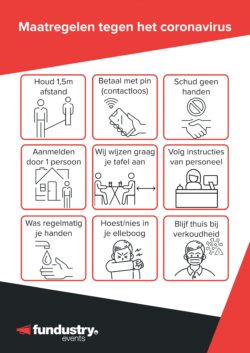 ---
Veel gestelde vragen over het Coronavirus aan Fundustry
1. Wat als ik toch graag mijn uitje wil verzetten i.v.m. Corona?
De datum van je uitje verplaatsen kan tot 4 weken van te voren. Hiervoor gelden onze standaard annuleringsvoorwaarden.
2. Kan er een uitzondering worden gemaakt voor Corona om mijn uitje te annuleren?
Nee, dat is helaas niet mogelijk. We denken graag met je mee of het mogelijk is om je uitje op het geplande moment naar een andere locatie te verplaatsen indien gewenst.
3. Waarom kan ik mijn geld niet terug krijgen?
Momenteel worden wij zwaar getroffen door de sluiting van al onze locaties vanwege het coronavirus. We vragen uw uiterste begrip voor onze situatie. Wij proberen zo flexibel mogelijk te zijn en kunnen daarom kosteloos uw uitje verplaatsen. Tijdens normale omstandigheden hanteren wij een annuleringstermijn van 4 weken. Vanwege de huidige overmacht situatie is het momenteel niet mogelijk een uitje te annuleren. U kunt het enkel verplaatsen naar een ander moment. Deze regeling, waarbij er dus een verbod op annuleringen is, wordt momenteel geformaliseerd tussen het ministerie van economische zaken, brancheverenigingen en consumentenbonden.
4. Mijn vraag staat hier niet tussen.
Onze collega's van klantenservice zijn beperkt bereikbaar i.v.m. grote drukte. We willen u vragen per e-mail contact te zoeken als het gaat over een uitje binnen de periode dat we dicht zijn. Mailen kan naar [email protected].
Tot slot
Het zijn voor ons en vele anderen die getroffen worden door de sluiting moeilijke tijden. We vragen daarom uw begrip voor de situatie.
---
De beste uitjes vind je bij Fundustry Adventures!
Een dagje uit organiseer je bij Fundustry Adventures! Met centrale liggingen en talloze activiteiten is niets te gek voor ons!
Fundustry Adventures organiseert al jaren succesvolle uitjes. Jij geeft aan wat je wilt doen en wij maken een uitje geheel op maat. Je hebt keuze uit tientallen verschillende activiteiten als: quad rijden, slipcursus, 4×4 rijden, paintball, driften en nog veel meer! Daarnaast biedt Fundustry Adventures ook uitgebreide horeca mogelijkheden om je uitje helemaal compleet te maken.
Met diverse centraal gelegen locaties in Nederland is Fundustry Adventures goed bereikbaar voor iedereen. Op onze locaties in: Assen, Gouda, Rotterdam, Eindhoven, Nijmegen, Amsterdam, Antwerpen, Dordrecht en Harderwijk is er voldoende plek om zowel kleine- als grote groepen te ontvangen. Daarnaast zijn de locaties goed bereikbaar en zijn er voldoende parkeerplekken aanwezig.
Waarom Fundustry Adventures? Jaarlijks ontvangen wij ruim 200.000 bezoekers en houden er vele positieve reacties aan over. Fundustry Adventures heeft vele combinatie mogelijkheden en biedt relatief goedkope uitjes aan. Met de vele locaties zijn wij altijd wel in de buurt!
De uitjes bij Fundustry Adventures beginnen al vanaf slechts €19,95 per persoon! Alle uitjes zijn inclusief begeleiding en groepsfoto. Kies uit onze uitjes of vraag een offerte aan om zelf een uitje samen te stellen. Neem contact met ons op om alle mogelijkheden te bespreken!