Waar komt paintball vandaan?
Oorspronkelijk komt paintball uit de Verenigde Staten, waar het in de jaren 1970 eigenlijk bedoeld was om bomen en vee mee te markeren. Niet echt een sport toch? Maar zoals zo vaak, kwam er later iemand op het idee om heel wat anders te gaan doen: in 1981 organiseerden daarom 3 vrienden in New Hampshire het eerste paintball gevecht!
Ontwikkeling van het spel
Op het begin was paintball dus nog echt een spel. Door technologische ontwikkelingen kwamen er steeds meer paintball-wapens op de markt en ging het balletje rollen. Steeds meer mensen hoorden van paintball en raakten meer en meer enthousiast: een ontwikkeling die je vandaag de dag terug ziet dankzij de miljoenen spelers en duizenden locaties!
Verschillende varianten
Op het begin van de opmars van paintball werd er eigenlijk maar 1 variant gespeeld: 'capture the flag'. Hierbij is het de bedoeling om de vlag van de tegenstander te veroveren en naar je eigen basis te brengen. Maar de laatste jaren is de keuze in spelvarianten enorm gegroeid. Je kunt veel verschillende thema's boeken in specifieke verhaallijnen, zoals bijvoorbeeld Black Ops Paintball. Dit maakt paintball nóg spannender!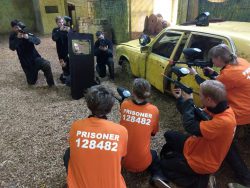 Spel of sport?
Maar dan nu natuurlijk de hamvraag: is paintball een sport of toch alleen een spel? De Dikke van Dale geeft de volgende definitie aan sport: 'allerlei lichamelijke oefeningen en ontspanning waarbij vaardigheid, kracht en inzicht vereist worden'. Is er vaardigheid nodig? Check! Kracht en inzicht? Check! Daarbij zijn er vaste regels en zelfs een competitie: absoluut een sport dus!
Sport om te spelen
Of je nu serieus wilt paintballen of voor de fun met vrienden of familie: deze sport is geschikt voor iedereen (boven de 18 jaar)! Het mooie is dat iedereen deze sport kan spelen en dat er genoeg locaties zijn om zowel binnen als buiten te sporten. Ideaal dus voor elk uitstapje op elk moment van het jaar!
Bekijk hier al onze paintball packages. Have fun!
---