Wassen na een dagje paintballen
Wanneer je een dagje bij Fundustry komt paintballen, wil je natuurlijk wel weten wat je te wachten staat en hoe je jezelf het beste kunt voorbereiden. Bij Fundustry maken wij gebruik van paintballs die op basis van water zijn gemaakt , dit houdt in dat de verf gemakkelijk uit wasbaar is. Uiteraard krijg je een overall en een masker van ons die je kleding extra zal beschermen tegen de verf en modder tijdens het de paintball game. Mocht er toch nog wat verf op je kleding komen is dit geen enkel probleem, spring gewoon met je kleding in een zwembadje of stap onder de douche met je kleren aan en het is weer schoon! Maar je kan het natuurlijk ook gewoon in de wasmachine gooien! Al met al, niks om jezelf druk over te maken dus!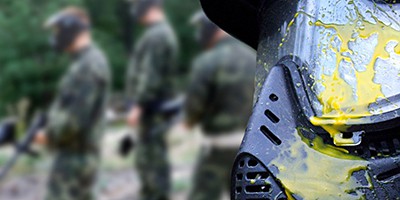 Mijn schoenen, hoe zit het daar mee?
Doordat onze paintball velden voornamelijk uit modder bestaan, kan dit na een forse regenbui voor een behoorlijk modderfestijn zorgen. Wij hebben geen schoenbeschermers die jullie prachtige stappers tegen deze blubber zullen beschermen! Wij raden het daarom wel aan om een paar oude schoenen mee te nemen of aan te trekken voordat jullie naar het paintball uitje komen.
Wij raden het jullie af om plastic zakken om jullie schoenen heen te doen tijdens jullie paintball uitje. Dit omdat plastic zakken voor erg glibberige situaties kunnen zorgen op een ondergrond van modder.
De paintballs
Bij Fundusty maken wij gebruik van paintballs die zijn gemaakt van gelatine. De buitenkant is gemaakt van een gelatine omhulsel. In de binnenkant van de paintballs zit een vloeistof die gekleurd is met een kleurstofje. Het voordeel hiervan is dat de paintballs zichzelf oplossen wanneer deze in aanraking komen met water en het dus ook niet schadelijk is voor de natuur. Doordat deze balletjes zichzelf oplossen, zijn ze dus ook makkelijk uitwasbaar uit je kleding!
Paintballen Fundustry Adventures
Ben je nu helemaal overgehaald en ben je opzoek naar een leuk dagje weg met familie, vrienden of collega's? Zoek dan niet verder en boek hier jouw paintball uitje bij Fundustry Adventures!
---