Light Pack
2,5 uur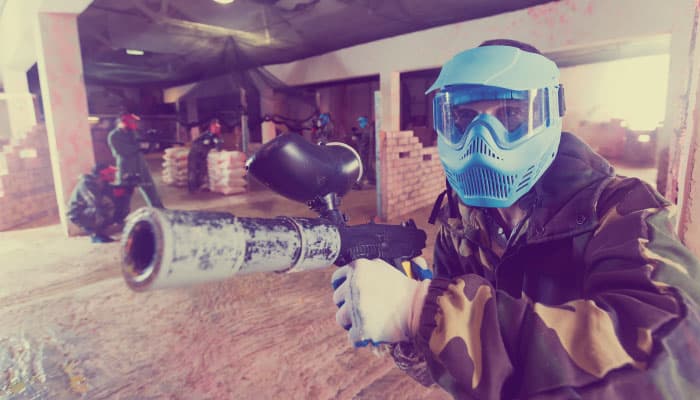 ✓

Inclusief 200 kogels

✓

Gratis kluisjes

✓

Gebruik konijnenpak
Boek
Normal Pack
2,5 uur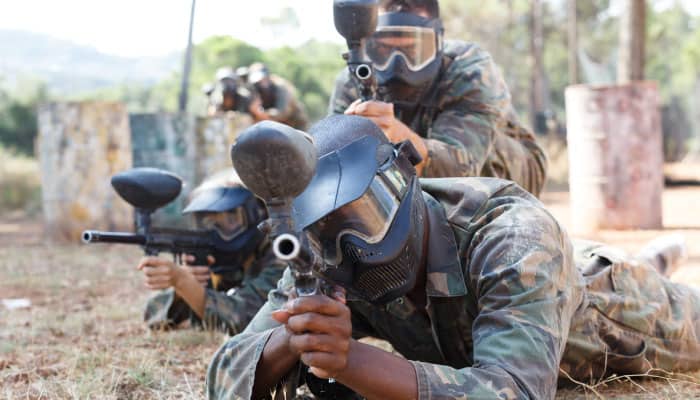 ✓

Inclusief 400 kogels

✓

Gebruik kluisjes

✓

Gebruik konijnenpak
Boek
Extreme Pack
2,5 uur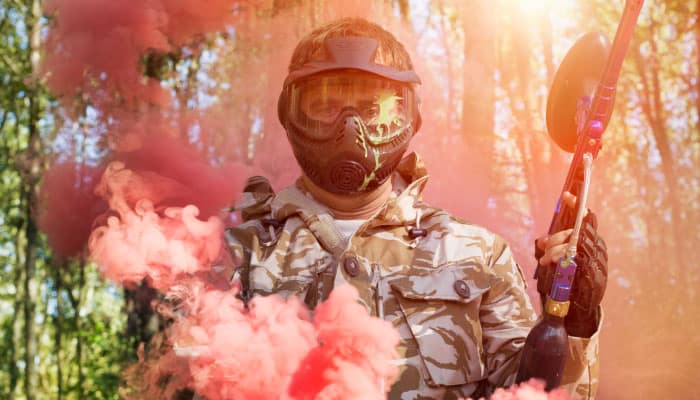 ✓

Inclusief 550 kogels

✓

Gebruik kluisjes

✓

Gebruik van Safety Pack

✓

Gebruik konijnenpak

✓

Gebruik van Extreme Gun
Boek
Termination Tournament
3 uur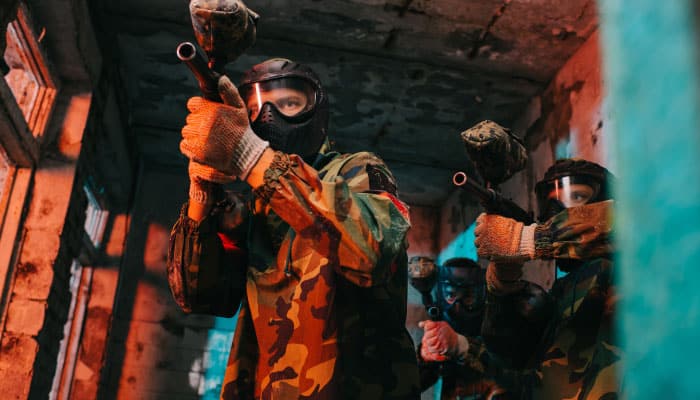 ✓

Paintball + 200 kogels

✓

Archery tag

✓

Airsoft + onbeperkt kogels
Boek
Fundustry XXL Deal
Meest populair!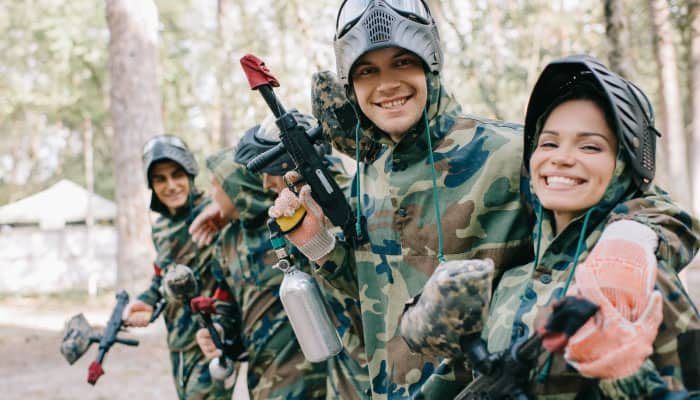 ✓

Koffie of Prosecco met Muffin

✓

Paintball met 300 kogels

✓

Extra activiteit naar Keuze

✓

Keuze uit BBQ of Kipmenu incl. 2 drankjes
Fundustry TOP Deal
Compleet pakket!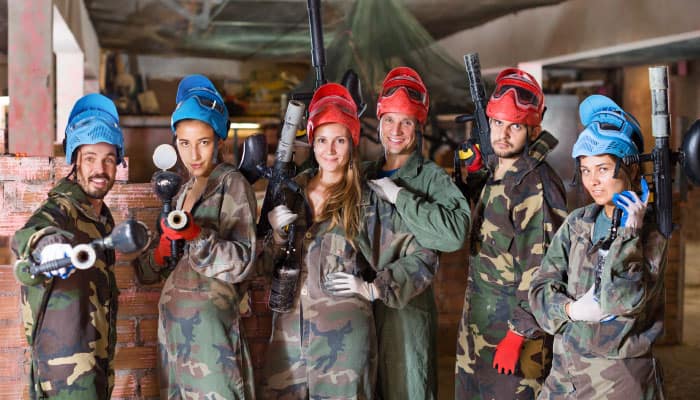 ✓

Koffie of Prosecco met Muffin

✓

Paintball met 300 kogels

✓

Extra 2 activiteiten naar Keuze

✓

Keuze uit BBQ of Kipmenu incl. onbeperkt drinken
---
Deze bedrijven zijn al fan!



---
Even knallen op het paintballveld!
In Antwerpen ligt een indoor paintballveld waar je voldoende ruimte hebt om te knallen met vrienden of collega's. Binnen is het wat donkerder zodat de strijd extra spannend wordt. Met een masker op en wapen in de hand ga je het veld in op zoek naar de tegenstander. Gevonden? Schieten maar! Knal de tegenstander af tijdens het spelen van vette games. Er zijn verschillende manieren om een spel te winnen.
Waarom paintball in België?
Woon je in België of vlak over de grens, dan heb je mazzel! In België is het namelijk toegestaan om te paintballen vanaf 16 jaar, in Nederland is de minimumleeftijd 18 jaar. Zo kun je met je vrienden nog vaker genieten van een echte paintballstrijd. Heb je deze leeftijd nog niet bereikt dan kun je kiezen voor een kinderfeestje kinderpaintball. Deze vorm van paintball gaat minder hard en is vooral leuk voor kinderen tussen 8 en 12 jaar.
---
Paintball Cadeaubon
Wil je dit uitje graag cadeau geven aan iemand? Dat kan! Bestel nu een cadeaubon voor een knallend paintball uitje vol actie. Je kunt kiezen uit verschillende kogelpakketten. Direct na het bestellen en betalen ontvang je de tegoedbon in je mailbox. Deze kun je digitaal versturen of uitprinten en afgeven aan de gelukkige ontvanger. De ontvanger kan op fundustry.nl/cadeaubon-boeken zijn cadeaubon verzilveren in slechts een paar stappen.
---
Paintball als teambuilding
Paintball speel je voor de fun, daar zijn de games op gericht. Je kunt paintball ook spelen tijdens een bedrijfsuitstap. Een echte teambuilding activiteit die jou en je collega's even goed wakker schud. In teams ga je het veld in en samen bespreek je de technieken die nodig zijn voor de overwinning.
Paintball Combi's
Wil je meer doen dan alleen paintball? Denk dan aan andere teambuilding activiteiten zoals de Highland Games of Expeditie Robinson. Blijf je liever even doorschieten, maar zoek je een alternatief voor paintball? Maak dan een combinatie met Archery Tag of Airsoft.
Ook combinaties met horeca zijn mogelijk bij Fundustry in Antwerpen. Wij denken graag met je mee in de mogelijkheden op de paintballlocatie in Antwerpen. Zo stellen we met gemak een arrangement samen dat je afsluit met een heerlijk BBQ op het gezellige terras.
Upgrades
Prijzen van de upgrades en extra paintballs
100 extra kogels – € 15 p.p.
Safety Pack – € 7,50 p.p.
Extreme gun – € 7,50 p.p.
---
Boek Paintball Antwerpen
Het leukste shooting uitje boek je snel en gemakkelijk. Direct een datum reserveren en betalen, meteen klaar voor het leukste dagje uit! Heb je een cadeaubon gekregen? Dan kun je de ontvangen code tijdens het boeken invullen. Boek dan het juiste uitje waar je een cadeaubon voor hebt. De prijs wordt dan automatisch verrekend.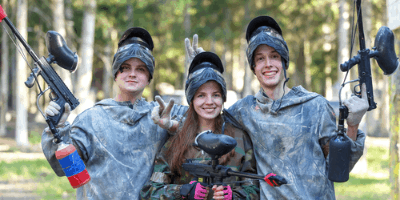 Is je groep te groot om te boeken?
Vraag dan een offerte aan!
Boek Cadeaubon Paintball
Op zoek naar een leuk cadeau? Ga voor een cadeaubon om te paintballen, kies voor het light (200 kogels), medium (400 kogels) of extreme pack (550 kogels) en verras je vriend(in) met een leuk uitje! Gemakkelijk en snel bestel je een cadeaubon, even afrekenen en binnen 2 minuten een mooie cadeaubon in je mailbox. Klaar om uit te printen en cadeau te geven! Wie ga jij verrassen met dit knallende uitje in de paintballarena?!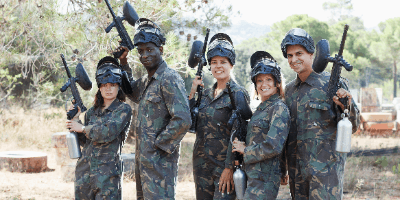 ---