Light Pack
2,5 uur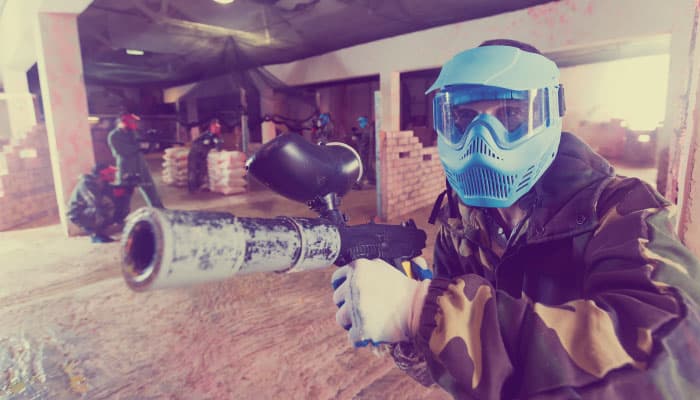 ✓

Inclusief 200 kogels

✓

Gratis kluisjes

✓

Gebruik konijnenpak
Boek
Normal Pack
2,5 uur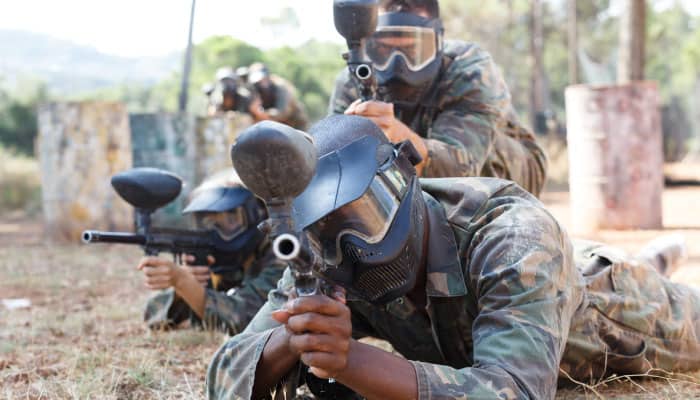 ✓

Inclusief 400 kogels

✓

Gebruik kluisjes

✓

Gebruik konijnenpak
Boek
Extreme Pack
2,5 uur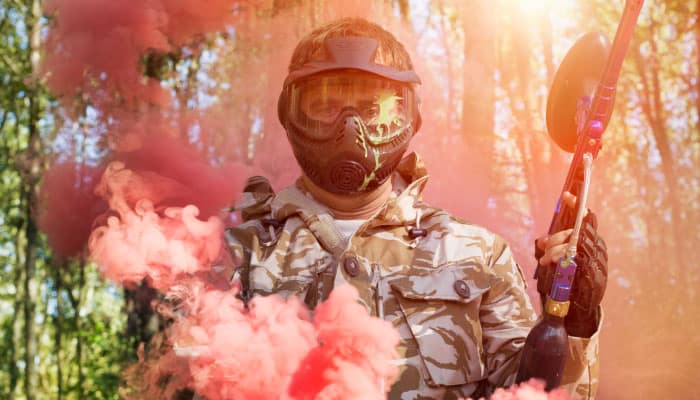 ✓

Inclusief 550 kogels

✓

Gebruik kluisjes

✓

Gebruik van Safety Pack

✓

Gebruik konijnenpak

✓

Gebruik van Extreme Gun
Boek
Termination Tournament
3 uur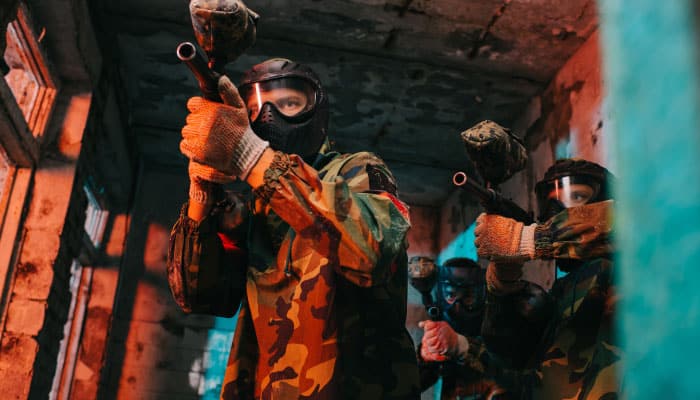 ✓

Paintball + 200 kogels

✓

Archery tag

✓

Airsoft + onbeperkt kogels
Boek
Fundustry XXL Deal
Meest populair!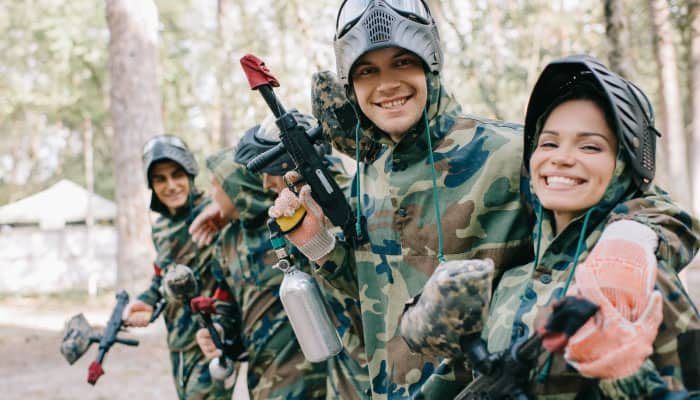 ✓

Koffie of Prosecco met Muffin

✓

Paintball met 300 kogels

✓

Extra activiteit naar Keuze

✓

Keuze uit BBQ of Kipmenu incl. 2 drankjes
Fundustry TOP Deal
Compleet pakket!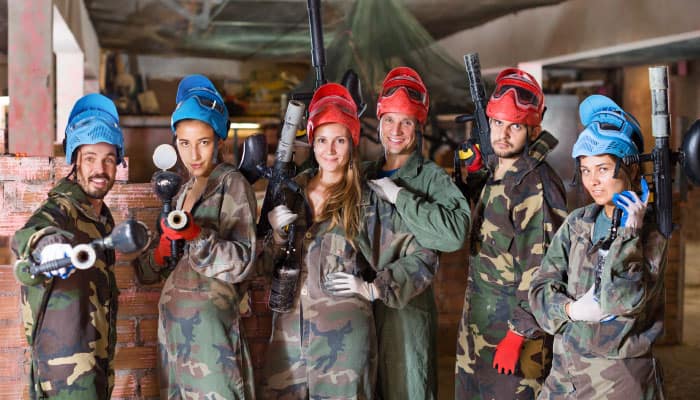 ✓

Koffie of Prosecco met Muffin

✓

Paintball met 300 kogels

✓

Extra 2 activiteiten naar Keuze

✓

Keuze uit BBQ of Kipmenu incl. onbeperkt drinken
---
Deze bedrijven zijn al fan!



---
Paintball Strand Harderwijk
Even helemaal los gaan met een paintball gun in je handen, dat kan bij Fundustry Adventures. Laat je wapen vullen met paintballkogels, hijs jezelf in een overall, masker op en gaan! Vol gas het veld in en paintballen als nooit te voren. In de beachvelden vind je diverse obstakels die kunt gebruiken om te verstoppen of om op adem te komen. De tegenstander komt vanaf de andere kant van het veld en jullie gaan samen volledig op in de paintball strijd. Paintballen met een groep vrienden of collega's is super vet, maar je kunt ook met 2 personen meedoen aan een paintball evenement.
Bedrijfsuitje Paintball
Met je collega's heel even de dagelijkse sleur doorbreken? Kom paintballen in Ermelo en schiet alle frustraties van je af. Paintball kun je ook gebruiken als teambuilding activiteit. In teams bepaal je tactieken om de overwinning te kunnen behalen. Bescherm elkaar in het veld en sta als team je mannetje tegenover de andere teams. Leer je collega's op een andere manier kennen en ontdek elkaars talenten in het paintballveld.
---
Paintball Cadeaubon
Wil je dit uitje graag cadeau geven aan iemand? Dat kan! Bestel nu een cadeaubon voor een knallend paintball uitje vol actie. Je kunt kiezen uit verschillende kogelpakketten. Direct na het bestellen en betalen ontvang je de tegoedbon in je mailbox. Deze kun je digitaal versturen of uitprinten en afgeven aan de gelukkige ontvanger. De ontvanger kan op fundustry.nl/cadeaubon-boeken zijn cadeaubon verzilveren in slechts een paar stappen.
---
Kinderfeestje Paintball
Wil jij een tof kinderfeestje geven dat je vriendjes niet snel zullen vergeten? Kom dan een potje kinderpaintballen! De kinderpaintball wapens werken op een andere manier dan volwassen wapens. Met een trekveer worden de paintballkogels afgeschoten, dit is veiliger en veroorzaakt minder blauwe plekken. Paintballen doet geen pijn, maar het is wel voor de stoere jongens en meisjes die niet bang zijn om door het zand te rennen, springen, kruipen en duiken! Maak je kinderfeestje compleet door te blijven eten op ons gezellige terras.
Paintball Combi's
Niet genoeg aan alleen een potje paintball? Op de locatie in Harderwijk kun je ook airsoften, bubbelballen en andere teambuilding games spelen als Highland Games en Expeditie Robinson. We helpen je graag de leukste combinaties voor jouw groep samen te stellen. Om het uitje compleet te maken raden we een heerlijke barbecue aan op het terras op Strand Horst.
Upgrades
Prijzen van de upgrades en extra paintballs
100 extra kogels – € 15 p.p.
Safety Pack – € 7,50 p.p.
Extreme gun – € 7,50 p.p.
---
Boek Paintball Harderwijk
Het leukste shooting uitje boek je snel en gemakkelijk. Direct een datum reserveren en betalen, meteen klaar voor het leukste dagje uit! Heb je een cadeaubon gekregen? Dan kun je de ontvangen code tijdens het boeken invullen. Boek dan het juiste uitje waar je een cadeaubon voor hebt. De prijs wordt dan automatisch verrekend.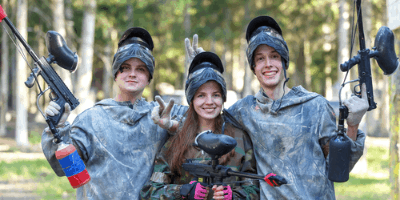 Is je groep te groot om te boeken?
Vraag dan een offerte aan!
Boek Cadeaubon Paintball
Op zoek naar een leuk cadeau? Ga voor een cadeaubon om te paintballen, kies voor het light (200 kogels), medium (400 kogels) of extreme pack (550 kogels) en verras je vriend(in) met een leuk uitje! Gemakkelijk en snel bestel je een cadeaubon, even afrekenen en binnen 2 minuten een mooie cadeaubon in je mailbox. Klaar om uit te printen en cadeau te geven! Wie ga jij verrassen met dit knallende uitje in de paintballarena?!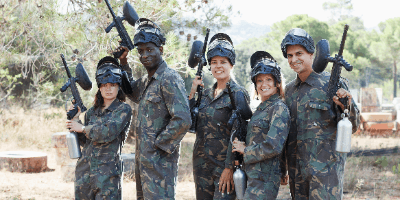 ---