Prijzen en tijdsduur
5 uur
Themafeest
Onbeperkt drinken
Hapjes (3 rondes)
DJ & Muziek
Feest thema naar keuze
---
---
Boek direct
6 uur
Themafeest XL
Onbeperkt drinken
Hapjes (3 rondes)
DJ & Muziek
Feest thema naar keuze
Walking Dinner
---
---
Boek direct
6 uur
Themafeest Deluxe
Onbeperkt drinken
Inclusief onbeperkt cocktails
Luxe hapjes (5 rondes)
DJ & Muziek
Entertainment naar keuze (2 soorten)
Walking Dinner
---
---
Boek direct
---
Après-ski Entertainment
Het themafeest wordt volledig gebaseerd op sneeuw. Overal wordt het gebruik van sneeuw en hout toegepast om de ski hutjes na te bootsen. Als decoratie worden ski's opgehangen want die zet je natuurlijk weg als je de après-ski binnenloopt. Met stappels houtblokken en de houten bar komt iedereen snel in de wintersfeer. Ook worden er veel lampjes opgehangen om het gezellig en knus te maken. De muziek wordt geregeld met een DJ die de lekkerste hitjes vanuit de après-ski zal draaien. Denk hierbij aan muziek zoals Anton aus Tirol, Wir wollen die Eisbären sehen en Arsch im Schnee. Genoeg hits om de avond te vullen!
Hapjes en drankjes
Hapjes en drankjes kunnen natuurlijk niet ontbreken tijdens de après-ski. Omdat bier erg populair is na het skiën zal het onbeperkt aanwezig zijn. Uiteraard zal er glühwein en schnaps aanwezig zijn. Tijdens het feest kan je een stevig bord eten halen. Er zullen meerdere keuzes zijn waaronder winterse stamppot en wiener schnitzel. Later op de avond zullen de gasten ook een paar rondes aan borrelhapjes krijgen.
Après-ski photobooth
Je kan er ook voor kiezen een après-ski thema photobooth neer te zetten. Doe net of dat je met je collega's op de piste staat of maak foto's met de leuke attributen. De foto's zijn een leuk aandenken voor de gasten om mee naar huis te nemen. Neem het kapsel over van de leuke blonde barvrouwen en ga ermee op de foto!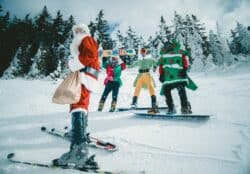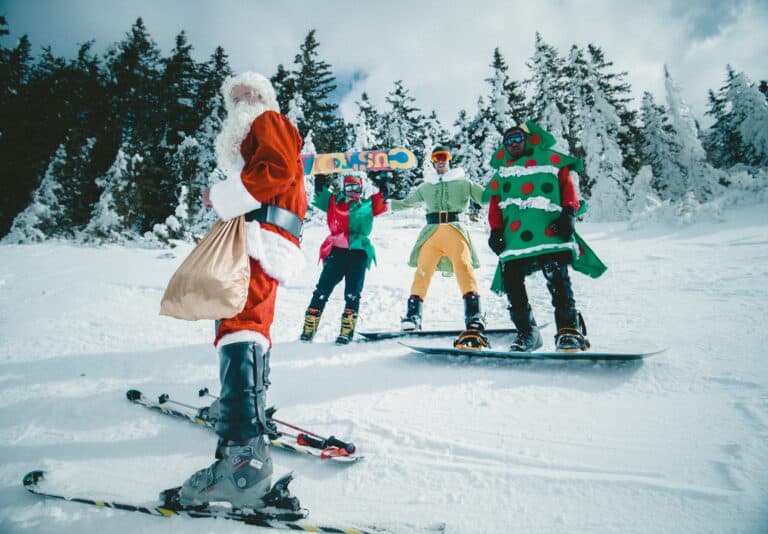 ---
Aprés Ski Themafeest
Bij Fundustry Adventures organiseren we het leukste après-ski themafeest helemaal naar eigen wens. Neem de gasten mee naar het winterwonderland en geniet van de après-ski. Met de leuke decoraties weet je zeker dat jouw feest onvergetelijk wordt! Laat het organiseren maar aan ons over en geniet van jouw après-ski themafeest.
Op enkele locaties kan er in bepaalde seizoenen sprake zijn van een meerprijs.
---