Teambuilding
Als je deze blog hebt aangeklikt, vraag je jezelf vast en zeker af waar teambuilding nou goed voor is of wat teambuilding überhaupt is. Teambuilding betekend, zoals de naam al zegt, het bouwen van een team. Teambuilding kun je bijvoorbeeld doen met een groep collega's of met jullie sportteam. Met teambuilding zorg je ervoor dat de onderlinge band met elkaar goed wordt of zelfs nog beter wordt. Wanneer je met je team onderling een goede band hebt, zorgt dit er automatisch voor dat iedereen zich goed voelt wanneer zij omringt zijn door hun team en dat er beter gepresteerd wordt.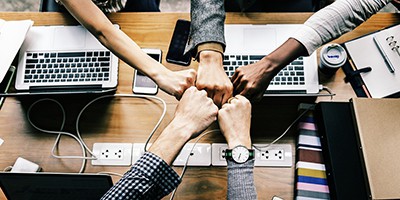 Manieren voor een beter teamverband
Er zijn een hoop manieren waarmee je een goede onderlinge band met elkaar kunt creëren. Zo zijn er allerlei verschillende soorten activiteiten die het teamgevoel kunnen verbeteren, zo heb je actieve teambuilding games, escaperooms, workshops en VR rooms. Bij al deze activiteiten draait het om dezelfde dingen. Een van deze dingen is dat je een leuke dag hebt met je collega's of teamgenoten en elkaar wat beter leert kennen. Het andere waar al deze genoemde activiteiten om draaien is samenwerking! Zonder een goede samenwerking is het bij deze activiteiten lastig om de activiteit te winnen of tot een goed of mooi eindresultaat te komen.
Wil je meer lezen over de soorten activiteiten die je kunt doen tijdens jullie teambuilding uitje? Lees dan deze blog!
Hoe vind ik een activiteit die het best bij ons past?
Er zijn veel verschillende soorten activiteiten, maar welke past nou het beste bij jullie team? De ene houdt weer van een rustige en bescheiden activiteit en de ander houdt weer van een actieve en uitdagende activiteit. Er zijn een aantal vragen die je aan jezelf kunt stellen om erachter te komen welke activiteit het beste bij jullie past!
Klik op deze link en lees de blog 'Zo organiseer je een teambuilding uitje'
Teambuilding Fundustry
Willen jullie, na het lezen van dit blogartikel, nou toch een teambuilding uitje boeken? Klik dan op deze link en zie ons ruimen assortiment aan teambuilding activiteiten!
---
Geïnteresseerd in meer informatie over bedrijfsuitjes?
Meld je aan voor onze speciale Bedrijfsuitjes Nieuwsbrief!
---