Aanschuif Ring
Zilver Workshop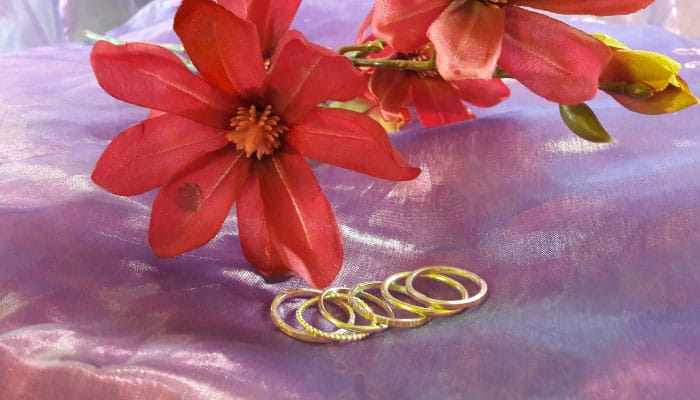 ✓

Workshop Aanschuif Ring
Boek
Fundustry XL Deal
Compleet pakket!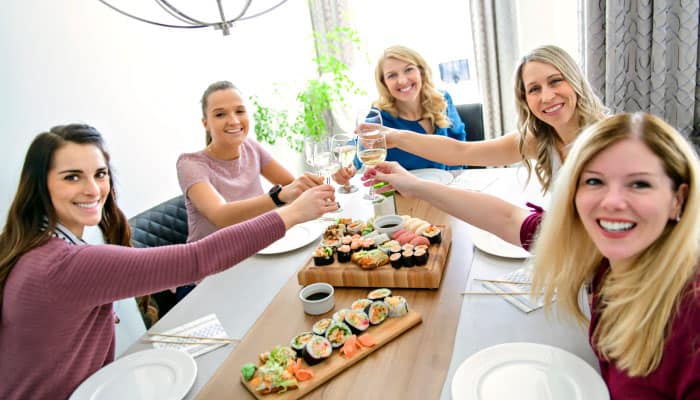 ✓

Koffie met Muffin

✓

Workshop Aanschuif Ring

✓

Kipmenu incl. drankje
Fundustry XXL Deal
Meest populair!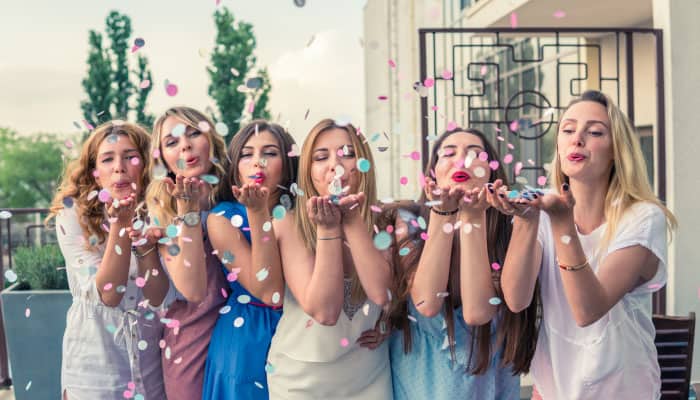 ✓

Koffie of Prosecco met Muffin

✓

Workshop Aanschuif Ring

✓

Extra activiteit naar Keuze

✓

Keuze uit BBQ of Kipmenu incl. 2 drankjes
---
Deze bedrijven zijn al fan!



---
Zilveren Aanschuif Ring maken
Voor de zilveren aanschuif ring doorloop je alle stappen 3 keer. Of alles voor alle drie je ringetjes tegelijkertijd. Je begint met het opmeten van je ringmaat, dit hoeft natuurlijk maar één keer. Maar alle drie de zilverstroken moeten op de juiste lengte worden afgeknipt. Zo passen de ringen straks goed bij elkaar.
De zilverstroken zijn dun, maar 2 mm. Je kiest 3 vormen die jij bij elkaar vindt passen. Er is keuze uit rond, halfrond, vierkant en parelvormige zilverstroken. De begeleider vertelt je meer over de mogelijkheden van de aanschuif ringen en over de eigenschappen van zilver. Een leerzame workshop met een prachtige resultaat.
De ringen moeten aan elkaar gesoldeerd worden zodat ze niet blijven haken, aan elkaar of aan bijvoorbeeld kleding. De uiteindes van de zilverstroken worden bijgevijld zodat de scherpe randjes er vanaf zijn. Voor het solderen moeten de ringen dicht gebogen worden. Hiervoor is een speciale bolle tang zodat er een echte ringvorm ontstaat. Daarna kan het solderen beginnen.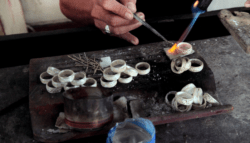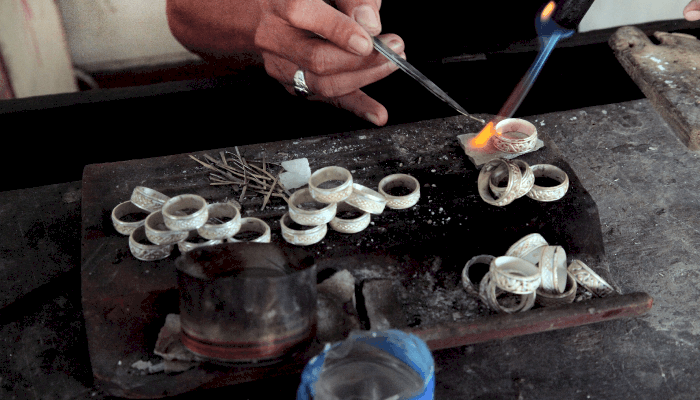 Omdat solderen, zeker de eerste keer, best lastig is, soldeert de begeleider de ringen dicht. Het zijn kleine en kwetsbare ringen, maar om het soldeersel wat steviger te maken worden de ringen afgekookt. In een chemisch badje worden ze sterker gemaakt door een reactie op het soldeersel.
De ringen zijn al rond gebogen, maar nog niet klaar. Met een hamer en tribulet ga je aan de slag om de ringen helemaal rond te maken zodat ze uiteindelijk om je vinger passen. Een kleine imperfectie is niet erg, het blijft natuurlijk ambachtswerk. Als alle drie de ringen mooi rond zijn kun je ze nog polijsten en een glanzende uitstraling geven. Laat je ze liever mat, dan kan dat effect extra versterkt worden door ze bij te schuren.
De ringen zijn erg fragiel en kwetsbaar. Het beste kun je ze bewaren om je vinger, als uniek sieraad. Toch krijg je bij deze zilver workshop een tasje en bewaardoosje mee voor je ringetjes. Ook een poetsdoekje zit erbij om de ringetjes opnieuw te laten glanzen na een tijdje dragen.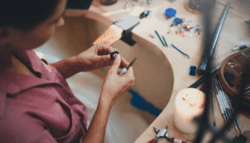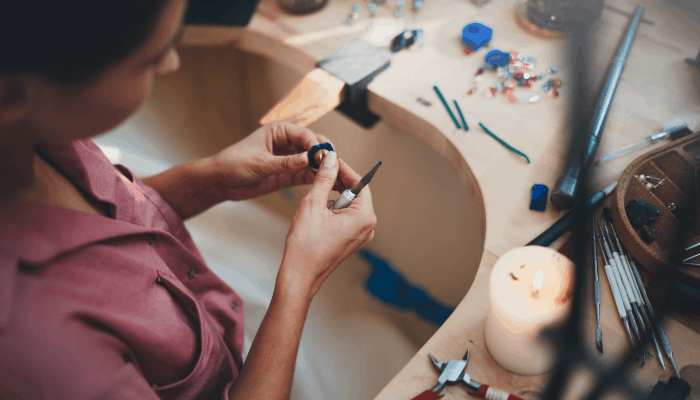 Zilver workshop
Ben je niet zo van de ringen, maar wil je wel een zilver workshop volgen? Probeer dan eens een zilveren ketting met tekst hanger te maken, of bewerk een zilveren armband naar jouw persoonlijke stijl. Twee leuke edelsmeden workshops die je met een groep vriendinnen of collega's uitstekend kunt doen tijdens een dagje uit.
Onze coronaproof locaties
Op al onze locaties is de aankomst van groepen volledig afgestemd op de capaciteit van het gebouw. De tafels zijn extra ruim opgezet en de toiletten hebben een speciale wachtrij en worden extra vaak schoongemaakt. Tijdens de workshop heeft ieder een eigen zit/staplek met voldoende ruimte om zich heen om de creativiteit los te laten.
---
Aanschuif Ring Boeken














Is je groep te groot om te boeken?
Vraag dan een offerte aan!
---