Prijzen en tijdsduur
4 uur
Bedrijfsfeest
Aankleding, Rode loper en Champagne
Licht, Geluid en Microfoon
Muziek en Dansvloer
Hapjes (3 rondes)
---
---
Boek direct
5 uur
Bedrijfsfeest XL
Aankleding, Rode loper en Champagne
Licht, Geluid en Microfoon
Muziek en Dansvloer
Hapjes (3 rondes)
Keuze uit o.a. goochelaar, karikaturist of photobooth
---
---
Boek direct
6 uur
Bedrijfsfeest Deluxe
Aankleding, Rode loper en Champagne
Licht, Geluid en Microfoon
Muziek en Dansvloer
Hapjes (3 rondes)
Keuze uit o.a. goochelaar, karikaturist of photobooth
Keuze uit o.a. dansers, show, vuurspuwers, 3D herinnering
---
---
Boek direct
---
Gaafste Bedrijfsfeest ooit!
Het entertainment voor jouw bedrijfsfeest wordt volledig naar wens verzorgd. Zo zal de aankleding van het feest aansluiten op het type feest. Ga je voor een chique of meer casual? De zaal zal gedecoreerd worden met ballonnen, slingers, mooie tafelkleden en noem het maar op! Uiteraard is er een complete muziekinstallatie met top DJ die zorgt dat de lekkerste hits te horen zijn. De gezelligheid spat er vanaf tijdens het dansen met je collega's!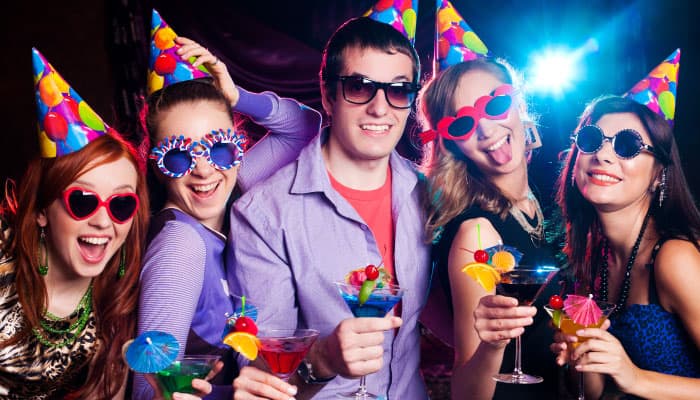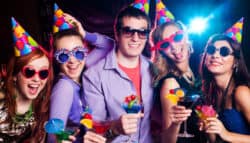 Themafeest Bedrijfsfeest
Wil je een leuk en uniek bedrijfsfeest organiseren? Kies dan voor een themafeest. Met het grote aanbod van Fundustry Adventures is er een leuk thema voor elk bedrijf. We maken je feest tot een geweldig unieke beleving. Wij regelen alles! Je kiest je thema, je kiest je opties en wij regelen de rest! Geweldige decoratie, bijpassende DJ, uniek entertainment en natuurlijk de drankjes! Neem eens een kijkje welke thema's er beschikbaar zijn.
Hapjes en drankjes
De hapjes en drankjes zullen rijkelijk vloeien op jouw bedrijfsfeest. Je kan je werknemers natuurlijk niet met lege handen laten staan. Er zal onbeperkt drinken beschikbaar zijn. Dit is te halen aan een leuk gedecoreerde bar. Een enthousiast catering team zorgt voor de bediening. Er zullen hapjes worden uitgedeeld in rondes zodat niemand vergeten wordt. Daarnaast zal er een lekker buffet aanwezig zijn om alvast een bodem te leggen voor een onvergetelijke avond!
Bedrijfsfeest zonder Photobooth kan niet!
Een leuke toevoeging aan je bedrijfsfeest is een photobooth. De gezelligheid van het feest vastleggen met je collega's. Dit is direct een aandenken aan een onvergetelijk bedrijfsfeest en de gasten kunnen de foto's mee naar huis nemen. De photobooth is natuurlijk nog leuker op een themafeest met gekke outfits!
---
Bedrijfsfeest op maat
Bij Fundustry Adventures organiseren we het leukste bedrijfsfeest helemaal naar wens. Een perfect bedrijfsfeest met voor ieder bedrijf. Kies je een thema of ga je voor een klassiek feest? Laat het organiseren maar aan ons over en geniet van een onvergetelijk bedrijfsfeest.
---