Wat zijn workshops?
Een workshops kun je ook wel omschrijven als een cursus die mensen volgen om iets te leren of om gewoon een leuke dag te hebben. Wat de reden is van mensen om een workshop te volgen, is afhankelijk van wat voor een workshop ze komen doen. Een workshop programmeren ga je bijvoorbeeld niet doen met een gezellig vrienden of familie-uitje, maar een workshop sushi maken is voor zo een gezelschap natuurlijk wel weer super leuk! Al met al zijn er dus verschillende redenen om een workshop te volgen, maar in dit blogartikel gaan we het hebben over culinaire kookworkshops!
Hoe verloopt de kookworkshop
Bij een kookworkshop worden jullie, net als bij alle andere soorten workshops, ontvangen op locatie door een van onze professionele begeleiders. Jullie krijgen van de begeleider uitleg over wat jullie te wachten staat en met welke ingrediënten jullie gaan werken. Uiteraard zorgen wij dat alle ingrediënten en kookspullen aanwezig zijn op de locatie. De begeleider die jullie heeft ontvangen, is er ook gedurende de workshops, de hele tijd aanwezig. Jullie kunnen dus ook met al jullie vragen bij hem of haar terecht!
Culinaire kookworkshops
Vind jij het nou super leuk om te koken en hou jij enorm veel van lekker eten? Dan is een culinaire kookworkshop echt iets voor jou! Bij de culinaire kookworkshops ga je een heerlijk gerecht klaar maken met hulp van een professionele begeleider. Fundustry Adventures heeft een ruim assortiment aan culinaire kookworkshops, grote kans dus dat er een workshop tussen zit die perfect is voor jou!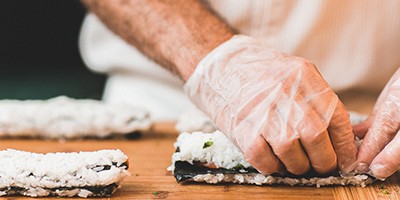 Bij Fundustry Adventures hebben wij de volgende culinaire kookworkshops:
Lijk het jou nou leuk om een culinaire kookworkshop te volgen bij Fundustry Adventures? Klik dan op een van de bovenstaande linkjes en boek jouw culinaire kookworkshop!
---