Escape room
Spannende ervaring!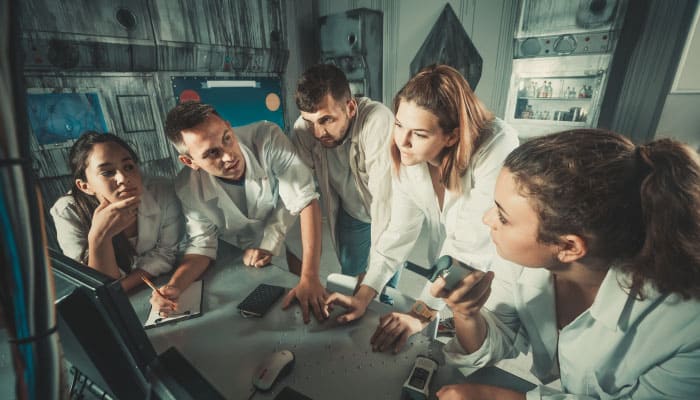 Boek
Fundustry Deal XL
Leuke activiteit incl. menu!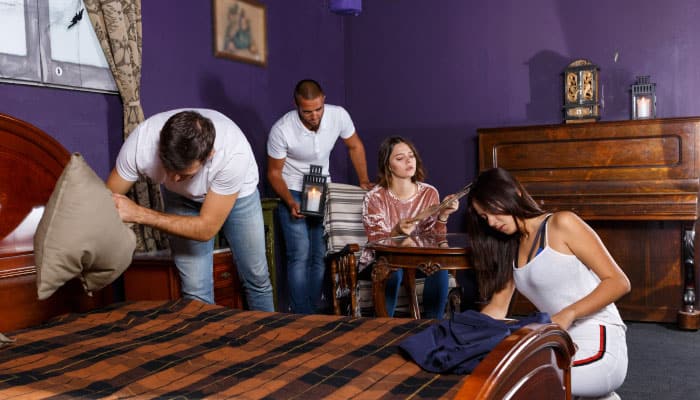 ✓

Kopje Koffie + Muffin

✓

Escaperoom naar keuze

✓

Kipsaté menu + Drankje
Fundustry Deal XXL
Extra activiteit + Heerlijk Diner!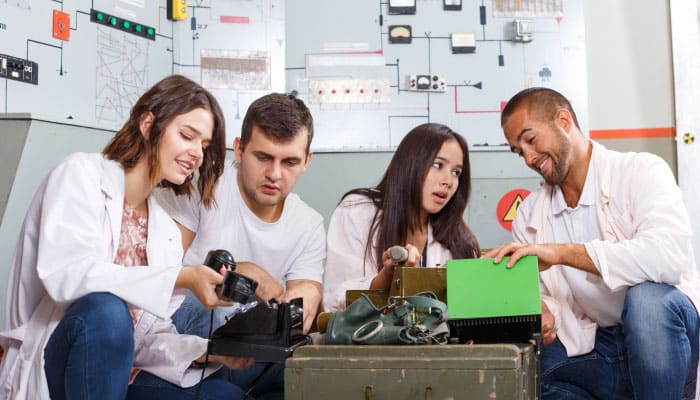 ✓

Kopje Koffie of Glaasje Prosecco + Muffin

✓

Escaperoom naar Keuze

✓

Extra activiteit naar Keuze

✓

BBQ + 2 drankjes of Kipmenu
---
Deze bedrijven zijn al fan!



---
Ontsnap uit een Escape room!
Weet jij je weg naar buiten te vinden uit één van onze escape rooms? Met 13 verschillende escaperooms door heel Nederland en België vind je altijd wel een toffe escape room bij jou in de buurt.  De escape rooms zijn allemaal uitgerust met special effects, lichteffecten en de beste geluidseffecten. De escaperoom is al te boeken vanaf 2 personen en is met maximaal 8 personen te betreden. Iedere kamer heeft een uniek thema van eng of spannend tot sportief, detective of fun, voor ieder wat wils dus! Een escape room is het ideale uitje voor familie, vrienden of gezellig met je collega's! Uiteraard kan je op elke locatie bij ons lekker borrelen en kletsen! Als je weet te ontsnappen natuurlijk 😉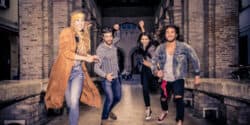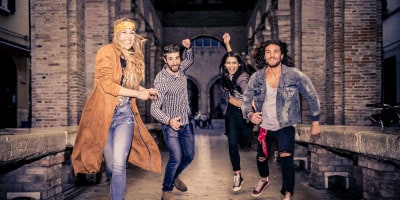 ---
Escape Room Cadeaubon
Wil je dit uitje graag cadeau geven aan iemand? Dat kan! Bestel nu een cadeaubon voor een spannend uitje in een escape room. Direct na het bestellen en betalen ontvang je de tegoedbon in je mailbox. Deze kun je digitaal versturen of uitprinten en afgeven aan de gelukkige ontvanger. De ontvanger kan op fundustry.nl/cadeaubon-boeken zijn cadeaubon verzilveren in slechts een paar stappen.
---
Escape Rooms Dordrecht
Op onze locatie in Dordrecht vind je vijf van onze spannendste escape rooms!
De Wannaplayroom is het slaapkamertje van Kelly en de Bathroom is het domein van Mr. Clown. Liever een bijlesje volgen bij Mrs. Hazel in de Classroom? Of ga je de uitdaging aan in onze moeilijkste escape room? Namelijk de Preciousroom van Roxy. Hou je toch liever van rustig en kalm puzzelen dan is de Newsroom perfect voor jou!
Escape Rooms Rotterdam
Op onze locatie in Rotterdam moet je je vriendin Ilona redden van een gestoorde professor in Lab Madness. Of weet je het raadsel achter de plaag op te lossen in de Mysterious Plagueroom? Of hou je liever van een wat actievere escape room? Kies dan Harrison's Squad! Bewapend met een gun zal je meer moeten doen dan alleen puzzelen om te ontsnappen uit deze escape room!
Escape Rooms Amsterdam
In hartje Amsterdam vind je de Red Light Murder Mystery Room. Weet jij het mysterie rondom het overlijden van Lola op de Wallen op te lossen? Of daal je liever af in onze Goudmijn escape room en steel je zoveel mogelijk goud!
Escape Rooms Nijmegen
In Nijmegen ga je op avontuur! Ontsnap uit The Lost Temple
Escape Room Antwerpen
Tenslotte vind je vlakbij Antwerpen onze vernieuwde Wannaplayroom terug. Kelly en haar tweelingzus Suzy hebben twee identieke slaapkamertjes. Maar er is hier meer aan de hand. Deze escaperoom is een battleroom! wat betekend dat het twee identieke escape rooms zijn waarmee je tegen elkaar moet strijden om te zien wie als snelste kan ontsnappen!
Laat je nu opsluiten in één van onze escape rooms en beleef een uniek en bijzonder dagje weg!
Weet jij te ontsnappen?…

---
Boek een Escape Room
De leukste escaperoom boek je gemakkelijk en snel. Direct een datum reserveren en betalen, meteen klaar voor het leukste dagje uit! Heb je een cadeaubon gekregen? Dan kun je de ontvangen code tijdens het boeken invullen. Boek dan het juiste uitje waar je een cadeaubon voor hebt. De prijs wordt dan automatisch verrekend.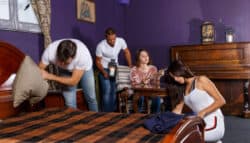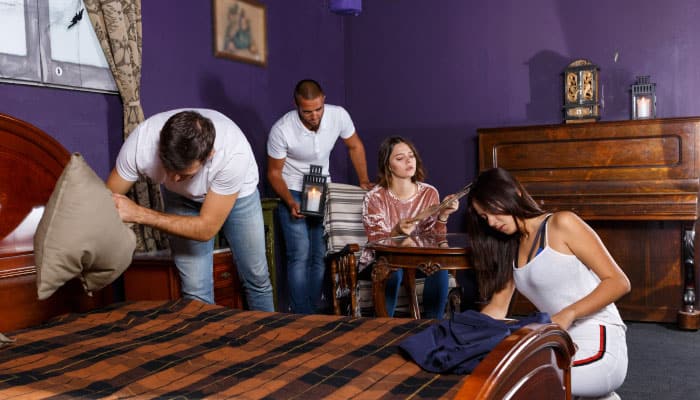 Is je groep te groot om te boeken?
Vraag dan een offerte aan!
Cadeaubon Escape Room naar keuze
Op zoek naar een leuk cadeau? Ga voor een cadeaubon voor een escaperoom naar keuze en verras je vriend(in) met een spannend uitje! Gemakkelijk en snel bestel je een cadeaubon, even afrekenen en binnen 2 minuten een mooie cadeaubon in je mailbox. Klaar om uit te printen en cadeau te geven! Wie ga jij verrassen met dit spannende uitje in een afgesloten ruimte?!
Keuze uit de volgende kamers: De Goudmijn, The Bath Room, The Precious Room, The Class Room, The News Room, The Wanna Play Room, Lab Madness, Mysterious Plague en Harrison's Squad.
Let op: Eén tegoedbon is geldig voor één persoon. Het boeken van een escape room gaat altijd voor minimaal 4 personen.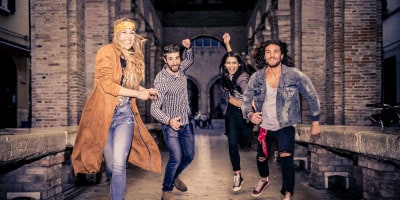 ---