---
Deze bedrijven zijn al fan!



---
Hamburgers bakken
Een goede hamburger bak je niet in de pan, maar op een grill. Als het weer het toelaat staan ook wij graag buiten bij de grill te bakken. Het gaat niet alleen om het bakken van een hamburger, ook de bereiding van de burger en het afwerken van broodje met extra beleg zijn belangrijk. Tijdens deze kookcursus leer je het allemaal stap voor stap, van bereiding tot afwerking.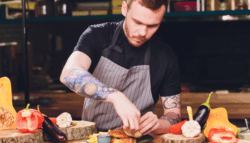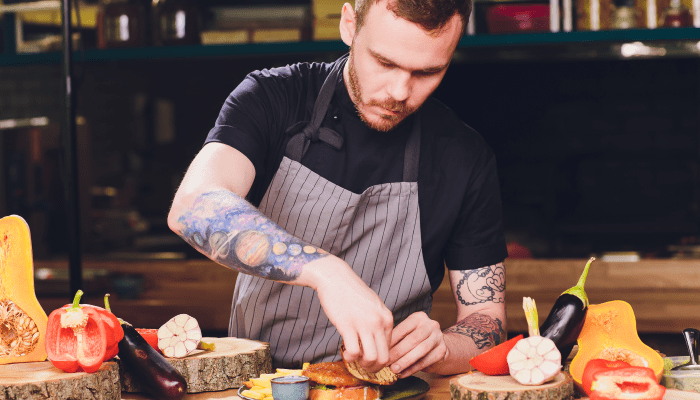 Coronaproof Hamburger Kookworkshop op 1.5 meter
Voor aanvang van de hamburger workshop worden alle materialen ontsmet zodat ze goed schoon zijn voor gebruik. We werken graag buiten bij de barbecue waar alle ruimte is om de gerechten te bereiden voor het grillen. Voor het bereiden van het voedsel zijn handschoenen aanwezig. Er is ook de mogelijkheid om handen en het voedsel goed te wassen. Ook het eten doen we graag buiten zodat er alle ruimte is voor iedereen om plaats te nemen.
Hamburger recept
Tijdens de kookworkshop zijn er standaard hamburger recepten die je kunt volgen, maar voel je vrij om het vlees aan te passen naar jouw smaak. Je gaat hamburgers maken van gehakt, dit meng je met verschillende ingrediënten om beter te bakken en voor de smaak. We dagen je uit om een origineel hamburger recept te ontwikkelen én uit te voeren. Naast de burger maak je ook diverse sauzen voor op je broodje hamburger. Aan tafel worden ook aardappeltjes geserveerd om er een complete maaltijd van te maken.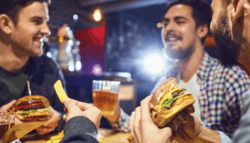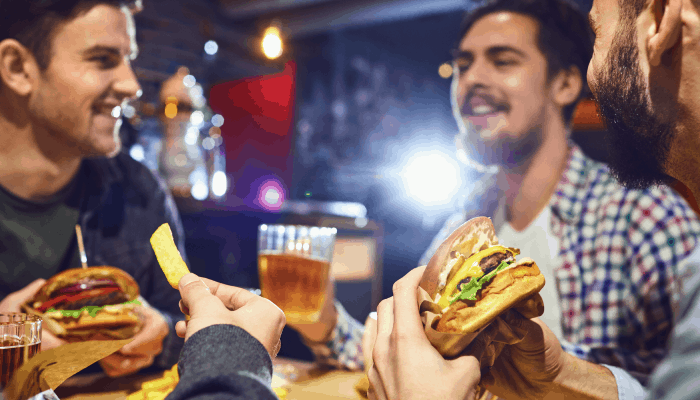 Onze coronaproof locaties
Op al onze locaties is de aankomst van groepen volledig afgestemd op de capaciteit van het gebouw. Gedoseerd worden jullie toegelaten tot een ruime ontvangstruimte waar je rustig in alle ruimte kunt plaatsnemen voor de ontvangst. Jullie drankjes en hapjes serveren we momenteel niet, maar plaatsen we op de bar. De tafels zijn extra ruim opgezet en de toiletten hebben een speciale wachtrij en worden extra vaak schoongemaakt.
Hamburger Workshop
De hamburger workshop is geschikt voor heel diverse groepen. Leuk als afsluiter van een vrijgezellenfeest, maar ook een goede teambuildingactiviteit tijdens een bedrijfsuitje. Samen in de keuken en vervolgens samen genieten aan tafel van de zelfgemaakte hamburgers. Ook een leuke aanvulling op een dagje uit met vrienden of een familiedag, zo ben je actief bezig en kun je van het resultaat genieten. De hamburger recepten krijg je mee naar huis, evenals de vele tips die je krijgt tijdens het bakken.
Deze workshop koken is leuk voor mannen en vrouwen. Aan de manier waarop het hamburger recept wordt gevolgd kun je precies zien wat voor een groep het is. Experimentele hamburgers, extra beleg of geroosterde broodjes. Ieder kan zijn eigen twist geven aan een origineel hamburger recept. Uiteindelijk schuiven jullie allemaal aan tafel om te genieten van de zelfgemaakte hamburgers.

---
Hamburger Workshop Boeken











Is je groep te groot om te boeken?
Vraag dan een offerte aan!
---