Kinderfeestje lasergamen
Kids Lasergamen
Standaard pakket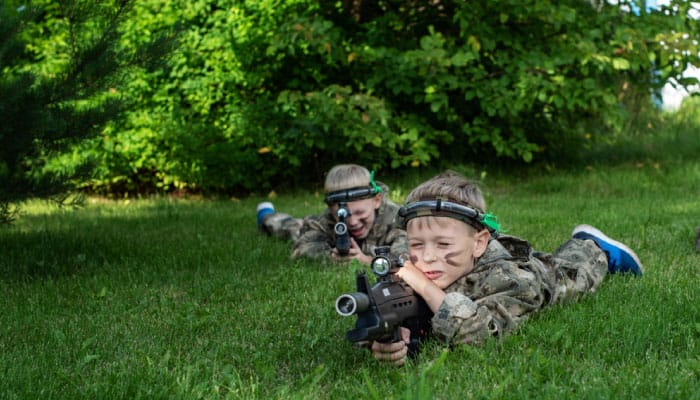 Inclusief

✓

Lasergamen Indoor of Outdoor
Boek direct
All-in Lasergamen
Meest gekozen!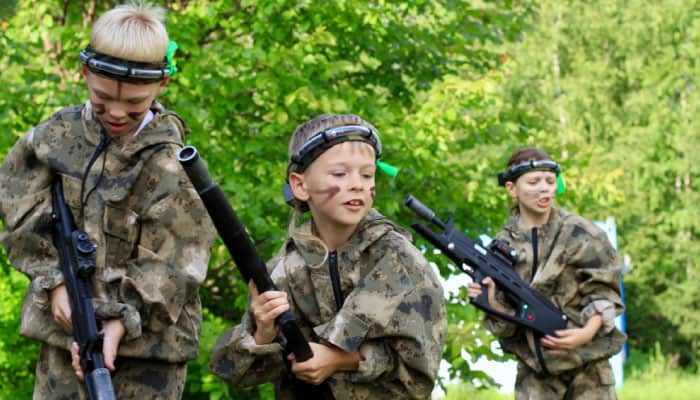 Inclusief

✓

Lasergamen Indoor of Outdoor

✓

Pannenkoeken Menu + onbeperkt limonade
Boek direct
Kinderpaintball
Een andere shootinggame!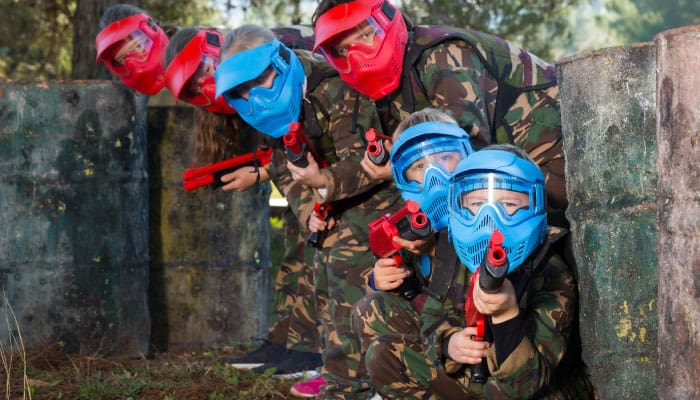 Inclusief

✓

125 balletjes per persoon
Bekijk nu
---
Een kinderfeestje om nooit te vergeten!
Lasergamen is het perfecte kinderfeestje! De kinderen zijn lekker actief en fanatiek bezig op de prachtige velden. Fundustry Adventures beschikt over de mooiste lasergame locaties door heel Nederland en zelfs België. Er is daarom altijd een locatie bij jou in de buurt voor een onvergetelijk kinderfeestje. Bezoek één van onze geweldige locaties, zoals Amsterdam, Rotterdam of Harderwijk en maak het lasergame avontuur mee!
Fanatiek lasergamen!
De actie is volledig aanwezig maar de rommelige verf en de blauwe plekken van paintballen lekker niet! Wees de held van het veld en haal alle tricks uit de kast. Schuil in de gekste obstakels en verras je tegenstanders met een sluipaanval. Oude kapotte auto's, een verlaten dorp, boten, het is er allemaal! verstop en zoek dekking, wacht tot het juiste moment…RAAK! Schakel je tegenstanders een voor een uit zonder geraakt te worden om naar huis te gaan met de overwinning!
Lasergamen met de gaafste gamemodes
Om het lasergamen spannend te houden zijn een veel verschillende spelvormen aanwezig waarvan je geen genoeg zult krijgen! Ga in de strijd als team en werk samen om je tegenstandsters uit te schakelen  in een spannend potje Battle Royal of wordt de lasergame kampioen en schakel iedereen uit met een potje ieder voor zich, durf jij het aan?
Uitdagend en veilig!
Het is vanzelfsprekend dat al onze uitjes met aandacht worden uitgevoerd. Veiligheid staat bij ons voorop en daarom word elk kinderfeestje voorzien van een professionele begeleider. Dit zal het kinderfeestje lasergamen een stuk uitdagender maken, want onze begeleiders zullen goed een oogje op de kinderen houden! Het kinderfeestje lasergamen wordt afgesloten met boogschieten. De lasergame wapens en bogen zijn geschikt voor kinderen vanaf 8 jaar, maar het kan voorkomen dat de wapens als te zwaar worden ervaren. Het is goed hier rekening mee te houden afhankelijk van de deelnemers. De minimale groepsgrootte voor dit kinderfeestje is 8 kinderen.
Het complete kinderfeest!
Na een grote en spannende strijd komt er ook een grote honger en dorst bij kijken. Het kinderfeestje lasergamen sluiten we af met een heerlijke pannenkoeken-menu en onbeperkte limonade! Zo zullen de kleine soldaten niet met een lege maag naar huis toe gaan. Maak je geen zorgen over de rommel, daar zullen wij voor zorgen! Onze begeleiders zullen het kinderfeestje tot in de puntjes verzorgen zodat jullie niks te kort komen.
Een kindermenu box als heerlijke afsluiter
Heb je geen zin in pannenkoeken of geen tijd om langer te blijven? Ga dan voor de Wilde Beestenbox! Een heerlijk kindermenu in een handige meeneembox. In de box zit friet, limonade, appelmoes, saus, snack naar keuze (frikandel, kroket of 5 kipnuggets) én een speeltje. Dat is nog eens een heerlijke afsluiter van jullie feestje!
100% Kidsproof
Bij Kidsproof.nl selecteren ze de leukste uitjes en adresjes in Nijmegen en omgeving. Met elke maand ongeveer 17.000 ouders die de site checken voor tips kijken ze bij Kidsproof persoonlijk naar de beste opties in de omgeving. Zo zijn de kinderfeestjes van Fundustry Adventures goedgekeurd als 100% Kidsproof!

---
Boek Kinderlasergamen








Is je groep te groot om te boeken?
Vraag dan een offerte aan!
---