Paintball is voor iedereen!
Veel mensen denken dat je alleen kunt paintballen als je volwassen bent, maar dit is niet waar! Er zit natuurlijk wel een verschil tussen de wapens die er worden gebruik bij volwassen paintball en die worden gebruikt bij kinder paintball, maar in de theorie mogen zowel kinderen als volwassenen paintballen!
Kinder paintball
In Nederland mag je volgens de wet vanaf je achtste levensjaar paintballen met een kinder paintball geweer. De reden dat je vanaf deze leeftijd wel al met een kinder paintball geweer mag schieten maar nog niet met een volwassen paintball geweer, is dat deze een stuk zachter schieten. De geweren die worden gebruikt bij kinder paintball werken met een vering, waardoor er veel minder kracht achter een lancering van de paintballs zit dan bij de volwassen geweren die werken op luchtdruk. Dit maakt het dan ook onveilig voor kinderen die jonger zijn dan 18 jaar en daarom is dit dus ook verboden in Nederland.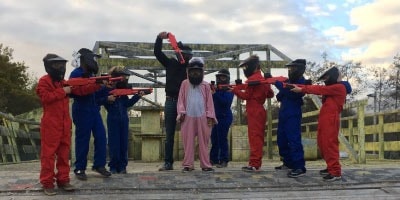 Volwassen paintball
In tegenstelling tot kinder paintball, moet je voor het schieten met een volwassen paintball geweer wel 18 jaar of ouder zijn. Achterop deze paintball geweren zit een luchtfles, die ervoor zorgt dat de balletjes worden gelanceerd door een korte en krachtige luchtstoot. Door deze luchtstoot, komen de paintballs dus ook veel harder aan dan die van een kinder paintball geweer.
Conclusie
Paintballen is dus niet alleen voor volwassen, maar ook voor kinderen! Echter krijgen de kids dus wel een paintball geweer die wat minder hard schiet en die werkt met een vering. Zo hebben de kinderen nauwelijks pijn, wanneer ze zijn geraakt door een paintballetje. Dit zorgt er natuurlijk voor dat het kinderfeestje veilig verloopt en leuk blijft!
Lijkt je paintballen nou een leuke activiteit om te doen tijdens het kinderfeestje van jouw zoon of dochter? Of wil je toch graag verder kijken voor een andere activiteit voor tijdens het kinderfeestje? Klik dan op deze link en zie ons volledige aanbod aan activiteiten voor kinderfeestjes!
---