Prijzen en tijdsduur
5 uur
Themafeest
Onbeperkt drinken
Hapjes (3 rondes)
DJ & Muziek
Feest thema naar keuze
---
---
Boek direct
6 uur
Themafeest XL
Onbeperkt drinken
Hapjes (3 rondes)
DJ & Muziek
Feest thema naar keuze
Walking Dinner
---
---
Boek direct
6 uur
Themafeest XXL
Onbeperkt drinken
Inclusief onbeperkt cocktails
Luxe hapjes (5 rondes)
DJ & Muziek
Entertainment naar keuze (2 soorten)
Walking Dinner
---
---
Boek direct
---
Bedrijfsfestival Entertainment
Omdat het bedrijfsfestival niet op een thema gebaseerd hoeft te zijn kan het helemaal naar wens samengesteld worden. Het terrein zal helemaal omgetoverd worden tot een waar festival. Dit betekent dat er een podium wordt opgebouwd met muziek, daarbij zal er een top DJ aanwezig zijn die de beste hits draait voor jou en je collega's. De gasten krijgen festival bandjes om direct in de sfeer te komen. Versieringen worden helemaal naar wens geplaatst. Wil je liever een tuinfestival met lichtjes en slingers of ga je voor een lichtshow bij de Main Stage?
Silent disco
Een erg leuke toevoeging aan je bedrijfsfestival is een Silent Disco. Los van je Main Stage is er dan nog een plek om lol te hebben met je collega's. Iedereen krijgt een koptelefoon met een keuze uit verschillende kanalen. Niet iedereen zal dus dezelfde muziek te horen krijgen! Dit geeft een ontzettend grappig effect waar iedereen nog lang over door zal praten. Andere ideeën voor een toevoeging aan je bedrijfsfestival? Laat het weten en we zorgen dat het aanwezig zal zijn.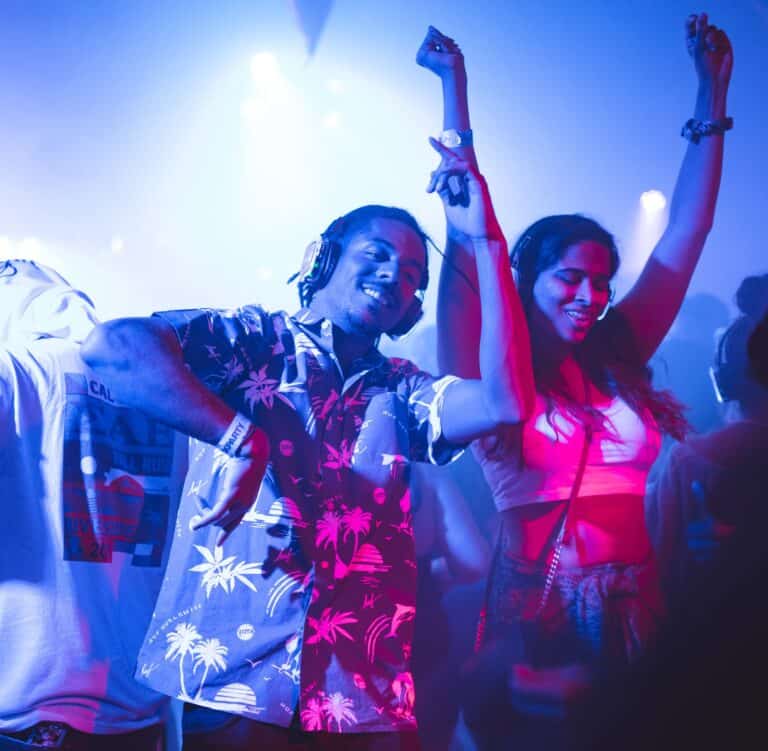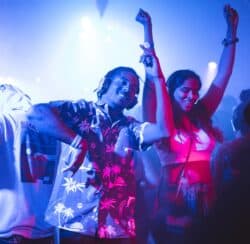 Hapjes en drankjes
De hapjes en drankjes op je bedrijfsfestival maken ook de sfeer. Er zullen meerdere foodtrucks aanwezig zijn met de lekkerste hapjes. Houden je collega's van Belgische wafels of is een vette hap in de vorm van een Hamburger foodtruck beter? Drankjes zullen beschikbaar zijn bij de bar, uiteraard onbeperkt! We willen niet dat jouw gasten zonder drinken komen te staan. Ook kan je er voor kiezen een cocktailbar te laten komen. Een cocktail drinken op een festival is natuurlijk wel erg lekker!
Photobooth
Een photobooth op jouw bedrijfsfestival zorgt voor leuke foto's die de gasten vervolgens mee naar huis kunnen nemen. Dit zorgt ervoor dat de gasten het festival niet snel zullen vergeten. Er zullen dan leuke attributen beschikbaar zijn om gekke foto's mee te maken. Zie jij je collega's al gekke foto's maken in hun leukste festival outfits?
---
Bedrijfsfestival Themafeest
Bij Fundustry Adventures organiseren we het leukste themafeest voor jouw bedrijf. Neem je collega's mee naar je eigen festival. Door de vele decoraties en attributen die een festival bevat weet je zeker dat jouw bedrijfsfestival onvergetelijk wordt! Laat het organiseren maar aan ons over en geniet van een perfect themafeest.
Op enkele locaties kan er in bepaalde seizoenen sprake zijn van een meerprijs.
---