Prijzen en tijdsduur
4 of 8 uur
Vergadering Basis
Koffie, Thee, Water
Vergaderkit incl. Beamer(scherm)
Break Bites (zoet, zout en snack)
Optioneel Lunch
---
---
Boek direct
4 of 8 uur
Vergadering XL
Koffie, Thee, Water
Vergaderkit incl. Beamer(scherm)
Break Bites (zoet, zout en snack)
Energizer van 15 min.
Optioneel Lunch of Diner
---
---
Boek direct
8 uur
Vergadering Deluxe
Koffie, Thee, Water
Vergaderkit incl. Beamer(scherm)
Break Bites (zoet, zout en snack)
Energizer van 15 min.
Teambuilding van 1,5 uur
Optioneel Lunch of Diner
---
---
Boek direct
---
Vergaderlocatie
Fundustry Adventures heeft vele locaties in Nederland en België die perfect zijn om te vergaderen. De locatie wordt ingericht als een vergaderruimte met presentatie scherm en alle andere benodigdheden voor de vergadering. De locatie kan volledig naar wens ingericht worden. Verras jouw collega's eens met iets anders dan een saaie kantoorruimte en bezoek één van onze avontuurlijke locaties in het bos of aan het strand.
Hapjes en drankjes tijdens de Vergadering
Tijdens de vergadering wil je niet dat je collega's met een lege maag komen te zitten. Er wordt voorafgaand aan de vergadering gezorgd voor een uitgebreide lunch. Tijdens de vergadering en in de pauze is er uiteraard koffie en thee beschikbaar met een heerlijke snack. Tijdens de activiteiten zal er ook een heerlijke lunch zijn met vers belegde broodjes, yoghurt en vers fruit.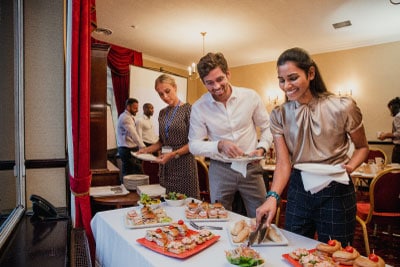 Activiteiten
Bij Fundustry Adventures kan je vergaderen combineren met een spannende activiteit. Quad rijden, een slipcursus, off-road rijden, paintballen en nog veel meer activiteiten. Door de avontuurlijke locaties van Fundustry Adventures is er een leuke activiteit voor ieder bedrijf. Ga na de vergadering hoog de bomen het klimpark in, of doe een teambuilding activiteit zoals Expeditie Robinson. Alles is mogelijk, wat lijkt jou het leukst?
Vergader Programma
We stellen een leuk programma samen. Genoeg tijd om te lunchen, vergaderen en één of meerdere leuke activiteiten te doen. Laat ons weten waar de interesses van het bedrijf liggen en daar worden de activiteiten op gekozen. Achteraf is er de mogelijkheid voor een heerlijk diner of een afsluitende borrel. We kunnen je verzekeren dat er tijdens de afsluiting nog lang doorgepraat zal worden over de spannende activiteiten die eraan vooraf gingen.
---
Vergadering organiseren
Vergaderen is niet saai, vergaderen is leuk en avontuurlijk! Kom naar één van de bijzondere vergaderlocaties van Fundustry Adventures en je maakt het mee! De leukste, spannendste en meest avontuurlijke activiteiten voor iedereen. Allemaal in één middag afgewisseld met een presentatie of werk overleg op een bijzondere locatie.
---