Koe Schilderen
Bonte Koe Workshop!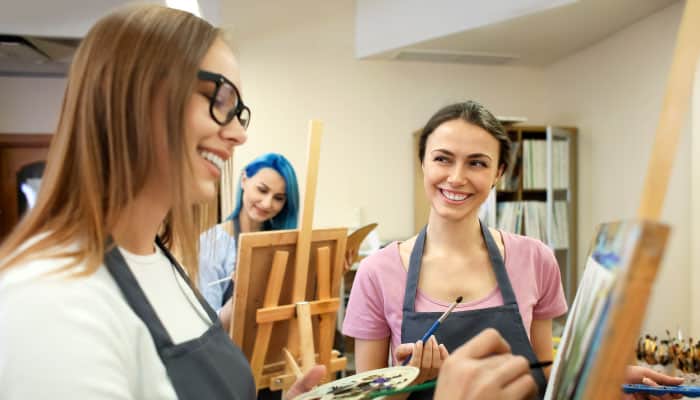 ✓

Workshop Koe Schilderen
Boek
Fundustry Deal XXL
Meest populair!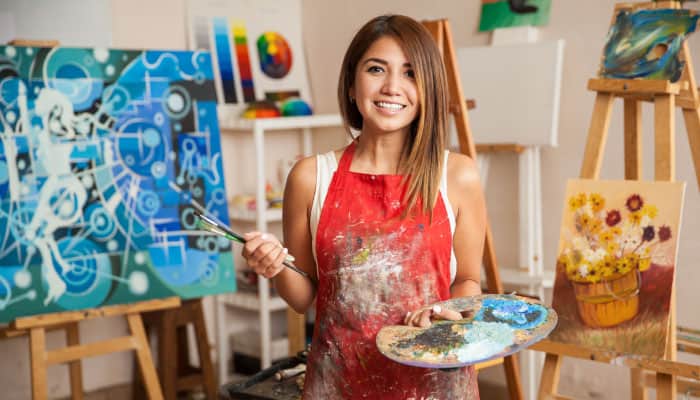 ✓

Ontvangst met koffie & muffin

✓

Workshop Koe Schilderen

✓

1 extra activiteit naar keuze

✓

BBQ (do it yourself) + 2 drankjes
Fundustry Deal TOP
Compleet pakket!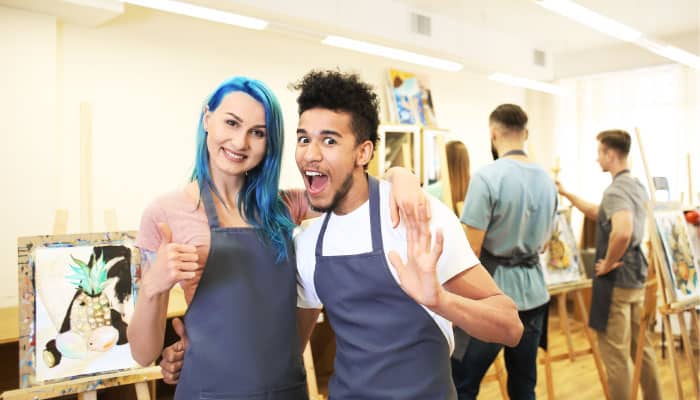 ✓

Ontvangst met koffie & muffins

✓

Workshop Koe Schilderen

✓

2 extra activiteiten naar keuze

✓

BBQ (do it yourself) + 3 drankjes
---
Deze bedrijven zijn al fan!



---
Koe Schilderen Workshop
Ben jij creatief, en misschien ook een beetje gek? Kom dan te gekke koeien beschilderen tijdens deze creatieve workshop! De leukste kleuren, patronen en voorbeelden liggen voor je klaar. Je kunt jezelf helemaal laten gaan en je koe naar eigen inzicht beschilderen. Een 3D koe van papier maché is leuker dan een plat schilderij. Deze gadget kun je thuis vol trots laten zien aan je bezoek. Plaats hem op een prominente plek in de kamer en geniet dagelijks van je gekke beschilderde koe.
Papier maché koe
De koe is gemaakt van papier maché en kan een goede laag verf weerstaan. Je kunt kiezen voor een basiskleur of je gaat direct op de ondergrond aan de slag. De koeien zijn lichtbruin en oneffen, dat is de uitdaging tijdens deze workshop. De verf hecht goed aan de koe, maar kijk ook uit met je kleren. Advies is om niet je nieuwste setje aan te trekken.
Grote koe schilderen bedrijfsuitje
Ben je met je afdeling of hele bedrijf klaar voor een te gek bedrijfsuitje? Informeer dan naar de mogelijkheden om een levensgrote koe te beschilderen. Een prachtexemplaar dat goed zal staan in de hal of kantine van je bedrijf. Een uniek bedrijfsuitje waarbij iedereen zijn of haar creatieve kant kan laten zien. Deze gezellige middag wordt vereeuwigd op een levensgrote koe.
Een kleine koe beschilderen is ook perfect als bedrijfsuitje of vrijgezellenfeest. Zo maakt ieder zijn eigen creatie en kan die ook zelf mee naar huis nemen. De 'kleine' koe is een beeldje van ongeveer 35 cm dat zich graag op een creatieve manier laat bedekken met verf.
---
Koe Schilderen Boeken











Is je groep te groot om te boeken?
Vraag dan een offerte aan!
---