Workshop Zilveren Ring
Maak een uniek sieraad!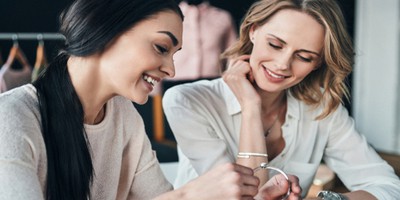 ✓

Workshop Zilveren Ring maken
Boek
Fundustry XL Deal
Compleet pakket!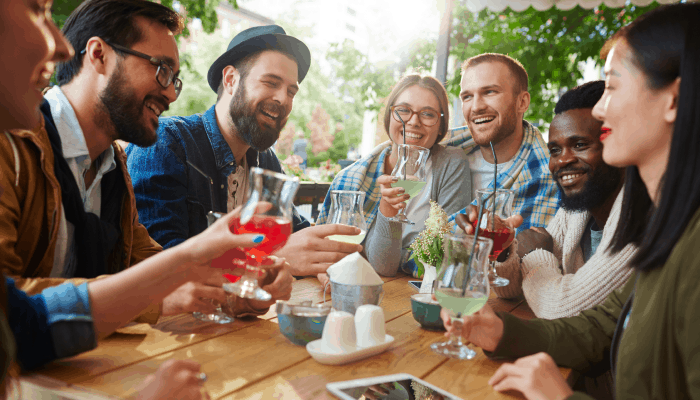 ✓

Koffie met Muffin

✓

Workshop Zilveren Ring

✓

Kipmenu incl. drankje
Fundustry XXL Deal
Meest populair!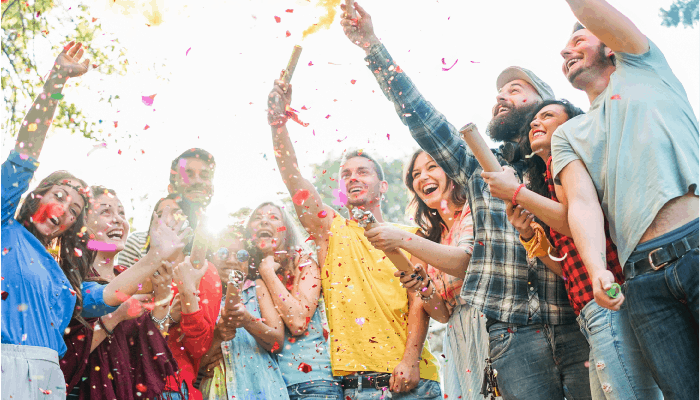 ✓

Koffie of Prosecco met Muffin

✓

Workshop Zilveren Ring

✓

Extra activiteit naar Keuze

✓

Keuze uit BBQ of Kipmenu incl. 2 drankjes
---
Deze bedrijven zijn al fan!



---
Zilveren Ring maken
Je neemt verschillende stappen tijdens deze workshop om een uniek zilveren sieraad te creëren. Bij elke stap denk je opnieuw na wat je wensen zijn om in de ring te verwerken. Het begint met het opmeten van je ringmaat, hiervoor zijn speciale mallen. De afmeting van je ring noteer je op een stukje zilver dat uiteindelijk je ring gaat worden. Op de juiste maat knip je het zilver af.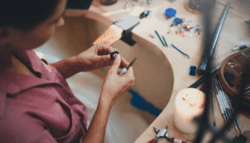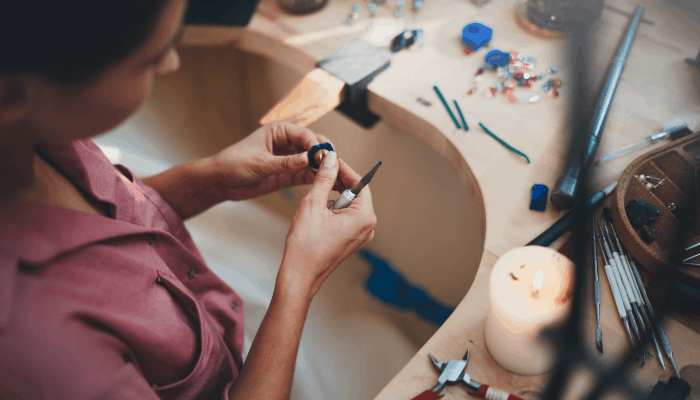 Wil je tekst of figuurtjes in je ring zetten dan is dit het moment om te stempelen. Nu is je ring nog plat en kun je hem bewerken met een persoonlijke touch. Je krijgt verschillende tips over het bewerken van zilver aangereikt. Ook leuke funfacts over zilver zijn een onderdeel van de workshop.
Het vormen van een ring kan beginnen. Allereerst worden de uiteindes bijgevijld. Of helemaal glad omdat de ring open blijft, of netjes rechts zodat hij dicht gesoldeerd kan worden. Buig de ring rond om een bolle tang totdat de juist ronding erin zit. Helemaal perfect hoeft het nog niet te zijn, dat komt na het solderen van de ring pas.
Het solderen van een zilveren ring is wat lastig en daar helpen onze begeleiders graag bij. Je kunt van dichtbij meekijken hoe je ring aan elkaar gesoldeerd wordt. Zit de ring dicht dan moet hij nog afgekookt worden. Zo hard het soldeersel sneller uit en kun je verder met de afwerking van je ring.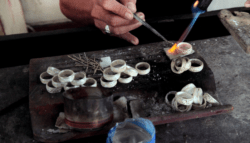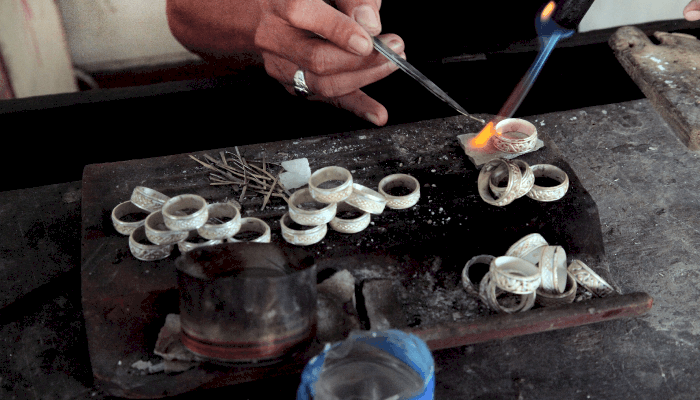 Om een tribulet ga je de ring nu perfect rond maken. Met een hamer klop je voorzichtig rond het zilver om je ring een mooie vorm te geven. Wil je nog een gedeukt patroon erin slaan, dan is dit het moment. Voor de finishing touch kun je kiezen uit een gladde, gepolijste ring of een matte, geschuurde ring. Beide een mooi effect voor een zilveren ring die je helemaal zelf hebt gemaakt. Om de ring voorzichtig te vervoeren krijg je een tasje mee met daarin een doosje en een poetsdoekje zodat je hem thuis nog wat bij kunt poetsen.
---
Workshop Zilver Cadeaubon
Wil je dit uitje graag cadeau geven aan iemand? Dat kan! Bestel nu een cadeaubon voor een gezellig uitje tijdens een zilver workshop. Direct na het bestellen en betalen ontvang je de tegoedbon in je mailbox. Deze kun je digitaal versturen of uitprinten en afgeven aan de gelukkige ontvanger. De ontvanger kan op fundustry.nl/cadeaubon-boeken zijn cadeaubon verzilveren in slechts een paar stappen.
Cadeaubon Workshop Zilver kopen
---
Zilver workshop
Ben je niet zo van de ringen, maar wil je wel een zilver workshop volgen? Probeer dan eens een zilveren ketting met tekst hanger te maken, of bewerk een zilveren armband naar jouw persoonlijke stijl. Twee leuke edelsmeden workshops die je met een groep vriendinnen of collega's uitstekend kunt doen tijdens een dagje uit.
Onze coronaproof locaties
Op al onze locaties is de aankomst van groepen volledig afgestemd op de capaciteit van het gebouw. De tafels zijn extra ruim opgezet en de toiletten hebben een speciale wachtrij en worden extra vaak schoongemaakt. Tijdens de workshop heeft ieder een eigen zit/staplek met voldoende ruimte om zich heen om de creativiteit los te laten.
---
Workshop Zilveren Ring Boeken
De leukste workshop boek je gemakkelijk en snel. Direct een datum reserveren en betalen, meteen klaar voor het leukste dagje uit! Heb je een cadeaubon gekregen? Dan kun je de ontvangen code tijdens het boeken invullen. Boek dan het juiste uitje waar je een cadeaubon voor hebt. De prijs wordt dan automatisch verrekend.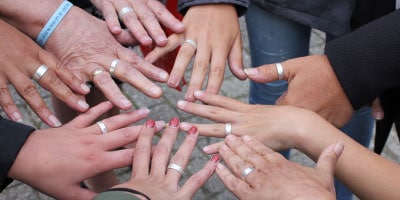 Is je groep te groot om te boeken?
Vraag dan een offerte aan!
Cadeaubon Workshop Zilveren Ring
Op zoek naar een leuk cadeau? Ga voor een cadeaubon voor een workshop zilveren ring en verras je vriend(in) met een creatief uitje! Gemakkelijk en snel bestel je een cadeaubon, even afrekenen en binnen 2 minuten een mooie cadeaubon in je mailbox. Klaar om uit te printen en cadeau te geven! Wie ga jij verrassen met dit leuke uitje?!
Met deze cadeaubon kun je kiezen uit: Workshop Zilveren Ring, Workshop Zilveren Ring Draad, Workshop Zilveren Ring Tekst.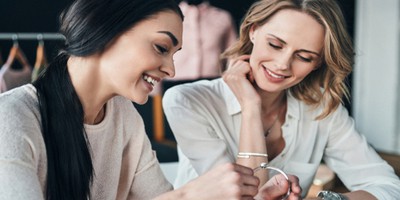 ---