Wat is teambuilding?
Bij teambuilding is het de bedoeling om een groep mensen hechter te maken zodat iedereen beter met elkaar kan samenwerken. Teambuilding betekent letterlijk 'het bouwen van een team', alleen bij teambuilding gaat het niet om de kwantiteit maar om de kwaliteit van een groep. Er zijn veel verschillende teambuilding methodes, maar het vertrouwen in elkaar kan voornamelijk worden gecreëerd door middel van groepsactiviteiten waarbij de groep samen moet werken en samen moet nadenken om het spel of de opdracht te kunnen winnen. Wanneer het samenwerken en het communiceren goed lukt tijdens de opdrachten en de spellen, lukt dit automatisch ook beter op de werkvloer!
Waar is teambuilding goed voor?
Binnen een bedrijf is het erg belangrijk dat collega's goed met elkaar overweg kunnen. Wanneer de onderlinge relaties tussen de werknemers goed zijn, zal dit ook zorgen voor een betere en directere communicatie onderling. Een betere onderlinge communicatie zorgt er ook voor dat er efficiënter gewerkt wordt en dat collega's elkaar feedback durven te geven. Buiten het efficiënte en bedrijfsgerelateerde aspect, zorgt het er natuurlijk ook gewoon voor dat je met een fijner gevoel naar je werk gaat en het meer naar je zin hebt op de werkvloer! Wanneer je een betere band hebt met je collega's en dingen dus beter bespreekbaar zijn, zorgt dit er ook automatisch voor dat je op lange termijn minder snel last hebt van stress of misschien wel een burn-out!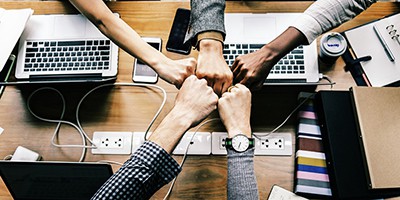 Teambuilding activiteiten
Er zijn veel verschillende activiteiten die super leuk zijn om te doen en ook nog eens goed zijn voor de teambuilding. Hier onder vind je een aantal leuke teambuilding ideeën:
De Highland games
De team games
De teambuilding games
De survival games
De Hunger games
Escape rooms
In deze activiteiten staat het samenwerken centraal en moet je dus goed met elkaar kunnen communiceren en op elkaar kunnen vertrouwen om de spellen te winnen!
Boek hier een van de bovenstaande teambuilding activiteiten!
---
Geïnteresseerd in meer informatie over bedrijfsuitjes?
Meld je aan voor onze speciale Bedrijfsuitjes Nieuwsbrief!
---