Bubbelbal
2 uur FUN!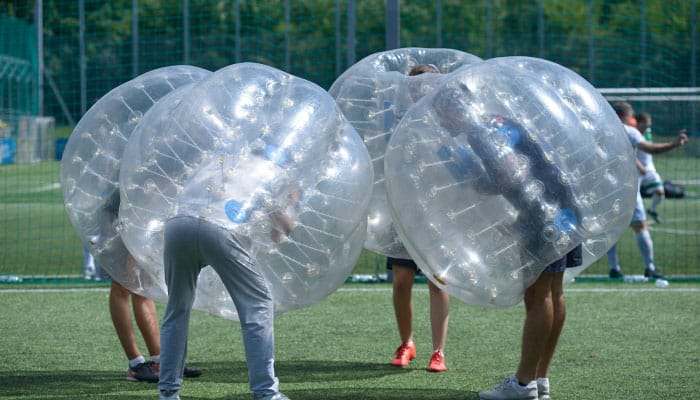 ✓

Hilarisch en actief

✓

Voetbal met een twist
Boek direct
Fundustry XL Deal
Maak het feestje compleet!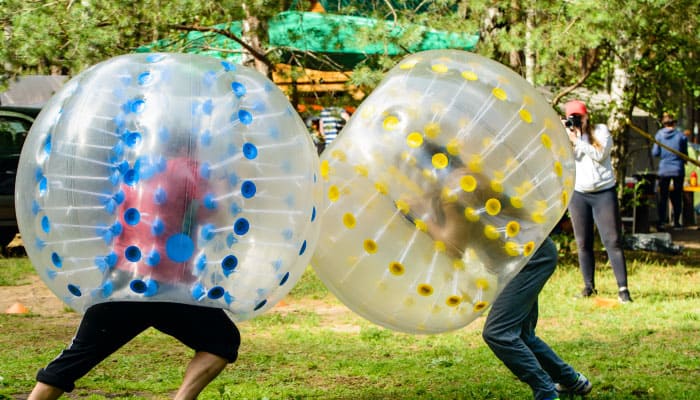 ✓

Koffie met Muffin

✓

Voetbal met een twist

✓

Kipmenu incl. drankje
Fundustry XXL Deal
Meest populaire pakket!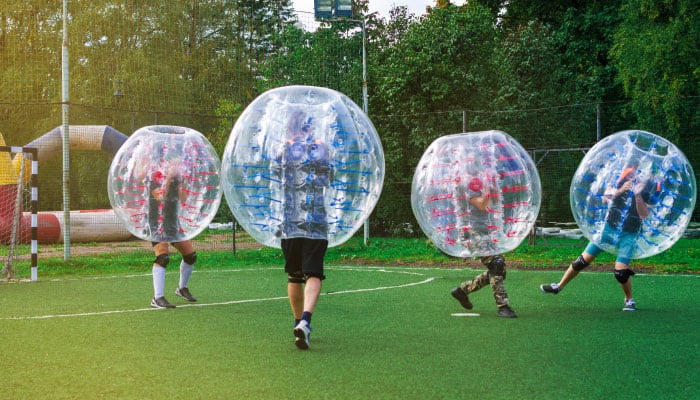 ✓

Koffie of Prosecco met Muffin

✓

Voetbal met een twist

✓

Extra activiteit naar Keuze

✓

Keuze uit BBQ of Kipmenu incl. 2 drankjes
---
Deze bedrijven zijn al fan!



---
Scoren in een Bubbelbal!
Wat is Bubbelbal?
Bubbelbal is een nieuwe manier van voetballen. Je duikt in een zogeheten zorb ball en gaat het veld op met je vrienden. Bij deze onvergetelijke ervaring ben je zelf de bal! Bubbelbal voetbal is een potje voetbal waarbij je als spelers allemaal in een grote opblaasbare bal zit. Zo kun je veilig tegen elkaar opbotsen en door het veld heen rollen.
Met bubbelbal heb je een sportief evenement voor elk groepsuitje. Kom bubbel voetballen met een vrijgezellenfeest, bedrijfsuitje of dagje uit met vrienden. Hilarische bubbelbal spelletjes op een groot veld zijn een garantie voor een gezellige dag.
Speel je liever niet mee met bubbelbal voetbal? Kijken is ook hilarisch! Op een afstandje de spelers coachen en de bal het doel in werken geeft een hele andere kijk op het bubbelbal voetbal.
Coronaproof Bubbelbal Voetbal
Bubbelbal Voetbal is een veilig uitje om op 1,5 meter te spelen met je vrienden of collega's. Ieder zit in een eigen plastic bal, waardoor je niet dicht bij elkaar in de buurt kunt komen. Tijdens het spel is er helemaal geen fysiek contact, omdat de bal je goed beschermd. Na ieder potje voetbal of bij iedere wissel wordt de bal aan de binnenkant goed schoongemaakt en ontsmet. Zo kan de volgende speler er veilig in kruipen. Het ultieme coronaproof uitje!
Bubbelbal op locatie
Bubbelbal is een outdoor activiteit. Buiten zijn ook andere bubbelbal spelletjes goed te spelen. Denk bijvoorbeeld aan een zorb ball race waarbij je een parcours moet afleggen terwijl je in de bubbelbal zit.
Bubbelbal speel je met de beste materialen en professionele begeleiding. Je krijgt een uitleg over hoe de bubbelbal te gebruiken en welke spelregels er gelden. Als de teams verdeeld zijn kan de strijd losbarsten. Een sportieve activiteit voor een vrijgezellenfeest, bedrijfsuitje of familie uitje.
---
Bubbelbal Voetbal
Bubbel voetbal, bubble voetbal, bubbelbal voetbal of  bubble ball voetbal.. het klinkt als een goede tongtwisters, maar dit is intensiever dan dat. Een echte sportieve activiteit waarbij je iedereen laat zien hoe goed jij kunt voetballen in je eigen bubbel. Een kleine persoonlijke ruimte waarin jij veilig tegen je tegenstanders en teamgenoten op kunt botsen. Probeer rennend en rollend over het veld te scoren in het doel en zo punten te winnen. Een ouderwets potje voetbal wordt in een bubbelbal naar een hoger niveau getild.
Onze coronaproof locaties
Op al onze locaties is de aankomst van groepen volledig afgestemd op de capaciteit van het gebouw. Gedoseerd worden jullie toegelaten tot een ruime ontvangstruimte waar je rustig in alle ruimte kunt plaatsnemen voor de ontvangst. Jullie drankjes en hapjes serveren we momenteel niet, maar plaatsen we op de bar. De tafels zijn extra ruim opgezet en de toiletten hebben een speciale wachtrij en worden extra vaak schoongemaakt.
Boek voor jouw locatie








Is je groep te groot om te boeken?
Vraag dan een offerte aan!
---