Wat is een VR Room?
Tegenwoordig hoor je het steeds vaker voorbij komen, een VR Room, maar wat is het eigenlijk? VR is de afkorting van virtual reality, wat in het Nederlands virtuele realiteit betekent. Bij een VR Room maak je gebruik van een ocolus rift en een motion control. De motion control zorgt ervoor dat de bewegingen die jij maakt worden geregistreerd, deze bewegingen worden vervolgens doorgestuurd naar de ocolus rift die op jouw hoofd bevestigd zit als een soort bril. De bewegingen die jij maakt gebeuren dus ook op de bril, waardoor je een superrealistische ervaring creëert en allerlei vette spellen kunt spelen door te bewegen met je eigen lichaam! Dit uitje is leuk voor teambuilding!
Leuke VR-games
SUPERHOT 
Tijdens deze VR-game gaat alles in slow motion! De bewegingen die jij maakt worden geregistreerd voor de motion control en worden gekopieerd naar je tegenstanders. Wanneer jij schiet of beweegt, gebeurt dit dus ook bij je tegenstander. Een leuke uitdaging dus!
Flappy Arms
Dit spel is geïnspireerd door het spel flappy Bird en werkt dus ook een soort van hetzelfde. Je armen werken als vleugel. Je kan door harder of zachter met je armen op en neer te gaan dus ook hoger of lager vliegen. Het doel van het spel is om door en over allerlei gebouwen, steden en natuurgebieden te vliegen!
Hold My Beer
Je hebt iets te diep in het glaasje gekeken en je bent dus ook niet helemaal stabiel meer. Je moet in deze VR-game allerlei opdrachten uitvoeren terwijl alles heel langzaam gaat en niet elke beweging helemaal gaat zoals je wilt. Lukt het jou om alles heel te houden?
Masterpiece
Tijdens deze VR-game ben je een echte kunstenaar. Je kunt allerlei ontwerpen maken en het vervolgens vanaf verschillende perspectieve bekijken. Wanneer je tevreden bent over het ontwerp, dan plaats je hem in het VR-museum
Operaiton Warcade
Deze VR-game is een echte shooter die zich afspeelt in een oorlogsgebied! Je hebt allerlei verschillende wapens tot je beschikking waarmee je tegenstanders moet beschieten. De realistische graphics komen echt tot leven in deze virtual reality world!
Affected The Manor
In deze realistische thriller game ga je een kijkje nemen in een zeer gevaarlijk en geïnfecteerd landhuis waar allerlei gevaren op de loer liggen. Durf jij overal in het landhuis een kijkje te nemen?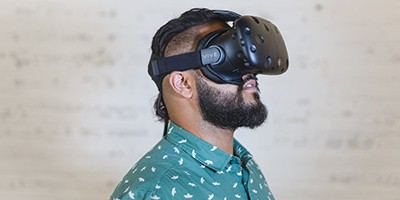 Over de VR experience
Deze VR experience duurt 90 minuten inclusief uitleg en kan je alleen beleven in Dordrecht.  De groep moet uit minimaal 4 persoon bestaan om deze VR experience te doen. Iedereen speels individueel de games en de mensen die niet spelen kunnen meekijken op een scherm. Erg leuk om elkaar te zien spelen natuurlijk.
Klik op deze link en boek jullie VR experience!
---
Geïnteresseerd in meer informatie over bedrijfsuitjes?
Meld je aan voor onze speciale Bedrijfsuitjes Nieuwsbrief!
---