Paintball

Dezelfde kleding en Bescherming +
Dezelfde paintball wapen+
Speciale paintball ruimtes -
Minimum leeftijd van 18 jaar -
Schieten met verf balletjes -
Geen herbruik mogelijkheid -
---
---
Reball

Dezelfde kleding en bescherming +
Dezelfde paintball wapen +
Meerdere ruimtes +
Minimum leeftijd van 18 jaar -
Schieten met rubberen balletjes +
Herbruik mogelijkheid +
---
---
---
Reball paintball
Paintballen, velen hebben het al wel eens gedaan. Je wordt er sneller vies van en de balletjes zijn aan de prijzige kant. Dan ken je waarschijnlijk Reball paintbal nog niet. Alles wat je over Reball paintball moeten weten hebben wij voor jou opgezocht.
Wat is Reball?
Reball is een variatie op paintball en is dus een teamgame, waarbij je in 2 teams tegen elkaar speelt. Net als bij paintball gebruik je bij Reball beschermende kleding, maskers en uiteraard een krachtig luchtdruk wapen waar mee geschoten kan worden. De balletjes die uit de wapens komen, dat zijn de Reballs. Met Reball kun je ook verschillende challenges spelen, die ook gespeelt kunnen worden tijdens paintball Zoals:
Capture the flag – Een vlag midden in het veld, die veroverd en verdedigd moet worden.
Team Deathmatch – Twee teams strijden tegen elkaar tot een team gewonnen heeft.
Free for all – Een heel veld vol met tegenstanders, trek ten strijden tot jij het laatste over bent.
Bunny hunt – Een persoon in een konijnenpak met een groot wapen, de rest begint de jacht op het konijn.
Uiteraard zijn er nog meer challenges te spelen.
Hoe is Reball paintball ontstaan?
Reball werd in Europa ontwikkeld als alternatief voor het traditionele paintballen. De makers van Reball wilden een herbruikbare, synthetische, verfloze paintball maken die je keer op keer zou kunnen schieten. Je moet ze alleen wel weer even oprapen! Zo zou een speler veel vaker kunnen oefenen, terwijl de hoeveelheid aangeschafte Reballs het zelfde blijft, dan bij paintballs. De Reball werd ontworpen door spelers en voor spelers. Laat je niet misleiden door bedrijven die beweren dat zij een Reball bedrijf zijn. Er is slechts één Reball Bedrijf die bevoegd is de Reballs te produceren en te verspreiden. Reball is een handelsmerk in meer dan 34 landen en wordt op bijna elk continent gespeeld. Reballs werken met alle standaard paintballuitrusting.
Wat is een Reball?
Reballs zijn balletjes die gebruikt kunnen worden in plaats van paintballs. Deze balletjes zijn gemaakt van rubber en zijn meestal geel en Oranje, maar het kan ook een andere kleur zijn. Doordat deze Reballs van rubber zijn, kun je ze ook vaker gebruiken. Doordat je ze kan hergebruiken is Reball een stuk goedkoper dan paintbal.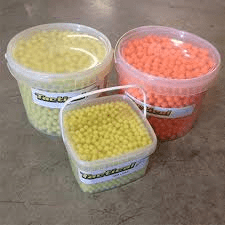 Reball vs Paintball.
Paintball en Reball is vrijwel het zelfde. Je kunt voor beide dezelfde kleding, bescherming en zelfs dezelfde wapens gebruiken. Meestal zijn ook de ruimtes waar in gespeeld wordt hetzelfde. Ook geldt bij beide de minimale leeftijd van 18 jaar. Het grootste verschil zit het hem in het balletje dat je weg schiet. Bij paintball schiet je echt met balletjes gevuld met verf die open spatten zodra ze iets raken. Bij Reball schiet je met rubberen balletjes, die juist intact blijven op het moment dat ze iets raken. Het voordeel hieraan is, dat je deze balletjes gemakkelijk kan hergebruiken. Reballs worden vaker gebruikt bij het afstellen en oefenen met de wapens. Het nadeel is echter wel dat in het oprapen van deze balletjes wat tijd kan gaan zitten. Een ander voordeel is, doordat er geen verf gebruikt wordt kun je dit gemakkelijker binnen spelen, op het moment dat je die ruimte liever niet al te smerig wilt maken.
Paintballen bij Fundustry?
Was dit precies wat je zocht, kijk ook nog even naar onze andere Blogs! Helaas kun je bij ons nog geen Reball Paintball spelen, maar wel kei gaaf komen paintballen En om niet vies te worden krijg je standaard een overall te leen tijdens je uitje! Wil je komen paintballen bij ons, klik dan snel op de link hier onder, of kijk voor een van onze andere activiteiten!
Lees ook eens de volgende blogartikelen:
Doet paintballen pijn? – Blauwe plekken, bunny runs, vrijgezellenfeesten en overalls vol met verf het hoort er allenmaal bij!
Is Paintball Verf Uitwasbaar?  Dagje paintballen bij Fundustry Adventures? Leuk! Maar krijg ik die rottige verf ook uit mijn kleding? Het antwoord op je vraag vind je hier!
Is paintball slecht voor het milieu? – Hartstikke leuk: we gaan paintballen! Maar wordt er geen verf gebruikt? Dat blijft toch liggen na afloop? En dat lijkt me slecht voor dier en milieu?
---