Cocktail Maken
2 uur FUN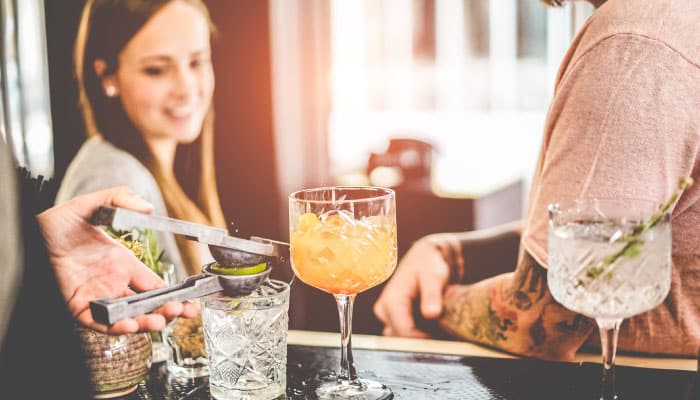 ✓

Workshop Cocktail maken
Boek direct
Fundustry Deal XXL
Compleet Pakket!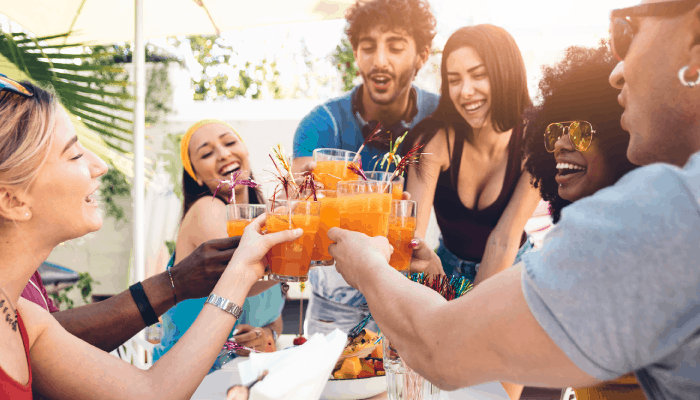 ✓

Ontvangst met koffie & muffin

✓

Workshop Cocktail maken

✓

1 extra activiteit naar keuze

✓

BBQ (do it yourself) + 2 drankjes
Fundustry Deal TOP
Meest populair!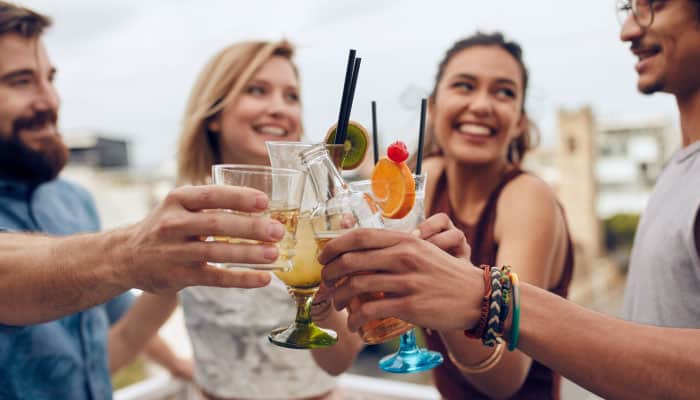 ✓

Ontvangst met koffie & muffins

✓

Workshop Cocktail maken

✓

2 extra activiteiten naar keuze

✓

BBQ (do it yourself) + 3 drankjes
---
Deze bedrijven zijn al fan!



---
Cursus cocktails maken
Wat is een cocktail workshop?
Een cocktail workshop is een leuke zomerse activiteit of leuk als vriendinnenuitje of vrijgezellenfeest. Mix zelf de ingrediënten voor de meest bekende cocktails. Ga net als een echte flairtender (een bartender die gespecialiseerd is in het maken van cocktails) de ingrediënten voorbereiden, mixen en shaken en uitschenken. En het leukste van de cocktail workshop is natuurlijk dat je je eigen cocktail mag proeven.
Cocktails op mooie locaties
Een cocktail workshop is hartstikke leuk om te doen met je vrienden of je collega's. En het mooie en fijne is, is dat je de cocktail workshop op meerdere locaties in Nederland kunt doen. Op onze Fundustry locaties beschikken we over alle materialen en hebben we heerlijke terrassen, zodat je hopelijk in de zomer lekker met je eigen cocktail in de hand kunt genieten van tropische sferen in de zon.
Cocktails shaken met vriendinnen
Wil jij een keer een origineel uitje met vriendinnen organiseren? Of ben je op zoek naar een gezellig vrijgezellenfeest? Een middag cocktails shaken met vriendinnen bij Fundustry is een hele goede keuze! Leer meer over allerlei drankjes en ingrediënten en ga zelf aan de slag. Mixen, shaken en uitschenken maar. En dan uiteraard heerlijk proeven en genieten van je zelfgemaakte cocktail. En hou je niet van alcohol of moet je nog rijden? Dan kun je bij ons ook de lekkerste mocktails maken.
Wil je graag nog een activiteit bij het cocktails maken erbij doen? Dat kan natuurlijk ook bij Fundustry. Ga voor nog een andere workshop of ga voor een escaperoom. Zo heb je zeker weten een geslaagde en onvergetelijke dag.
Cocktails voor echte mannen
Dacht je dat een workshop cocktails maken alleen voor vrouwen was? Zeker niet! Een cocktail workshop is ook zeer geschikt voor mannen. Met een kleine twist in smaken, maken we de cocktails wat stoerder en kunnen mannen ook genieten van hun eigengemaakte cocktails. Denk bijvoorbeeld aan toevoegingen van whiskey of rum. Dat wordt genieten!
Wil je toch liever een andere workshop doen met de mannen? Dan is misschien de barbecue workshop wat. Of heb je altijd al willen leren pokeren? 
Ga je liever een actieve activiteit doen met de mannen? Dan heb je bij Fundustry voldoende keuze. Denk eens aan een shooting game of een gemotoriseerd uitje.
Cocktailworkshop voor een kleine groep
Een workshop cocktails maken is een geweldige zomerse activiteit om te doen met je collega's of vriendinnen. En het maakt niet uit of je met een grote of kleine groep bent. Ook met slechts een paar vriendinnen, collega's of familieleden, ben je bij ons van harte welkom. Want ook met een select gezelschap is het leuk om jouw eigen cocktails te shaken en om er daarna van te genieten. Een workshop cocktails maken is sowieso helemaal van deze tijd, dus verzamel een leuk groepje en waan je in tropische sferen met onze workshop cocktails maken. Want onthoud, cocktails kunnen altijd! 
Wil je daarnaast met jouw groep nog een andere workshop doen of is cocktails maken toch niet helemaal jouw ding? Dan kun je bij Fundustry gelukkig alle kanten op qua workshops. Ga voor een creatieve workshop zoals zilveren sieraden maken, een workshop schilderen of een workshop parfum maken. 
Of wil je liever een culinaire workshop? Dan kun je hamburgers of sushi maken.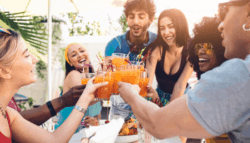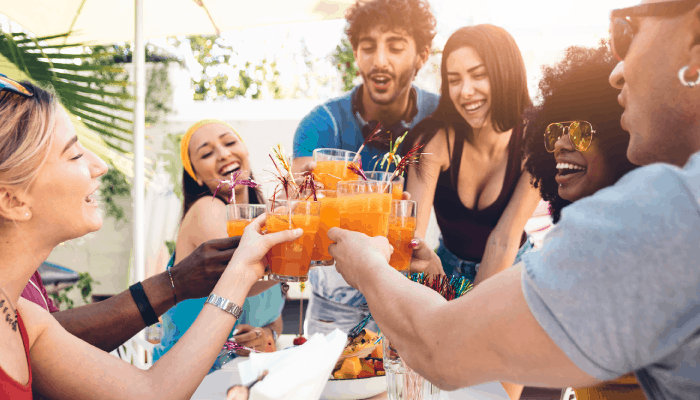 Cocktail Workshop Vrijgezellenfeest
Nog een avondje uit voordat je gaat trouwen. Kom een cocktail cursus volgen en maak je eigen mojito of pina colada. Alle ingrediënten zijn aanwezig voor een supertof vrijgezellenfeest. Een workshop met als resultaat een heerlijk verfrissend drankje is perfect voor een zomermiddag op één van onze terrassen. Drinkt één van jullie liever geen alcohol? Geen probleem er zijn ook populaire recepten voor mocktails beschikbaar bij de workshop.

Veel gestelde vragen
Wat houdt de workshop cocktail maken in?
Tijdens de workshop cocktail maken, leer je meer over de ingrediënten en mogelijkheden. Je gaat de ingrediënten voorbereiden, vervolgens mixen en uitserveren. Je leert van de flairtender hoe je het beste kunt shaken. Zo kun je nog beter genieten van jouw eigen cocktail.
Voor wie is de cocktail workshop?
Voor iedereen die van een lekker drankje houdt en een gezellige workshop wil doen. Of je nu met een groep vrienden bent, een stel vriendinnen of een bedrijfsteam, met deze workshop waan je je een echte flairtender en shake je de lekkerste cocktails. Om ze vervolgens uiteraard lekker te proeven. Waan je op een tropisch eiland en genieten maar!
Ik drink geen alcohol. Kan ik de cocktail workshop wel doen?
Indien jij geen alcohol drinkt, ook dan is de cocktail workshop zeker leuk om te doen. Wij hebben namelijk genoeg lekkere drankjes om jouw eigen mocktail te maken. En we verzekeren je dat die net zo lekker zijn als de cocktails!
---
Cocktail Workshop Boeken












Is je groep te groot om te boeken?
Vraag dan een offerte aan!
---