Lekker en angstaanjagend
Het is natuurlijk erg leuk om tijdens Halloween wat lekkers op tafel te kunnen zetten. Normale hapjes zijn dan wel erg saai, dus daarom moeten de hapjes wel een Halloween thema hebben! Je vindt op het internet veel verschillende Halloween hapjes, maar welke zijn nou het lekkerst en het leukst? In dit blogartikel hebben wij een samenstelling gemaakt van de top 5 lekkerste en leukste Halloween hapjes! Wij wensen jullie veel maak en eet plezier!
Top 5 angstaanjagend lekkerste Halloween recepten
1. Mummie Knakworstjes
2. Halloween Cheeseburger
3. Oreo Spinnetjes
4. Bloederige Punch
5. Griezel Donuts
1. Mummie Knakworst
Benodigdheden:
– Knakworstjes
– Bladerdeeg
De mummie knakworst is een leuke Halloween variant op de altijd lekker worstjes in bladerdeeg! Snij het bladerdeeg in dunne reepjes van ongeveer 3 mm. Wikkel vervolgens het bladerdeeg rondom de knakworstjes, maar laat wel nog een stukje over voor het gezichtje. We mogen natuurlijk niet de ogen vergeten, snij daarom 2 kleine rondjes uit het bladerdeeg van ook weer ongeveer 3 mm breed en plak deze vervolgens op het gezichtje. Doe ze vervolgens 20 minuten in de oven en de mummie knakworstjes zijn klaar om gegeten te worden. PS. Laat ze nog wel eerst even afkoelen!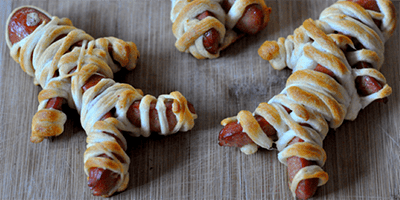 2. Halloween Cheeseburger
Benodigdheden:
– Hamburger
– Wit bolletje of hamburger broodje
– Cheddar kaas
– Rode saus (lijkt op bloed)
– Sla
– Tomaat
Zo maak je echte Halloween cheeseburgers! Snij Halloween gezichtjes uit plakjes cheddar (zie foto). Bak vervolgens de hamburger goed gaar en leg de kaas op de hamburger zodat deze lekker smelt. Maak vervolgens de burger compleet met een broodje, groente en lekker saus. Het is erg leuk om rode saus te gebruiken, omdat dit er bloederig en griezelig uitziet!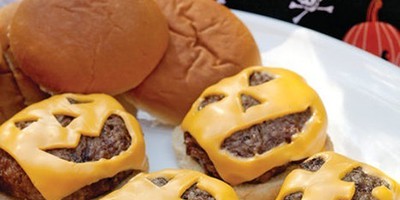 3. Oreo Spinnetjes
Benodigdheden:
– Oreo's
– Dropveters
– Marsepein
De Oreo spinnetjes zijn makkelijk te maken en is echt Halloween snoepgoed voor de zoetekauw onder ons. Leg een aantal oreo's op een bord en druk vervolgens 8 poten van dropveters in de oreo's. Nadat je dit gedaan hebt ontbreekt er nog één ding, de oogjes! Maak van marsepein voor ieder oreo spinnetje 2 oogjes en plak ze er vervolgens op. Nu zijn de oreo spinnetjes helemaal klaar om opgegeten te worden!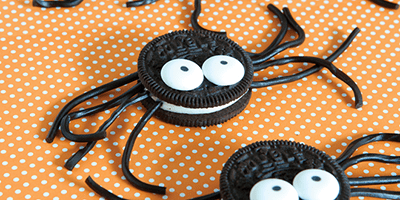 4. Bloederige Punch
Benodigdheden:
– Rode drank
– Plastic handschoen
– Vissenkom of Punch schaal
Er moet natuurlijk ook wat lekkers en leuks te drinken op tafel staan, bijvoorbeeld een bloederige punch! Om mee te beginnen vul je een plastic handschoen met water en leg hem dan in de vriezer. Pak daarna een vissenkom of een punchschaal en doe daar vervolgens rode ranja of een andere rode drank in om het er griezelig uit te laten zien. Wanneer de het water in de plastic handschoen bevroren is, haal je het uit de vriezer en knip je de plastic handschoen er af. Ten slot leg je de bevroren hand in het water en klaar is kees! De bevroren hand zit er niet alleen griezelig uit, maar houdt de punch ook nog eens lekker koud!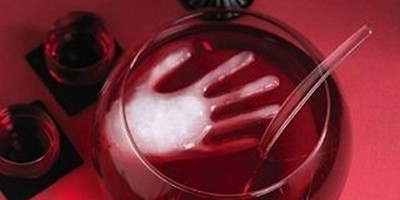 5. Griezel Donuts
Benodigdheden:
– Donuts
– Smarties
– Amandelen
– Rode vloeistof
De griezel donuts zijn erg makkelijk om te maken en heerlijk om op te eten. Druk 2 smarties in een donut, die zullen dienen als ogen. Vervolgens druk je, net als op de foto, de amandel stukjes in de binnenkant van de donut. Ten slot smeer je nog wat rode zoete vloeistof rond de mond van de griezeldonut en hij is klaar om gegeten te worden! Simpel toch?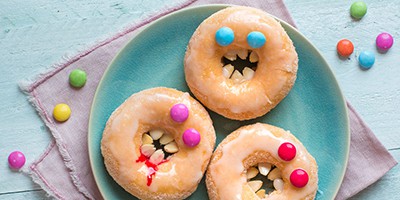 ---