Kinderpaintball
Een goede basis om te knallen!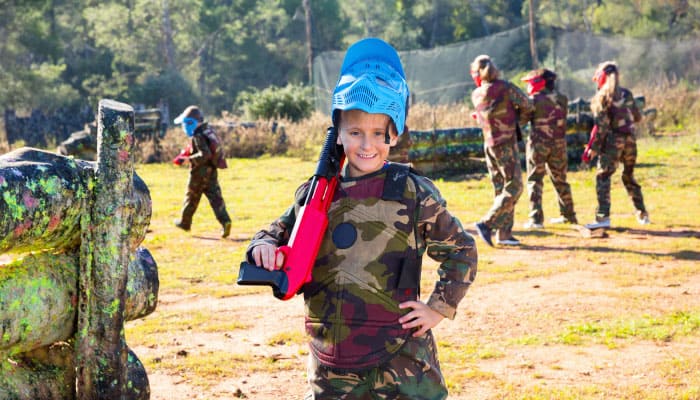 Inclusief

✓

125 balletjes per persoon
Boek direct
Kinderpaintball All-in
Compleet met menu!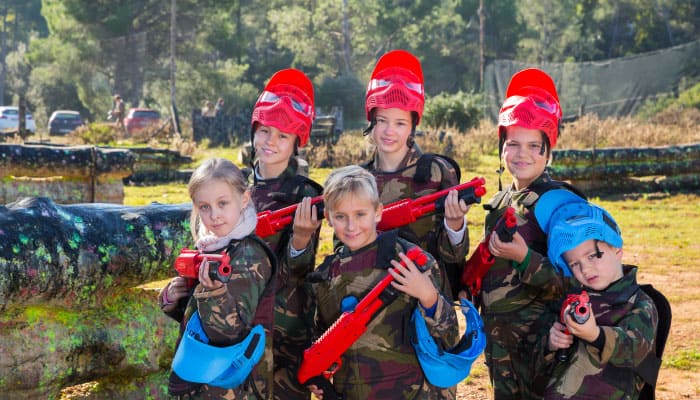 Inclusief

✓

125 balletjes per persoon

✓

Pannenkoeken Menu + onbeperkt limonade
Boek direct
Kinderlasergamen
Een andere shootinggame!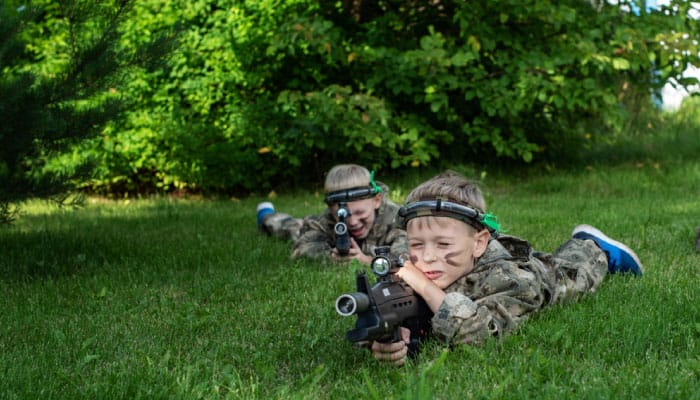 Inclusief

✓

Lasergamen Indoor of Outdoor
Bekijk Lasergamen
---
Hét leukste kinderfeestje!
Battle Royale Paintball
Op onze spannende speelvelden kom je de vreemdste obstakels tegen. Oude auto's, een vliegtuig, boten, een heel verlaten dorp en een gangen stelsel van buizen! Durf jij het aan op deze spannende speelvelden? Je speelt diverse games die je misschien wel herkent van het spelletje Battle Royale. Het thema Battle Royale maakt je paintball kinderfeestje extra stoer!
Het spannendste feestje
Het meest vette heldenfeestje, al zeggen we het zelf! Het paintballen is zo uitdagend, dat de helden vol enthousiasme het eens zullen zijn: Dit was het leukste kinderfeestje ooit! Ga tekeer met de te gekke games en missies als Battle Royale en maak indruk als nooit tevoren! Het kan voorkomen dat je moet spelen tegen kinderen van een ander kinderfeestje. Dan wordt het juist een nog spannendere battle! Jouw vrienden tegen de rest.
Veilig
Natuurlijk is het wel belangrijk dat alles veilig gaat, daarom is er professionele begeleiding bij jullie kinderfeestje. Dat zorgt er ook gelijk voor dat het feestje nog uitdagender wordt, want onze instructeurs zijn niet de makkelijkste! De minimale groepsgrootte voor dit kinderfeestje is 8 kinderen.
Professionele balletjes
Ieder kind krijgt 125 paintballs en er is altijd de mogelijkheid om extra paintballs bij te kopen. Je kunt kiezen voor een zak die je met je groep kunt delen, hier zitten 500 balletjes in.
Een spannende afsluiting
Nadat de helden de bom hebben ontmanteld en de games hebben gewonnen is het tijd om de Robin Hood kunsten te laten zien tijdens het kinderfeestje. Als afsluiter kun je het boogschieten bijboeken en maak je het feestje echt compleet voor alle helden!
Een compleet kinderfeestje!
Een gezellige afsluiting van het feestje doe je met een heerlijke pannenkoeken-menu en onbeperkte limonade! Laat de rommel maar staan, dat regelen wij! Het kinderfeestje wordt op deze manier helemaal verzocht tot in de puntjes! Bekijk hieronder onze upgrades!
Een kindermenu box als heerlijke afsluiter
Heb je geen zin in pannenkoeken of geen tijd om langer te blijven? Ga dan voor de Wilde Beestenbox! Een heerlijk kindermenu in een handige meeneembox. In de box zit friet, limonade, appelmoes, saus, snack naar keuze (frikandel, kroket of 5 kipnuggets) én een speeltje. Dat is nog eens een heerlijke afsluiter van jullie feestje!
100% Kidsproof
Bij Kidsproof.nl selecteren ze de leukste uitjes en adresjes in Nijmegen en omgeving. Met elke maand ongeveer 17.000 ouders die de site checken voor tips kijken ze bij Kidsproof persoonlijk naar de beste opties in de omgeving. Zo zijn de kinderfeestjes van Fundustry Adventures goedgekeurd als 100% kidsproof!

---
Boek Kinderpaintball

Is je groep te groot om te boeken?
Vraag dan een offerte aan!
---