Bij ons is voetbal leuk zonder het WK!
Wij van Fundustry hebben de leukste voetbalspellen voor jou op een rijtje gezet.
Een Oranje loze zomer? Maak je eigen WK!
Omdat het grote Oranje zicht niet geplaatst heeft voor het Wereldkampioenschap, biedt dit kansen voor jou en je vrienden! Neem de plaats in van Memphis en consorten, maak teams en ga helemaal los tijdens deze 4 extreme voetbalspelletjes. Ga de strijd aan, want zoals Rinus Michels zou zeggen: voetbal is oorlog!
Bind de strijd aan tijdens levend tafelvoetbal
Tafelvoetbal saai? Een beetje aan stangen draaien en poppetjes bewegen? Zeker niet! Tijdens dit spel sta je zelf tussen de touwen en ben je vastgebonden met een elastiek aan een grote stang. Net als bij normaal tafelvoetbal kunnen deze stangen op en neer, zodat je goed samen met werken met je partner-in-crime. De regel is simpel: wie het meest scoort, wint. Maar of elastiekvoetbal nou zo makkelijk is?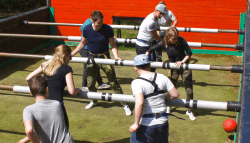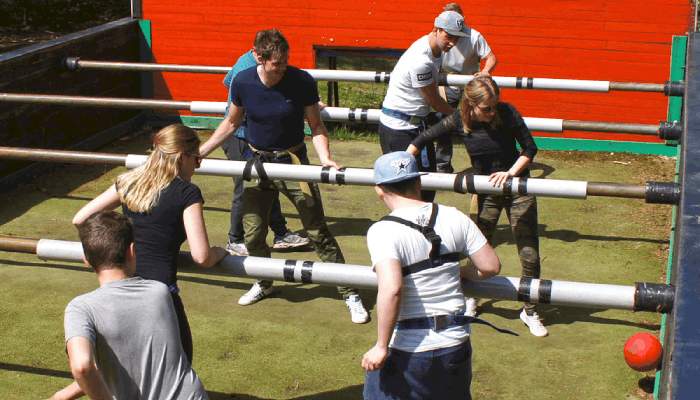 Speel een 'geladen' potje voetbal
Elektroshock voetbal. Op het eerste oog zo'n onschuldig en normaal voetbalspelletje. Maar schijn bedriegt! Jij en je vrienden krijgen namelijk een enkelband om, waarmee de begeleider van het spel de spelers op onverwachte momenten schokjes kan geven. Kun jij overeind blijven en de winnende goal maken? Lekker extreem en zeker niet voor watjes weggelegd. Durf jij het aan?
Test je technische vaardigheid op het veld
Oké, dus je hebt genoeg van het hangen aan touwen en het krijgen van schokken. Je wilt laten zien dat je een technisch betere voetballer bent dan je vrienden. Dan moet je zeker snookball (of footpool of poolsoccer) gaan spelen! Net als bij snooker ligt er een groot aantal ballen in het veld, waarbij het je taak is om deze in de juiste volgorde in de gaten te schieten. Maar let op: verpruts je het, dan loopt je tegenstander misschien wel weg met de trofee!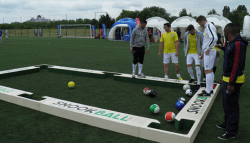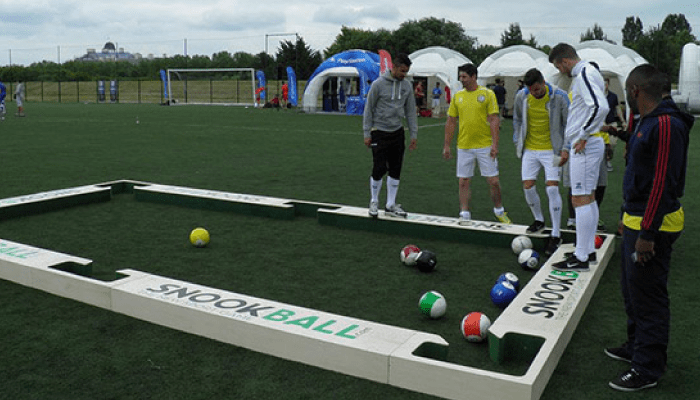 Trap jezelf naar eeuwige glorie
Ook bij het footdarts kun je je vrienden aftroeven met jouw superieure trap. Blind schieten is er niet bij, want op het grote dartbord is elk punt waardevol. Te zacht trappen? Dan valt de bal eraf. Te hard trappen? Dan vliegt de bal misschien het doel voorbij! Een uitdaging waarbij je je skills kan laten zien….of als een gieter afgaat!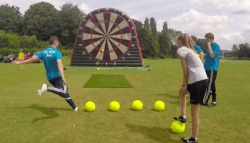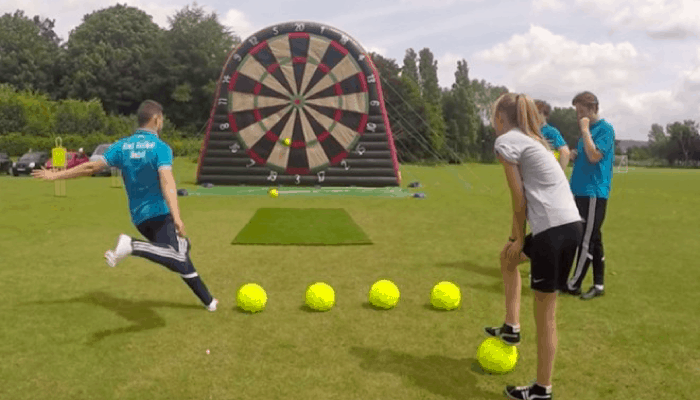 Win het WK
Natuurlijk kun je deze voetbalspellen apart van elkaar spelen, maar het leukste is om een totaalscore bij te houden, zodat jij aan het einde met recht kan zeggen dat je het hele toernooi de beste was. Maar er is meer: als jij raadt wie er in Rusland op 15 juli met die felbegeerde WK-beker op het bordes staat, dan kun je met onze Facebook-winactie een prachtige prijs winnen.
Heb jij zin om een van de toffe uitjes van Fundustry te doen? Houd jij van shooting games of toch wast anders? Bekijk het nu op onze site!
---