Quad rijden
1 uur FUN!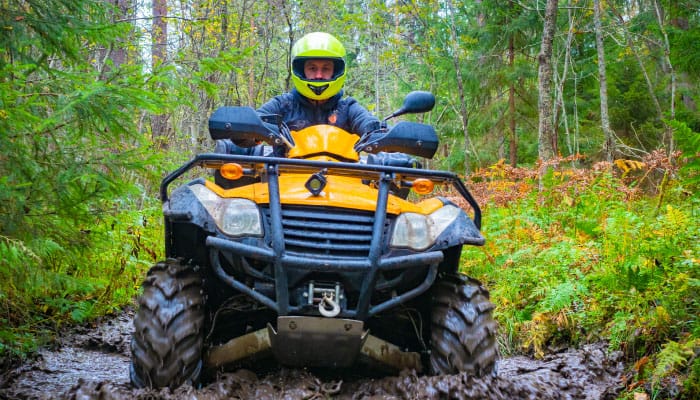 Boek direct
Men's Special
Dubbel zoveel FUN!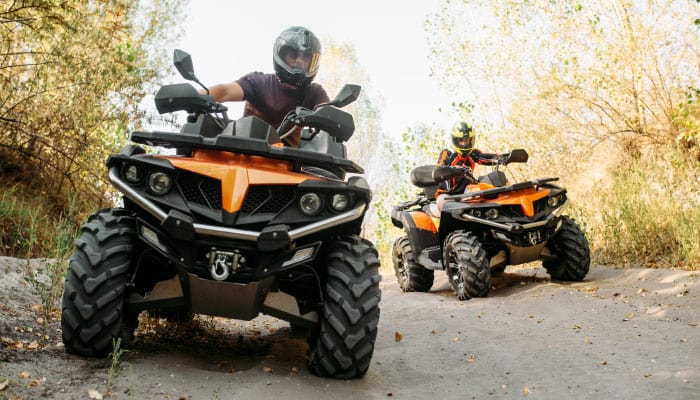 ✓

Quad rijden

✓

Offroad rijden
Boek direct
Men's Special XL
Meest populaire pakket!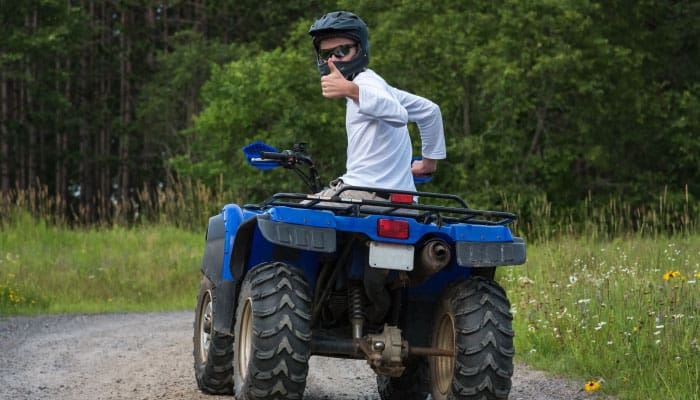 ✓

Quad rijden

✓

Offroad rijden

✓

Driften
Boek direct
---
Deze bedrijven zijn al fan!



---
Quad rijden in Nijmegen
Beleef een spectaculaire ervaring bij Fundustry Nijmegen. Quad rijden door de modder was nog nooit zo gaaf. Het perfecte uitje voor een vrijgezellenfeest op bedrijfsuitje. Wie komt er zonder kleerscheuren over het parcours vol met bochten, hobbels, bruggetjes en kuilen heen. Op de quad rijd je rustig om alle obstakels goed en veilig te kunnen overwinnen.
Quad Parcours in Nijmegen
Locatie Fundustry Nijmegen ligt op de Groene Heuvels in Ewijk. Een rustige dorpje aan de rand van de grote stad, vol bomen, struiken en grasvelden. Op de behendigheidsbaan liggen, staan en hangen diverse obstakels. Je rijdt over boomstammetjes, schuine hellingen en door kuilen heen. Op tijd bukken voor latten en over de hobbelige brug laten je tot het uiterste gaan op de quad.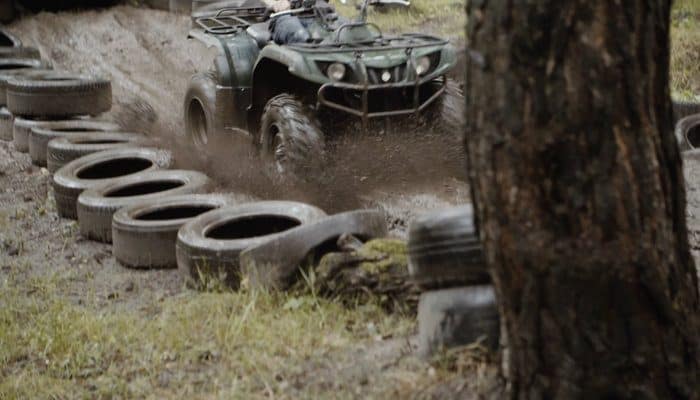 Onze Quads in Nijmegen
Op de quadbaan in Nijmegen rijden we met benzine quads, dit zijn dezelfde quads als in Eindhoven en Gouda gebruikt worden. Het voertuig trekt je zo door de modder heen. Je hoeft zelf niet te schakelen, alleen gas en remmen. Quad rijden kan iedereen, ook de vrouwen ;). Om het veilig te houden krijgt iedereen een helm op en worden er veiligheidsinstructies gegeven. In roulatie ga je de baan op, zo wordt het niet te vol op het quad parcours en kun je kijken hoe de anderen het ervan af brengen. Uiterst leerzaam en ook zeker genieten om naar je vrienden of collega's te kijken die een grote rode quad besturen.
Event Locatie Nijmegen (Ewijk)
Naast het quad rijden kun je bij Fundustry Nijmegen ook andere uitdagingen activiteiten doen. Zo is er een klimpark, ideaal voor bedrijfsuitjes en teambuilding. Hoog tussen de bomen elkaar vertrouwen en vooruit helpen op de touwen. In Nijmegen is ook voldoende gelegenheid voor een potje paintball of airsoft. De drie grote velden bieden alle ruimte. Zowel binnen als buiten is er ruim de plek om te genieten van de horeca. Het terras en ook de binnenruimte zijn sfeervol aangekleed en laten je thuis voelen. Combineer je uitje met één van onze horeca arrangementen zoals BBQ's of Menu's en je bent de hele dag op stap! Perfect voor vrijgezellenfeest en bedrijfsuitjes, wij ontzorgen je volledig.

---
Boek Quad Rijden
Het leukste uitje op 4 wielen boek je snel en gemakkelijk. Direct een datum reserveren en betalen, meteen klaar voor het leukste dagje uit! Heb je een cadeaubon gekregen? Dan kun je de ontvangen code tijdens het boeken invullen. Boek dan het juiste uitje waar je een cadeaubon voor hebt. De prijs wordt dan automatisch verrekend.
Let op: Voor het uitje quad rijden moet je minimaal 16 jaar zijn. Je hoeft niet in het bezit te zijn van een rijbewijs.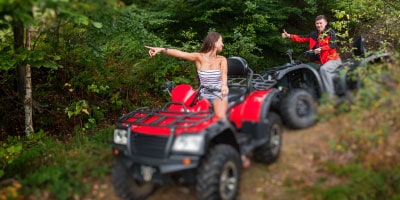 Is je groep te groot om te boeken?
Vraag dan een offerte aan!
Cadeaubon Quad Rijden
Op zoek naar een leuk cadeau? Ga voor een cadeaubon om quad te rijden, ga voor een stoere activiteit en verras je vriend(in) met een leuk uitje! Gemakkelijk en snel bestel je een cadeaubon, even afrekenen en binnen 2 minuten een mooie cadeaubon in je mailbox. Klaar om uit te printen en cadeau te geven! Wie ga jij verrassen met dit adrenalinevolle uitje op 4 wielen?!
Let op: Voor het uitje quad rijden moet je minimaal 16 jaar zijn. Je hoeft niet in het bezit te zijn van een rijbewijs.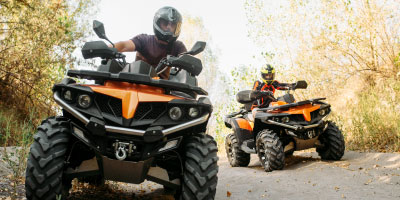 ---