---
Deze bedrijven zijn al fan!



---
Quad rijden bij Fundustry
Met een stoere quad door de modder scheuren op een uitdagend parcours. Wie wil dat nou niet? Kom deze spectaculaire ervaring beleven bij Fundustry in Eindhoven. Stuur de quad door scherpe bochten en over de schuine hellingen en zorg dat je snelste bent van iedereen. Quad rijden is een geweldig uitje en is prima geschikt als bedrijfsuitje of als vrijgezellenfeest.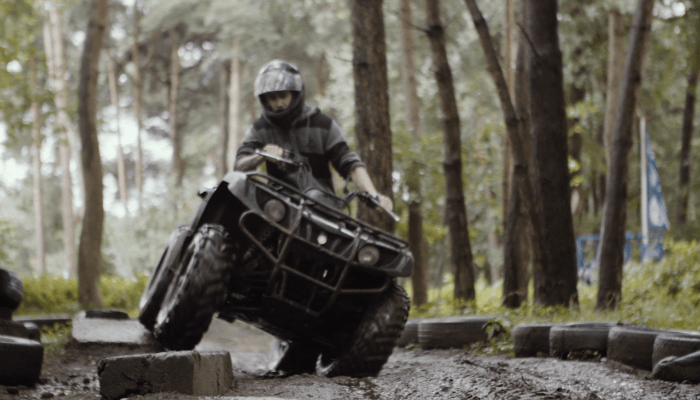 Ons quad parcours In Eindhoven
Onze event locatie bevindt zich in het hart van de provincie Noord Brabant in Nuenen vlakbij Eindhoven. Hier hebben we verschillende quad tracks waar je heerlijk kunt scheuren met de quads. We hebben twee verschillende banen op deze locatie. Op de ene baan wordt gereden op snelheid en is het de bedoeling om de quad zo snel mogelijk te sturen. De andere baan is een behendigheidsbaan. Hier kom je verschillende obstakels tegen en draait het allemaal om behendigheid en de manier waarop je Quad rond de baan stuurt.
Wil je gaan quad rijden als teamuitje? Kom dan geblinddoekt quad rijden. Terwijl je niks ziet rijd je over het circuit op de aanwijzingen die je krijgt van je teamgenoot. Zo leer je elkaar pas echt te vertrouwen! Heb je speciale wensen? Neem dan contact met ons op. Niets is te gek!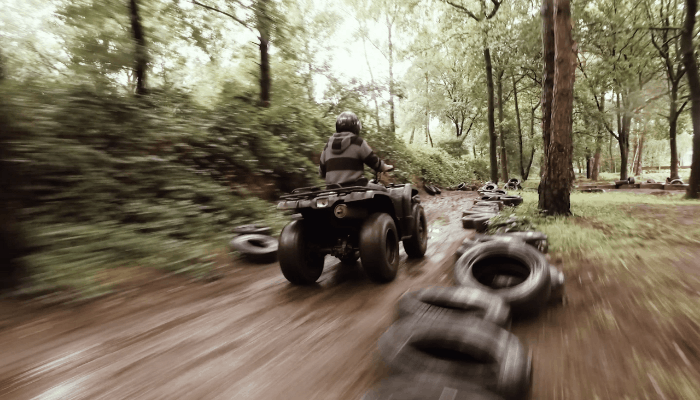 Onze Quads in Eindhoven
Op onze baan in Eindhoven hebben we de beschikking over een aantal supersnelle Yamaha quads. De quads zijn eenvoudig door iedereen te besturen en zijn voorzien van een automatische versnellingsbak zodat je niet hoeft te schakelen.
Op onze locatie hebben we ruim voldoende quads tot onze beschikking zodat er ook bij grote groepen genoeg quads voor iedereen zijn. Om iedereen veilig de baan op te laten gaan zorgen we er altijd voor dat de quads goed worden onderhouden en in uitstekende staat zijn. Alle deelnemers krijgen voordat ze de baan op gaan altijd een duidelijke instructie en een stevige helm zodat iedereen veilig de baan op kan. Onze instructeurs kunnen de quads altijd op afstand uitzetten mocht er onverhoopt toch iets misgaan.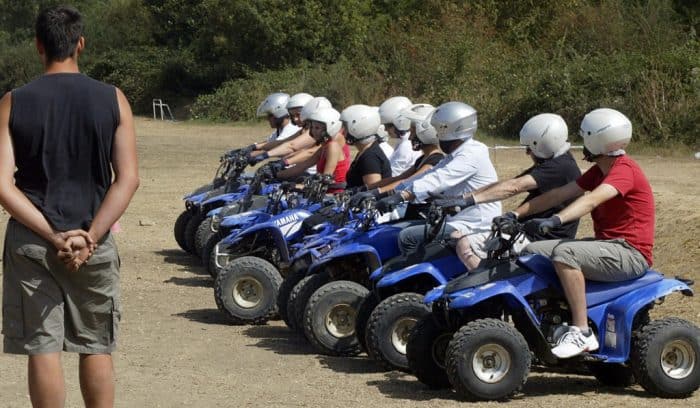 Event locatie Eindhoven (Nuenen)
De event locatie Nuenen is helemaal ingericht op gemotoriseerde uitjes. Naast het quad rijden ben je hier ook aan het juiste adres voor het rijden met een stoere 4×4 op ons offroad parcours. Voor wie van snelheid houdt staan onze Ferrari, Porsche en Lamborghini klaar. Als dat nog niet gek genoeg is kan je hier ook komen driften of een slipcursus volgen. Maar dat is nog niet alles: Naast de gemotoriseerde uitjes ben je hier ook aan het juiste adres voor activiteiten als paintballen of de escaperoom. Al deze uitjes zijn ook uitstekend met elkaar te combineren. Dus wil je jouw teamuitje of vrijgezellenfeest compleet maken en combineren met een andere activiteit neem dan contact met ons op. Om het helemaal compleet te maken kan je het uitje afmaken met onze horeca mogelijkheden.

---
Boek Quad Rijden
Het leukste uitje op 4 wielen boek je snel en gemakkelijk. Direct een datum reserveren en betalen, meteen klaar voor het leukste dagje uit! Heb je een cadeaubon gekregen? Dan kun je de ontvangen code tijdens het boeken invullen. Boek dan het juiste uitje waar je een cadeaubon voor hebt. De prijs wordt dan automatisch verrekend.
Let op: Voor het uitje quad rijden moet je minimaal 16 jaar zijn. Je hoeft niet in het bezit te zijn van een rijbewijs.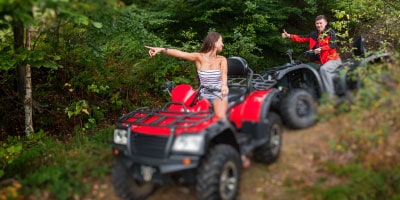 Is je groep te groot om te boeken?
Vraag dan een offerte aan!
Cadeaubon Quad Rijden
Op zoek naar een leuk cadeau? Ga voor een cadeaubon om quad te rijden, ga voor een stoere activiteit en verras je vriend(in) met een leuk uitje! Gemakkelijk en snel bestel je een cadeaubon, even afrekenen en binnen 2 minuten een mooie cadeaubon in je mailbox. Klaar om uit te printen en cadeau te geven! Wie ga jij verrassen met dit adrenalinevolle uitje op 4 wielen?!
Let op: Voor het uitje quad rijden moet je minimaal 16 jaar zijn. Je hoeft niet in het bezit te zijn van een rijbewijs.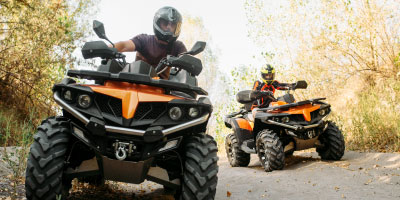 ---