Prijzen en tijdsduur
5 uur
Themafeest
Onbeperkt drinken
Hapjes (3 rondes)
DJ & Muziek
Feest thema naar keuze
---
---
Boek direct
6 uur
Themafeest XL
Onbeperkt drinken
Hapjes (3 rondes)
DJ & Muziek
Feest thema naar keuze
Walking Dinner
---
---
Boek direct
6 uur
Themafeest Deluxe
Onbeperkt drinken
Inclusief onbeperkt cocktails
Luxe hapjes (5 rondes)
DJ & Muziek
Entertainment naar keuze (2 soorten)
Walking Dinner
---
---
Boek direct
---
Gemaskerd Bal Entertainment
Bij de elegante kleding en de schitterende maskers hoort een zaal die er fantastisch uitziet. De locatie zal omgetoverd worden naar de juiste sfeer. Dit betekend dat het feest luxe uitstraalt. De Burlesque danseressen zorgen ervoor dat jouw gasten nog meer in de stemming komen. Een chique band en/of DJ verzorgen de muziek op jouw feest. De muziek zal in het teken staan van het thema maar er zullen uiteraard een paar hits worden gedraaid om de voetjes van de vloer te krijgen. het feest zal aangekleed worden met de kleuren zwart en goud. De tafels worden opgedekt met mooie tafelkleden en de zwart/gouden ballonnen en slingers maken het decor compleet.
Hapjes en drankjes
De hapjes en drankjes moeten ook voldoen aan het thema. Luxueuze hapjes zullen worden uitgedeeld en een tafel voor lekkere hapjes zal beschikbaar zijn voor de gasten. De leuke gemaskerde serveersters zullen deze hapjes uitdelen. Bij binnenkomst krijgt iedereen een glaasje champagne. De lekkerste cocktails zullen gemaakt worden door de mysterieuze gemaskerde barman aan de cocktailbar.
Spelletjes
Je kunt ervoor kiezen wat spelletjes neer te zetten voor de gasten. Omdat dit thema in het teken staat van luxe, zullen er meerdere casino gerelateerde spellen aanwezig zijn. Zo zullen er casino tafels zoals roulette, een poker- en een blackjacktafel met dealer zijn. Denk nog eens na of je wel écht goed kan pokeren als iedereen een pokerface heeft door de maskers. Je kan vooraf natuurlijk ook de pokerworkshop volgen!
Photobooth
Een photobooth is leuk voor elk soort themafeest, alleen zullen de foto's bij een gemaskerd bal wat beter eruit zien dan bijvoorbeeld het themafeest into the jungle. Wie wil niet de elegante outfits met de prachtige maskers vastleggen. De foto's zijn erg leuk voor de gasten om mee naar huis te nemen. Dit zorgt ervoor dat jouw gasten het feest niet snel zullen vergeten!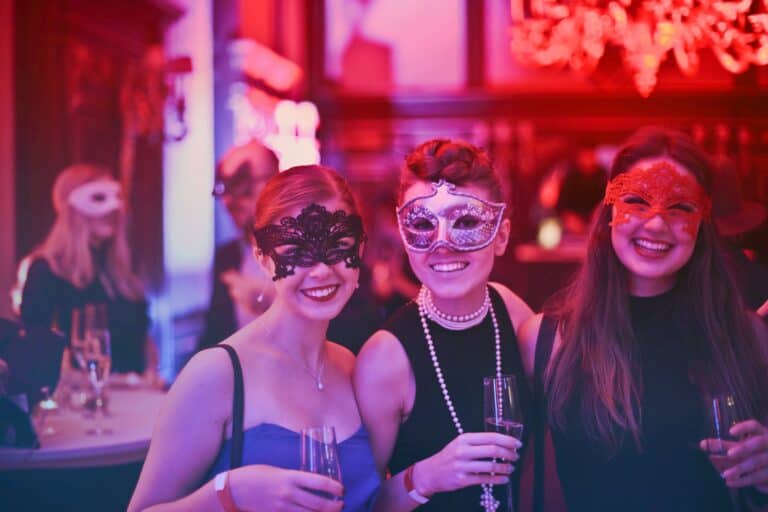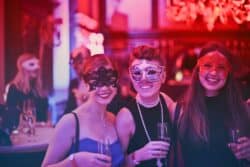 ---
Gemaskerd Bal Themafeest
Bij Fundustry Adventures organiseren we een perfect gemaskerd bal themafeest. Nodig al je collega's of vrienden uit voor dit mysterieuze themafeest. Door de vele decoraties en attributen weet je zeker dat het themafeest bij iedereen in de smaak valt. Laat het organiseren maar aan ons over en geniet van een onvergetelijk gemaskerd bal.
Op enkele locaties kan er in bepaalde seizoenen sprake zijn van een meerprijs.
---