Prijzen en tijdsduur
5 uur
Themafeest
Onbeperkt drinken
Hapjes (3 rondes)
DJ & Muziek
Feest thema naar keuze
---
---
Boek direct
6 uur
Themafeest XL
Onbeperkt drinken
Hapjes (3 rondes)
DJ & Muziek
Feest thema naar keuze
Walking Dinner
---
---
Boek direct
6 uur
Themafeest Deluxe
Onbeperkt drinken
Inclusief onbeperkt cocktails
Luxe hapjes (5 rondes)
DJ & Muziek
Entertainment naar keuze (2 soorten)
Walking Dinner
---
---
Boek direct
---
Hollands Entertainment
Het entertainment op de Hollandse avond bepaalt de sfeer. Zo zal de locatie omgetoverd worden met alle mooie dingen aan Nederland. Zo zullen oranje en rood-wit-blauw slingers en ballonnen overal door de zaal te zien zijn. Vele decoraties zoals windmolens, tulpen en Delfts Blauw geven het echte gevoel van een Hollandse avond mee. De grote koeien, melkkannen en kratten dragen daar ook een steentje aan bij. De klompen hangen zelfs aan de muur! Het geluid zal geregeld worden met een DJ die de beste meezingers draait. Lijkt het je al leuk om uit volle borst met je collega's de liedjes van Frans Bauer of André Hazes mee te zingen? Uiteraard zal er een artiest komen die nog wat Nederlandse hits zal zingen.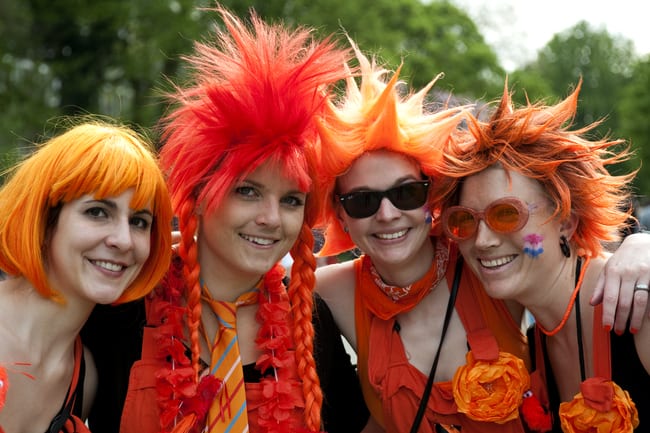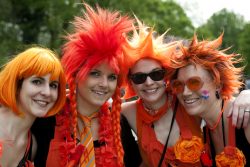 Hapjes en Drankjes
De Hollandse hapjes mogen niet ontbreken op jouw themafeest. De beste Hollandse lekkernijen worden voor jou en je gasten geserveerd. Denk hierbij aan haring, knakworstjes, kaasjes, kleine frikandellen en niet te vergeten de bitterballen! Of heb je liever een kraampje die stroopwafels of poffertjes serveert? Bij een Hollandse avond kunnen de drankjes niet ontbreken. De gasten kunnen onbeperkt genieten van de drankjes uit de rijkgevulde bar met barvrouwen die leuk verkleed zijn.
Hollandse spelletjes
De oud Hollandse spelletjes kunnen niet ontbreken op jouw themafeest. Er is een tafel met de echte Nederlandse spelletjes, zoals sjoelen, vier op een rij en boter kaas en eieren. Het is ook altijd leuk om spelletjes te spelen waar wat behendigheid voor nodig is, vooral met een glaasje op! Denk hierbij aan koekhappen, zaklopen, spijkerpoepen en ezeltje prik. Of speel je liever met je collega's een potje levend ganzenbord?
Hollandse photobooth
Een leuke toevoeging aan je themafeest is een photobooth met Hollandse attributen. Zo zijn er accessoires van een melkmeisje of typische Volendamse klederdracht. Natuurlijk zullen klompen en dergelijke ook van de partij zijn. Ga met je collega's of vrienden op de foto als melkmeisje met een blonde pruik! De foto's zijn erg leuk voor de gasten om later terug te zien.
Geef Holland mee naar huis
Ook al zullen de meeste gasten op je themafeest al in Nederland wonen is het toch leuk iets mee naar huis te geven. Dit als aandenken aan een onvergetelijk themafeest. Denk hierbij aan miniklompjes, een kaasplankje of een Holland petje.
---
Hollandse Avond Organiseren
Bij Fundustry Adventures organiseren we de leukste Hollandse avond. Laat je collega's of vrienden de mooiste dingen en tradities van Nederland zien met dit toffe themafeest. Door de vele decoraties en attributen weet je zeker dat jouw Hollandse avond onvergetelijk wordt! Laat het organiseren maar aan ons over en geniet van jouw themafeest.
Op enkele locaties kan er in bepaalde seizoenen sprake zijn van een meerprijs.
---