Prijzen en tijdsduur
5 uur
Themafeest
Onbeperkt drinken
Hapjes (3 rondes)
DJ & Muziek
Feest thema naar keuze
---
---
Boek direct
6 uur
Themafeest XL
Onbeperkt drinken
Hapjes (3 rondes)
DJ & Muziek
Feest thema naar keuze
Walking Dinner
---
---
Boek direct
6 uur
Themafeest Deluxe
Onbeperkt drinken
Inclusief onbeperkt cocktails
Luxe hapjes (5 rondes)
DJ & Muziek
Entertainment naar keuze (2 soorten)
Walking Dinner
---
---
Boek direct
---
Ibiza Entertainment
Het thema staat in het teken van een paradijs van zon en zee. Het themafeest straalt de luxe uit van een lounge in Ibiza. De locatie zal worden omgetoverd naar een Ibiza zomerparty. Grote doeken met de zee erop laten je doen geloven dat je in Ibiza bent. Daarnaast zorgen de lounge sets afgezet met paaltjes en rood lint dat de exclusieve sfeer er bij iedereen goed in komt. Over de rode loper richting de cocktailbar met erg professionele cocktailshaker, of met je voeten in het zand op het nagebootste strandje. De muziek is geregeld, een DJ booth met LED verlichting en een DJ met live act die de avond voorzien van lounge muziek. Natuurlijk zullen echte hits ook nog eens voorbij komen, dit voor de dansliefhebbers onder de gasten.
Hapjes en drankjes
De hapjes en drankjes staan ook in het teken van luxe. De geur van hapjes van de barbecue brengt de gasten goed in de sfeer van een luxe lounge. Kleine stukjes vlees worden uitgedeeld aan al je gasten. Verder zullen er hapjes worden geserveerd, zoals mini pizza's, wraps en mini hamburgers. De gasten krijgen bij binnenkomst een lekkere cocktail of een glaasje champagne. Verder zijn er cocktails te krijgen bij de luxe cocktailbar. Jouw favorieten cocktail drinken in een heerlijke lounge, het is net vakantie!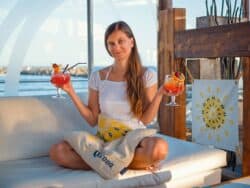 Waterpijp
Combineer het relaxen in de lounge set met een waterpijp. Er zullen meerdere hoekjes gemaakt worden waar dit mogelijk is op jouw themafeest. De ober zal de lekkerste cocktails rondbrengen en de gasten helpen met het aanzetten van de waterpijp. Met de waterpijp krijg je het gevoel van een V.I.P. lounge in een trendy nachtclub in Ibiza.
Photobooth
Een leuke toevoeging aan jouw Ibiza lounge themafeest is een photobooth. Gasten kunnen de foto's mee naar huis nemen als aandenken aan een geweldig themafeest. Neem foto's met je collega's of vrienden in stijl. Maak een foto maken met het mooie strand op de achtergrond, of ga op de foto met een van de leuke attributen vanuit Ibiza!
---
Ibiza Lounge Themafeest
Bij Fundustry Adventures organiseren we het leukste Ibiza lounge themafeest helemaal naar wens. Een trendy themafeest in het V.I.P. gedeelte van Ibiza valt bij iedereen in de smaak. Laat het organiseren maar aan ons over en geniet van je onvergetelijke Ibiza lounge themafeest!
Op enkele locaties kan er in bepaalde seizoenen sprake zijn van een meerprijs.
---