Prijzen en tijdsduur
5 uur
Themafeest
Onbeperkt drinken
Hapjes (3 rondes)
DJ & Muziek
Feest thema naar keuze
---
---
Boek direct
6 uur
Themafeest XL
Onbeperkt drinken
Hapjes (3 rondes)
DJ & Muziek
Feest thema naar keuze
Walking Dinner
---
---
Boek direct
6 uur
Themafeest Deluxe
Onbeperkt drinken
Inclusief onbeperkt cocktails
Luxe hapjes (5 rondes)
DJ & Muziek
Entertainment naar keuze (2 soorten)
Walking Dinner
---
---
Boek direct
---
Oktoberfest Entertainment
Op het themafeest Oktoberfest wil je de gasten de beleving laten meegeven zoals die in Duitsland. We laten het feest volledig aansluiten op het thema. We regelen een DJ en muziek. Klassiekers zoals 99 Luftballons of Ab in den Süden laten het feest flink op gang komen! We toveren de zaal om naar een waar Oktoberfest. Jij kan dus met je hele bedrijf dansen op de lange tafels! De zaal krijgt een tentsfeer of er wordt daadwerkelijk een tent geplaatst. Het feest wordt aangekleed met blauw-witte slingers, geruite tafelkleden en vlaggetjes. Met de lange tafels, houten bar en de tiroler outfits van de gasten is het gegarandeerd een succes!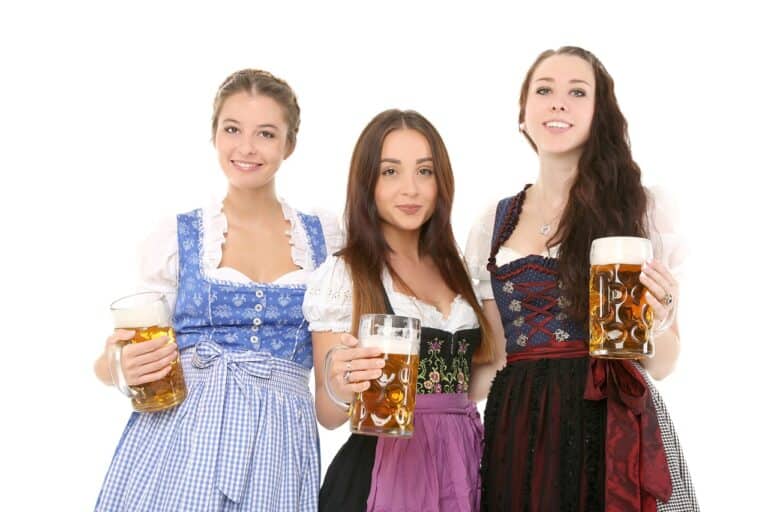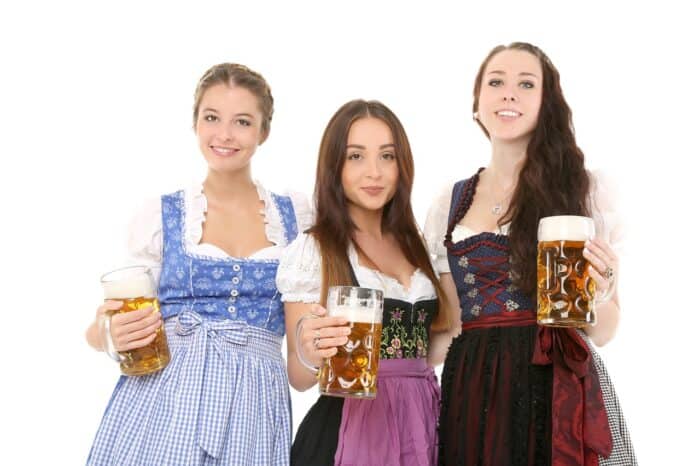 Hapjes en drankjes
Uiteraard staat het Oktoberfest in het teken van bier. We zorgen dat er genoeg halve liter bierpullen aanwezig zijn en daarbij ook het bier. Lust je tussendoor een keer iets anders dan halve liters bier, dan is er ook Schnaps aanwezig. Dit mag natuurlijk niet ontbreken. We verzorgen de hapjes ook in het kader van het thema. Denk aan een grote pretzel, koude hapjes en worst. Dingen zoals mini schnitzels en dergelijke zijn ook altijd mogelijk. Zijn er nog andere dranken die aanwezig moeten zijn op jouw eigen Oktoberfest? Geen probleem, dan zorgen we dat deze dranken aanwezig zijn.
Oktoberfest photobooth
Lijkt het jou leuk een Oktoberfest photobooth neer te zetten? Er is natuurlijk niets zo leuk dan foto's maken in de tiroler outfts met je vrienden! Met een leuke Oktoberfest achtergrond en een aantal attributen worden de foto's erg leuk om later terug te kijken. Test bijvoorbeeld eens hoe je eruit ziet met blond haar en twee vlechten.
Spelletjes
Naast het feest zorgen we voor leuke spelletjes tussendoor. Spellen zoals bierpul schuiven, worstvangen, bierpong, oud-hollands spijkerslaan en lederhosen hangen. Je kan ook proberen na een aantal halve liters bier nog deel te nemen aan het ski latten lopen. Een activiteit vooraf is ook altijd mogelijk. Wil je bijvoorbeeld goed gevuld naar het Oktoberfest? Neem vooraf deel aan de hamburger workshop!
Laat de gasten niet met lege handen gaan
Wil je de gasten niet met lege handen naar huis laten gaan? Geen probleem! Naast de foto's van de originele Oktoberfest photobooth zorgen wij ervoor dat er een aandenken komt voor de gasten. Mini bierpullen als shotglaasjes of een tiroler hoed meegeven zorgt ervoor dat de gasten het feest niet snel zullen vergeten!
Op enkele locaties kan er in bepaalde seizoenen sprake zijn van een meerprijs.
---
Oktoberfest organiseren
Bij Fundustry Adventures organiseren we het leukste Oktoberfest themafeest helemaal naar wens. Neem de gasten mee met de unieke ervaring die een Oktoberfest uit München te bieden heeft. Laat het organiseren maar aan ons over en geniet van je onvergetelijke Oktoberfest themafeest!
---