Leukste ideeën voor een Dadchelor
Niet alleen babyshowers voor vrouwen, maar nu ook babyshowers voor mannen. Ken je het al 'een Dadchelor'? Niks geen alcoholvrije drankjes en schattige cupcakes. Bij een Dadchelor draait het vooral om bier, bitterballen en als mannen onder elkaar, nog even genieten van het leven voor de vieze luiers, slapeloze nachten en hormonen in huis. Maar hoe zorg je nou voor een onvergetelijke Dadchelor Party? Dit heb je nodig voor een geslaagde Dadchelor:
Beste Dadchelor activiteiten

---
Tips voor een Dadchelor
Tip 1: Stuur mannelijke uitnodigingen
Jullie mannen houden van simpel, maar pak eens groot uit bij een Dadchelor en zorg voor leuke mannelijke uitnodigingen. Geen e-mail maar gewoon een leuke kaart met het thema bier, mannen en baby's. Als je zelf niet zo'n creatieveling bent kun je de kaarten voor de mannelijke babyshower ook bestellen via een website.
Het komt niet alleen leuker over maar maakt de gelegenheid nog iets specialer. Net zoals deze kaarten: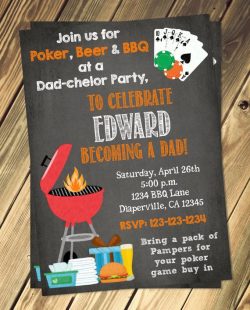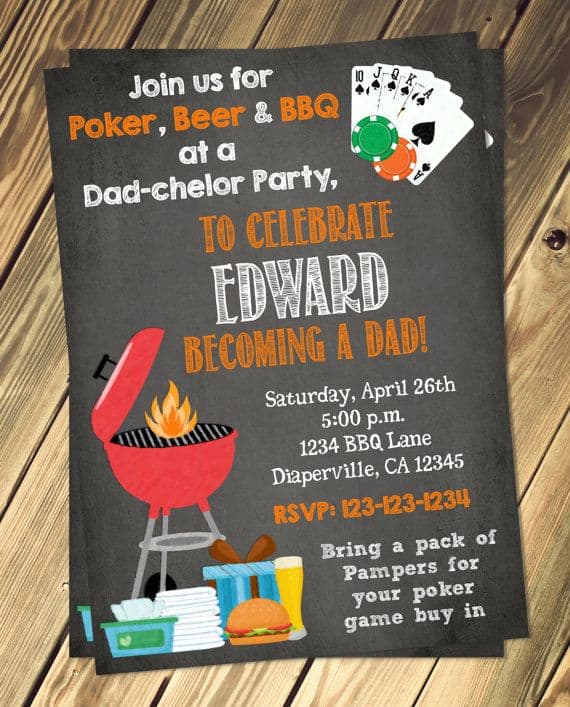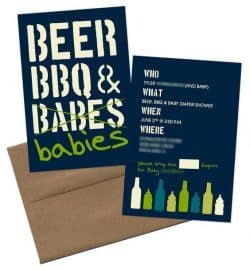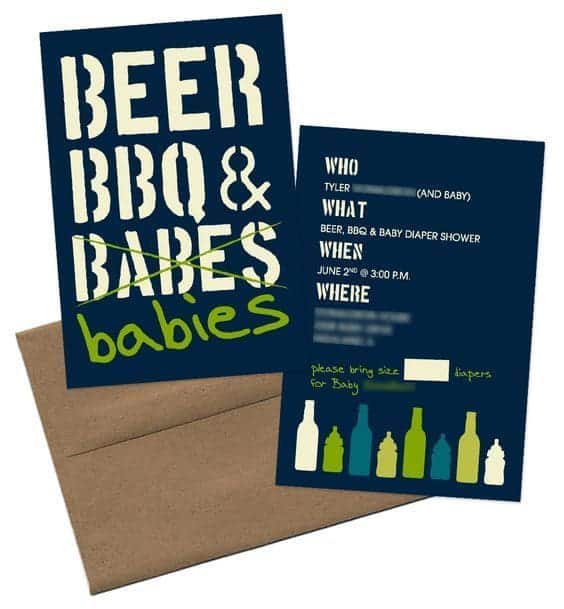 Tip 2: Kies een leuk thema
Zorg dat je een leuke locatie hebt en dat alles leuk is versierd met dingen die te maken hebben met baby's. Het is natuurlijk niet voor niets een babyshower voor mannen. Luiers, melkflessen, zwabbertjes noem het maar op. Geef iedereen bijvoorbeeld de opdracht om als vader verkleed te gaan of als baby's.
De thema's die je kunt gebruiken zijn onder andere:
– Poker Night
– Dress like a dad
– Baby dress up Theme
Tip 3: Zorg voor leuke activiteiten
Een theemiddagje is niet echt geschikt voor de stoere aanstaande vader. In plaats daarvan organiseer een poker avond of zelfs een BBQ. Ga 's middags gezellig met elkaar paintballen of quad rijden en vul dan 's avonds weer alle buiken lekker met vlees en bier bij de 'Daddy Baby-Q'.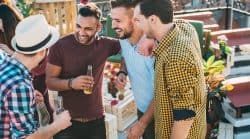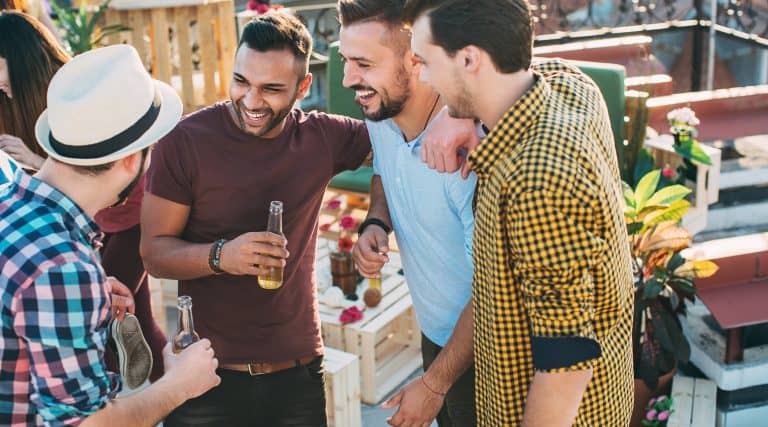 Tip 4: Vergeet de leuke spellen niet!
Wat natuurlijk niet kan missen bij een babyshower voor mannen is een wedstrijdje luiers verschonen en kijken welke man daar het snelste in is. Of ga met een blinddoek op proeven uit een potje babyvoeding en raden welke ingrediënten erin zitten.
Nog een paar voorbeelden van babyshower spelletjes:
Babyfles drinken: Vul een paar babyflessen met bier zodat je een krijgt en doe een wedstrijdje wie het snelst zijn bier op kan drinken.
Babyvoedingswedstrijd: Maak tweetallen en ga tegenover elkaar zitten. Een iemand moet geblinddoekt zo snel mogelijk diegene tegenover zich voeren. Van wie het potje het snelst leeg is wint!
Slagroom luier: Spuit een luier vol met slagroom en ga de aanstaande vader vragen stellen. Als hij een vraag fout heeft krijgt hij de luier met slagroom in zijn gezicht geduwd.
Balloon popping: Je maakt twee groepen. Iedereen bindt een touwtje met een ballon eraan om zijn middel. Als de eerste ballon kapot is gemaakt, is het de beurt voor de volgende. Welke groep het snelste alle ballonnen kapot heeft kunnen maken wint! Klik hier voor een filmpje.
Buikschildering: Belly painting is een van de dingen die onmisbaar zijn bij een babyshower. Laat de buik van de aanstaande vader onder schilderen door al zijn vrienden. Er zal gegarandeerd een leuk resultaat van komen.

Tip 5: Geef leuke vadercadeaus
Geef de originele cadeaus van een normale baby shower party een update en geef ze een mannelijk tintje. Voorbeelden van zulke cadeaus zijn:
– Een mannelijke luiertaart
– Eerste hulppakket baby
– Eerste hulppakket papa
– Fotoslinger
– Dadchelor shirt
Als je wat inspiratie nodig hebt kun je ook altijd kijken op Pinterest.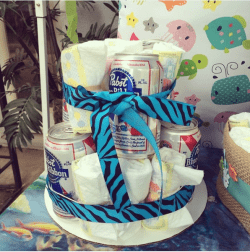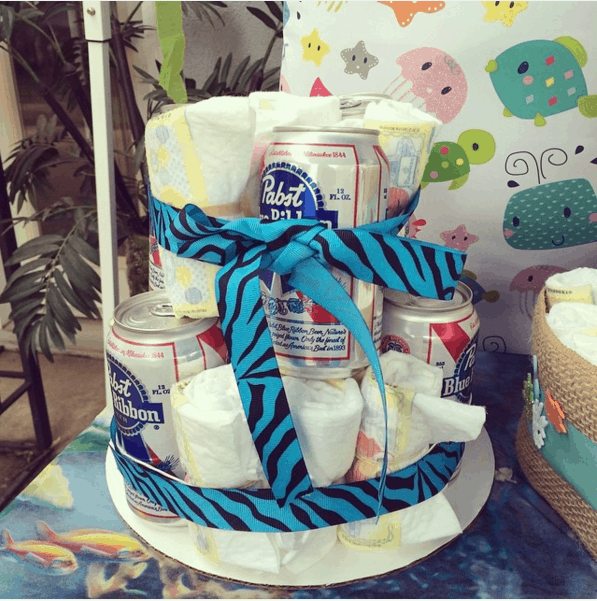 Tip 6: Maak genoeg foto's en filmpjes
Zorg dat er genoeg beeldmateriaal voor later is. Film bijvoorbeeld tijdens de wedstrijd luier verschonen of maak foto's van de buikschilderingen. Er is toch niets leuker voor de aanstaande vader om een paar jaar later terug te kunnen kijken naar foto's en filmpjes van zijn eigen Dadchelor Party.
---
T-shirt voor Vrijgezellenfeesten
T-shirt vrijgezellenfeest – In deze blog vind je tips voor het bedrukken van T-shirts. Al deze tips kun je natuurlijk ook gebruiken voor een Dadchelor shirt.
---