Vrijgezellenfeest man
Wanneer je een vrijgezellenfeest voor een goede vriend of familielid gaat organiseren, wil je er natuurlijk wel voor zorgen dat het vrijgezellenfeest super origineel is en vooral onvergetelijk gaat zijn. Maar goed, waar moet zo een 'origineel vrijgezellenfeest' dan aan voldoen en wat zijn leuke activiteiten om te doen tijdens deze dag? Om het jullie het een tikkeltje makkelijker te maken, geven wij jullie in dit blogartikel het antwoord op deze vragen! Na het lezen van dit blogartikel, gaat jullie vrijgezellenfeest ongetwijfeld super uniek en onvergetelijk worden!
Waar moet een origineel vrijgezellenfeest aan voldoen?
Een vrijgezellenfeest moet aan een aantal dingen voldoen om ervoor te zorgen dat het een topdag wordt. Om mee te beginnen is het altijd leuk dat de vrijgezel geen idee heeft van wat jullie gaan doen tijdens het vrijgezellenfeest, blinddoek hem bijvoorbeeld wanneer jullie onderweg zijn naar een activiteit. Dit zorgt voor een extra verrassingseffect! Natuurlijk moet er voor de vrijgezel ook een gênant aspect aan zijn vrijgezellenfeest zitten zodat hij deze dag niet snel mee zal vergeten, trek de vrijgezel daarom bijvoorbeeld een hilarisch vrijgezellenpak aan of laat hem gênante opdrachten uitvoeren. Dit maakt de sfeer altijd lekker melig en zorgt voor veel gelach. Mocht de sfeer er voor een of andere reden toch nog niet helemaal inzitten, dan kunnen een aantal glaasjes bier jullie misschien wel helpen!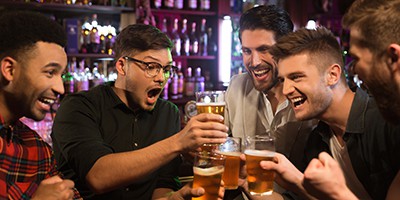 Vrijgezellenfeest ideeën
Hieronder vind je een aantal leuke, fanatieke en hilarische activiteiten die ervoor zullen zorgen dat jullie vrijgezellenfeest onvergetelijk wordt!
Houden jullie van spanning en van shooting games? Kies dan voor een paintball uitje bij Fundustry Adventures! Strijdt met je vrienden of familie tegen elkaar of met elkaar tegen een andere groep tijdens een spannend en actief paintball uitje. Paintball is heel gevarieerd en kent veel verschillende spelvarianten zoals; Team Deathmatch, Capture the Flag, Center the Flag, Zombies, Free-For-All en nog veel meer!
Hebben jullie nou altijd strijd met elkaar over wie er nou de slechtste automobilist is van jullie? Dan is deze activiteit echt iets voor jullie! Na afloop van dit uitje kan daar geen verwarring meer over ontstaan. Hebben jullie genoeg vertrouwen in jullie individuele rij skills en durfen jullie de strijd met elkaar aan te gaan? boek dan snel jullie 'De slechtste Chauffeur van Nederland' uitje!
De activiteit 'Mens Special', is een combinatie uitje tussen 2 verschillende activiteiten. Tijdens dit uitje ga je namelijk Quad rijden en Offroad rijden. Echte mannen activiteiten dus! Houden jullie nou van snelheid en zijn jullie goed met voertuigen met vier wielen? Boek dan snel jullie 'Mens Special' uitje!
Zit jullie vrijgezellenfeest uitje hier nou niet tussen? Klik dan op deze link en zie ons volledige assortiment aan vrijgezellenfeest activiteiten!
Gratis Vrijgezellenfeest activiteiten
Zijn jullie nou toch opzoek naar een gratis activiteit voor tijdens jullie vrijgezellenfeest of willen jullie gewoon nog een leuke activiteit om voor of na jullie uitje gratis te doen? Klik dan de leukste en gênantste opdrachten voor een vrijgezellenfeest.
Vrijgezellenfeest vieren op locatie
Wil je een vrijgezellenfeest vieren in een grote stad? Dan kun je terecht op onze volgende pagina's:
---