Sushi Workshop
3 uur FUN!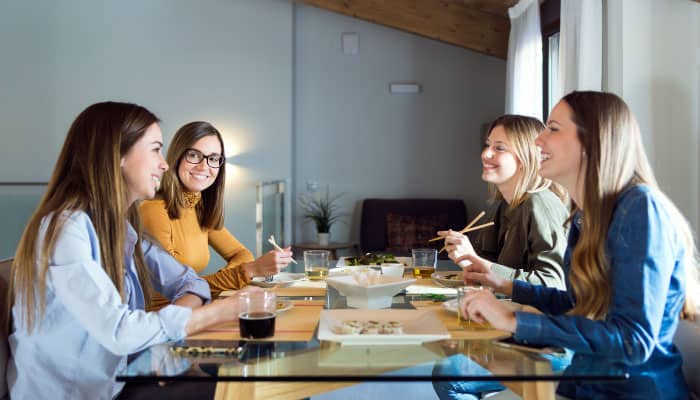 Boek
BBQ Workshop
Meer variatie!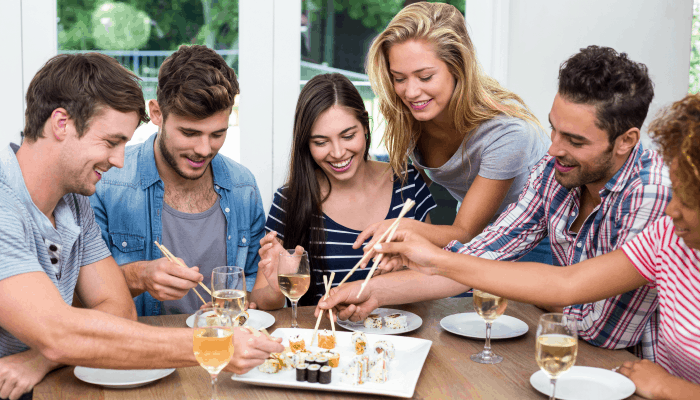 ✓

BBQ Workshop

✓

Aan tafel genieten
Bekijk BBQ workshop
Fundustry Deal TOP
Meest populair!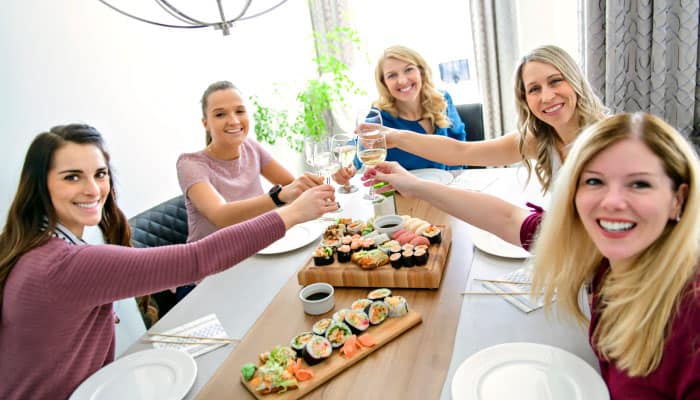 ✓

Ontvangst met koffie & muffins

✓

Workshop Sushi Maken

✓

Extra 2 activiteiten naar Keuze
---
Deze bedrijven zijn al fan!



---
Genieten van een Japanse traditie!
Sushi is een typisch Japans gerecht waarbij je meestal rijst en andere ingrediënten in zeewier rolt. Er zijn verschillende soorten sushi te maken, de meest bekende is de maki rol. Als je deze netjes rolt dan komt er in het midden van de rijst komkommer, omelet, zalm of tonijn te zitten. Een andere bekende sushi is de uramaki, de binnenstebuiten. Hierbij zit het zeewier binnenin de rol en de rijst aan de buitenkant. Sushi is lekker met wat sojasaus, wasabi en gember. Tijdens de sushi cursus leer je meer over alle soorten sushi.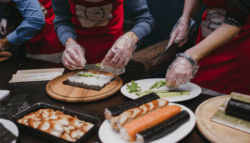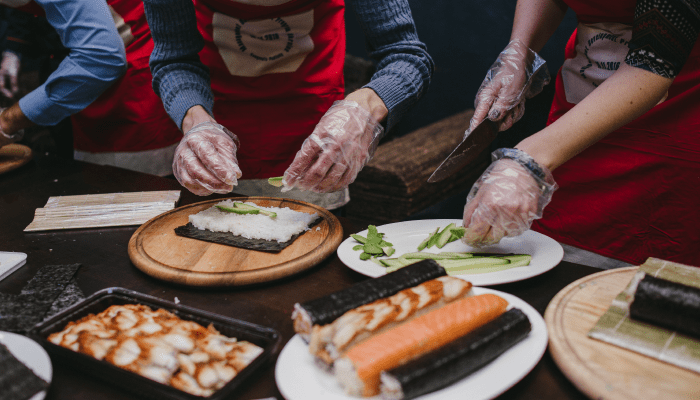 Coronaproof Sushi maken op 1.5 meter
Voor aanvang van de sushi workshop worden alle materialen ontsmet zodat ze goed schoon zijn voor gebruik. We werken graag buiten waar alle ruimte is om de gerechten te bereiden. Voor het bereiden van het voedsel zijn handschoenen aanwezig. Er is ook de mogelijkheid om handen en het voedsel goed te wassen. Ook het eten doen we graag buiten zodat er alle ruimte is voor iedereen om plaats te nemen. Aan de tafel staan minder stoelen dan normaal zodat we allemaal de ruimte hebben om plaats te nemen.
Zelf sushi maken
Tijdens de kookworkshop ga je zelf sushi maken. De sushi rijst bereiden we alvast voordat je komt, deze moet namelijk goed afgekoeld zijn om te kunnen gebruiken. Na een toelichting op de mogelijkheden en de recepten ga je zelf aan de slag. Je maakt onder andere tonijn sushi, maar het is ook mogelijk dit als vegetarische kookworkshop te doen. Sushi met komkommer en omelet zijn ook goed te maken.
In de kookstudio gaan jij en je vrienden of collega's aan de slag met de verschillende recepten. Iedereen maakt verschillende soorten sushi om zo de technieken uit te proberen en onder de knie te krijgen. Als alles klaar is ga je aan tafel om de sushi op te eten.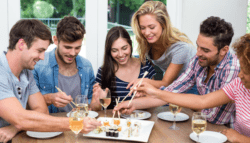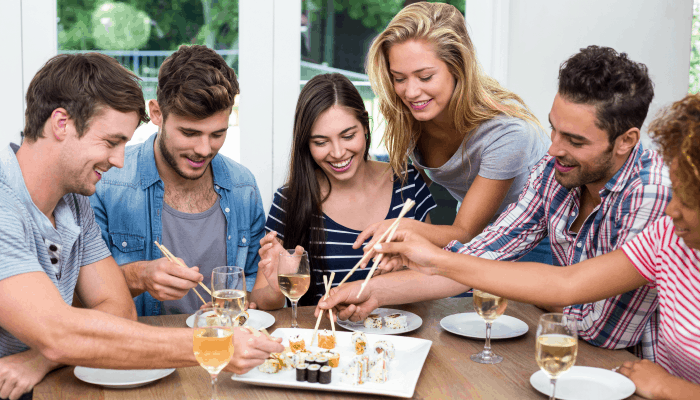 Sushi Kookworkshop
Een kookworkshop is goed als teambuilding activiteit te doen tijdens een bedrijfsuitje. Samen in de keuken sushi maken en vervolgens aan tafel om de technieken nog eens door te spreken. In de kookstudio op onze locaties is voldoende ruimte voor grotere groepen. Durf jij je samen met collega's te wagen aan een heerlijke sushi cursus? Wij staan klaar om je te begeleiden.
Onze coronaproof locaties
Op al onze locaties is de aankomst van groepen volledig afgestemd op de capaciteit van het gebouw. Gedoseerd worden jullie toegelaten tot een ruime ontvangstruimte waar je rustig in alle ruimte kunt plaatsnemen voor de ontvangst. Jullie drankjes en hapjes serveren we momenteel niet, maar plaatsen we op de bar. De tafels zijn extra ruim opgezet en de toiletten hebben een speciale wachtrij en worden extra vaak schoongemaakt.

---
Boek Sushi Workshop












Is je groep te groot om te boeken?
Vraag dan een offerte aan!
---