Wat is een paintball wapen?
Een paintball wapen is een wapen waarmee je, zoals de naam al zegt, verfballetjes kunt schieten. Paintball wapens werken over het algemeen op een luchtdruk die wordt aangevoerd vanuit een lucht fles die achter op het wapen gevestigd zit. Om deze luchtflessen te kunnen vullen, moet je een compressor of een grote duikfles hebben.
Mag je in Nederland zomaar een paintball geweer kopen?
In Nederland mag je vanaf je 18e levensjaar een paintball wapen aanschaffen. Er is echter nog wel enige onduidelijkheid over, want als het paintball wapen te veel op een echt vuurwapen lijkt, dan is het wapen illegaal. Laat je dus even goed informeren bij het aanschaffen van een paintball wapen om problemen te voorkomen! Het wapen mag ook alleen gebruikt worden op eigen terrein, dus je mag er niet mee over straat. Als je het wapen wilt vervoeren, demonteer hem dan even en zet hem op locatie weer in elkaar.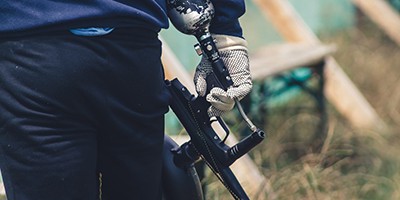 Nederland vs België
In Nederland zijn de regels rondom paintball iets strenger dan in België. In Nederland moet je, net als met het aanschaffen van een paintball wapen, 18 jaar oud zijn om te mogen paintballen bij een recreatie paintball bedrijf. In België ligt deze minimumleeftijd een stuk lager, hier mag je namelijk al vanaf 14 jaar met volwassen paintball wapens spelen. Echter is het wel een vereiste dat dit gebeurd onder toezicht van een volwassenen. Een groot verschil van 4 jaar dus!
Kinderpaintball
In Nederland en België hebben we ook kinderpaintball, dit mag je in zoal Nederland als in België spelen vanaf 8 jaar. De kinderpaintball wapens schieten door middel van een vering. Dit gaat een stuk minder hard en doet dus ook een stuk minder pijn, ideaal voor een kinderfeestje dus! Lees hier meer over de mogelijkheden van een paintball kinderfeestje!
Conclusie
Paintball is dus legaal in Nederland en België, alleen er zijn wel een aantal richtlijnen waar je je aan moet houden. In Nederland mag je dus vanaf 18 jaar paintballen en in België vanaf 14 jaar. In allebei de landen mag je het wapen alleen gebruiken op eigen terrein en mag je er dus niet mee over straat. Ook mag het wapen in Nederland en België niet te veel op een vuurwapen lijken!
Een paintball uitje
Lijkt het jou nou leuk om een dagje te komen paintballen bij een van onze locaties in Nederland of België? Boek dan hier jou paintball uitje!
---