Klimpark Deal
2,5 uur FUN!
✓

Toegang tot het klimpark

✓

Keuze uit alle attracties

✓

Incl. Helm en zekering
Boek
Fundustry XXL Deal
Compleet pakket!
✓

Koffie met Muffin

✓

Twee activiteiten naar keuze

✓

Keuze uit BBQ of Kipmenu incl. 2 drankjes
Fundustry Top Deal
Meest populair!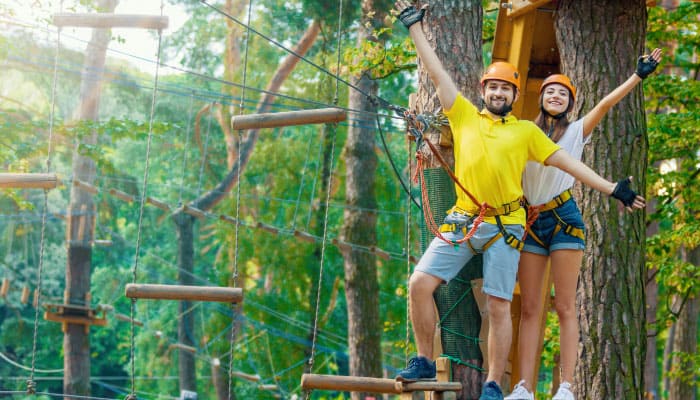 ✓

Koffie of Prosecco met Muffin

✓

Drie activiteiten naar Keuze

✓

BBQ of Kipmenu incl. onbeperkt drinken
---
Deze bedrijven zijn al fan!



---
Outdoor Klimpark met uitdagende attracties!
Het leukste klimbos in de buurt vind je op de Groene Heuvels in Ewijk bij Nijmegen. Een outdoor klimpark met diverse onderdelen waar je naar hartenlust kunt klimmen. Ga je graag voor de adrenaline dat kun je ook in ons klimpark terecht. Op grote hoogte zijn verschillende parcoursen en attracties te beklimmen. Voor de veiligheid zit je vast in een klimtuigje dat is aangehaakt aan de safetyline bij alle onderdelen. De attracties zijn uitdagend voor beginnende klimmers en geven een goede adrenalinekick voor de echte durfals!
Coronaproof Klimmen op 1.5 meter
In ons klimbos kun je op ruim 1,5 meter van elkaar prima klimmen. Op ieder parcours onderdeel mogen zoals altijd max. 2 personen tegelijk zijn. Op ieder tussenstation max. 1 persoon. De onderdelen in het klimpark staan ver uit elkaar en zijn op hoogte. Mocht iemand toch hulp nodig hebben tussen de boomtoppen, dan komt de begeleider met mondkapje op bij je langs. Een eventuele reddingsactie wordt ook met mondkapje op gedaan. Onder de helm draagt iedereen een haartje en bij het aantrekken van de veiligheidstuigjes is desinfecterende handgel aanwezig. De uitlegzone is aangepast naar veilige omstandigheden. Met speciale lijnen organiseren we een duidelijke afstand tussen deelnemers en de instructeur.
---
Klimpark Cadeaubon
Wil je dit uitje graag cadeau geven aan iemand? Dat kan! Bestel nu een cadeaubon om een uitje op hoogte cadeau te geven. Direct na het bestellen en betalen ontvang je de tegoedbon in je mailbox. Deze kun je digitaal versturen of uitprinten en afgeven aan de gelukkige ontvanger. De ontvanger kan op fundustry.nl/cadeaubon-boeken zijn cadeaubon verzilveren in slechts een paar stappen.
---
Klimmen in attracties
De echte durfals klimmen in palen loodrecht naar boven om vervolgens naar beneden te springen. Liever iets meer vastigheid? Beklim dan onze klimtoren en maak een vrije val. Begin je graag rustig met klimmen en wil je even wennen aan de mogelijkheden, betreed dan het onderste parcours tussen de boomtoppen. Over houten balken, een mini zipline en een touw om op te balanceren, doorloop je het parcours. Klaar voor de echte uitdaging? Betreed dan het bovenste parcours tussen de boomtoppen. Hierbij moet je touwbruggen en oude boeien weten te overbruggen. Op grote hoogte ga jij de klimuitdaging aan. Dit maakt het klimpark ook zeer geschikt voor volwassenen.
Onze coronaproof locaties
Op al onze locaties is de aankomst van groepen volledig afgestemd op de capaciteit van het gebouw. Gedoseerd worden jullie toegelaten tot een ruime ontvangstruimte waar je rustig in alle ruimte kunt plaatsnemen voor de ontvangst. Jullie drankjes en hapjes serveren we momenteel niet, maar plaatsen we op de bar. De tafels zijn extra ruim opgezet en de toiletten hebben een speciale wachtrij en worden extra vaak schoongemaakt.
Klimpark volwassenen
Als volwassen meedoen aan het klimpark? Geen probleem! Het klimbos van Fundustry is geschikt voor zowel kinderen als voor volwassen en blijft leuk voor alle leeftijden. Als beginnende klimmer kun je kiezen voor de gemakkelijkere attracties, ben je een meer ervaren klimmer? Dan is er ook voor jou genoeg uitdaging!
Klimpark buiten
Ben je een echt buitenmens? Dan zit je bij het klimpark van Fundustry helemaal op je plek. Ons klimbos is namelijk volledig in de buitenlucht! Je komt hier dus niet alleen voor de uitdaging maar ook nog eens voor de natuur. Perfect dus voor de mensen die graag activiteiten doen in de buitenlucht en ideaal voor op een zonnige zomerdag!
Klimpark kinderfeestje
Het klimbos van Fundustry is perfect voor een feestje! Je kunt naast alleen het klimbos namelijk ook een super leuk arrangement boeken. Bijvoorbeeld inclusief barbecue of een kipsaté menu! Kortom; alle benodigdheden voor een super leuke verjaardag! Wil je nog meer inspiratie voor een leuk kinderfeestje? Kijk dan eens op onze kinderfeestjes pagina. Hier vind je naast het klimbos nog veel meer leuke uitjes om je verjaardag te vieren.
Adrenaline Klimpark
Ben je echt nergens bang voor? Ga dan de gaafste uitdaging van het klimbos aan. Vanaf bovenaan de klimtoren kun je met een echte zipline over het water heen vliegen. Je haakt aan, springt van het plateau en geniet van de vrijheid terwijl je over het water heen zweeft. Aan de andere kant klim je nog een stukje hoger om terug te vliegen naar het klimpark. Eenmaal met beide benen weer aan de grond heb jij laten zien een echte adrenaline junkie te zijn!
Voor het klimpark geldt een 1.30 meter eis, te kleine/lichte personen kunnen het klimpark niet in. Het maximale gewicht is 120 kg  

Veel gestelde vragen:
Wat is een klimpark?
Het klimpark van Fundustry bestaat uit diverse onderdelen waar je fantastisch kunt klimmen. Op grote hoogte in bomen en palen, kun je verschillende parcoursen volgen, attracties beklimmen en samen opdrachten doen!
Met hoeveel personen kun je klimmen in het klimpark?
Het klimpark van Fundustry is vrij groot en er kunnen meerdere personen tegelijk in terecht. Per parcours kunnen max twee personen tegelijk klimmen. Ben je met een grotere groep? Geen probeem! Je kunt eerst even kijken naar hoe je vrienden het parcours beklimmen en daarna kun je zelf aan de slag!
Hoeveel kost een klimpark?
Bij Fundustry kun je kiezen uit diverse arrangementen samen met het klimpark. Wil je alleen het klimpark volgen? Dan betaal je €17,50. Wil je twee activiteiten volgen inclusief BBQ of kipmenu? Dan betaal je €79,95 en als je 3 activiteiten wilt volgen en een BBQ/kipmenu inclusief onbeperkt drinken, betaal je maar €99,95!
---
Boek Klimpark
Het leukste actieve uitje boek je gemakkelijk en snel. Direct een datum reserveren en betalen, meteen klaar voor het leukste dagje uit! Heb je een cadeaubon gekregen? Dan kun je de ontvangen code tijdens het boeken invullen. Boek dan het juiste uitje waar je een cadeaubon voor hebt. De prijs wordt dan automatisch verrekend.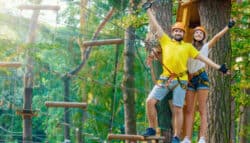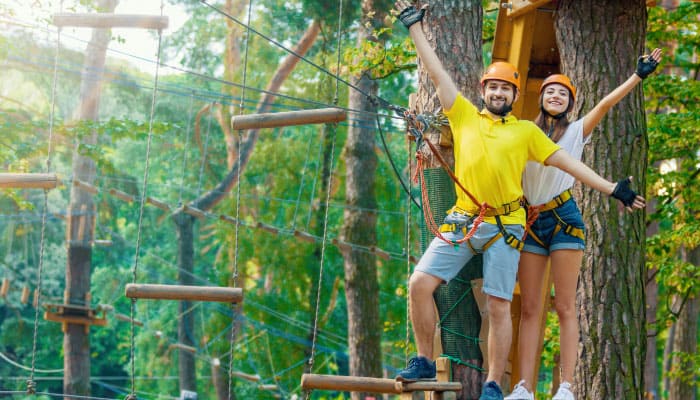 Is je groep te groot om te boeken?
Vraag dan een offerte aan!
Cadeaubon Klimpark
Op zoek naar een leuk cadeau? Ga voor een cadeaubon voor het klimpark in Nijmegen en verras je vriend(in) met een spannend uitje! Gemakkelijk en snel bestel je een cadeaubon, even afrekenen en binnen 2 minuten een mooie cadeaubon in je mailbox. Klaar om uit te printen en cadeau te geven! Wie ga jij verrassen met dit uitje op grote hoogte?!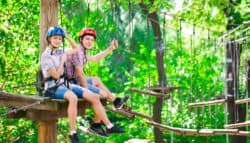 ---