Top-5 Kinderfeestjes
Bij Fundustry heb je de keuze uit verschillende activiteiten. De top 5 leukste kinderfeestjes hebben we hieronder voor je op een rijtje gezet. Dit zijn de activiteiten: Kinderpaintball, een Lipdub videoclip maken, klimmen in een Klimpark, outdoor Lasergamen en zelf je eigen zeep maken. Aan het einde van dit blogartikel wordt uitgelegd hoe je het beste/makkelijkst een kinderfeestje kunt organiseren.
Voor alles omtrent kinderen is ' Meer voor mama's ' de perfecte pagina. Op deze pagina lees je bijvoorbeeld hoe je een kinderfeestje het beste kunt organiseren en geven ze je ook tips en ideeën voor leuke kinderfeestjes.
1. Kinderpaintball
 
Kinderpaintball is een erg leuk kinderfeestje voor kinderen die houden van actie en spanning. Paintball is daarom ook een kinderfeestje dat perfect is voor stoere jongens en meisjes die avontuurlijk ingesteld zijn. Te gekke games en missies zullen een paintball verjaardagsfeestje maken tot een middag die nooit vergeten zal worden. Over dit feestje zal nog lang nagepraat gaan worden op het schoolplein.
Tijdens paintball wordt er met kinderwapens geschoten, deze doen dus niet heel erg pijn. Door de adrenaline zal het kind er nog minder van voelen. Het spelen tegen een ander kinderfeestje maakt het paintballen nog leuker. Samen met je vriendjes of vriendinnetjes kun je tegen een ander team strijden. Hoe stoer is dat?! Het Paintball kinderfeestje is voor jongens en meisjes vanaf 8 jaar.

2. Zelf een Lipdub maken
Tijdens een 1,5 uur durende Lipdub videoclip Lipdub Videoclip , zullen de kinderen echte sterren worden. Een Lipdub is een videoclip waarbij de kinderen playbacken op een liedje. Daarbij doen ze verschillende dansjes en kleden ze zich zo gek of zo mooi mogelijk aan. Het kinderfeestje start met de keuze van een liedje. Daarbij zal de jarige de keus hebben tussen liedjes zoals Happy van Pharell Williams & Uptown funk van Bruno Mars. Natuurlijk mag de jarige ook kiezen voor een eigen nummer. Het Lipdub videoclip kinderfeestje wordt gezien als een gezellige middag waarin veel gelachen wordt.

3. Klimmen in een klimpark
Een kinderfeestje in het Klimpark is erg leuk voor de avonturiers onder ons. Het klimpark bestaat uit 10 geweldige attracties. Dit zijn klimroutes op 3 en 6 meter hoogte, abseilen, een vrije val en nog veel meer. Uit de 10 attracties mogen de kinderen er 3 kiezen. Er is ook een Zipline (High Voltage), die over het water gaat, aanwezig. De kinderen moeten hier wel minimaal 1,40 meter voor zijn. Deze eis is er omdat te kleine/lichte personen niet aan de overkant kunnen komen.  Het kinderfeestje in het klimpark zal 1,5 uur duren en zou in combinatie met boogschieten gedaan kunnen worden.

4. Outdoor Lasergamen
Tegenwoordig erg populair is het kinderfeestje Lasergamen Lasergamen . Je kunt het kinderfeestje Lasergamen vergelijken met het kinderfeestje Paintball. De adrenaline, actie en spanning zijn bij beide feestjes hetzelfde. Het enige verschil is dat je bij het Lasergamen niks voelt wanneer je geraakt wordt. Tijdens het Lasergamen gaat de jarige met zijn vriendjes of vriendinnetjes op verschillende unieke missies en worden er verschillende games gespeeld. Het kinderfeestje lasergamen zal worden afgesloten met boogschieten. De wapens voor zowel het Lasergamen als het boogschieten zijn geschikt voor kinderen vanaf 8 jaar

5. Zelf Zeep maken
Voor de Crea Bea's onder ons is het kinderfeestje Zeep maken Kinderfeestje Zeep maken een erg goede keus. Tijdens het 1,5 uur durende kinderfeestje gaan de kinderen zelf verschillende soorten zeep maken. Allereerst gaan ze gezamenlijk een Cake zeep maken, dit is een gezamenlijke zeep in een cake vorm. Vervolgens gaan ze diverse figuurtjes zoals badeentjes en bloemetjes maken. Hiervan maken ze er twee per persoon. Aan het eind van het feestje maken de kinderen zelf een zeepketting die ze vervolgens thuis ergens op kunnen hangen.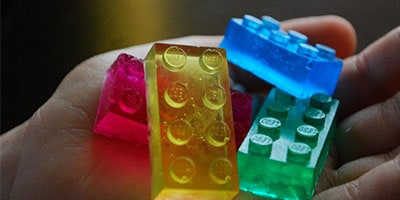 Kinderfeestje organiseren? Zo doe je dat! 
Bepaal eerst samen met je kind wat voor soort kinderfeestje het gaat worden. Wordt het een kinderfeestje binnen of buiten de deur? Wordt het een actief of een rustig kinderfeestje? Dit zijn belangrijke vragen die je aan jezelf en aan je kind kunt stellen. Zo kun je al vaak een paar kinderfeestjes schrappen en blijven er een stuk minder over.
Vervolgens kun je kijken hoeveel vriendjes en/of vriendinnetjes de jarige uit wilt gaan nodigen. Waarschijnlijk zijn dit er een stuk meer dan dat jij in gedachten had. Vaak willen kinderen iedereen uitnodigen waar ze ooit mee gespeeld hebben. Probeer er daarom samen met je kind uit te komen dat alleen kinderen uitgenodigd worden waarmee je kind vaak speelt.
Probeer ook van tevoren al andere ouders of verzorgers te vragen of ze kunnen rijden en misschien zelfs de middag kunnen blijven. Het is natuurlijk niet fijn om er helemaal alleen voor te staan. Extra ogen zijn daarom altijd fijn, al helemaal wanneer het kinderfeestje ergens wordt gehouden waar het erg druk is.
Wil je alle ins en outs lezen over de organisatie van een kinderfeestje? Lees dan op Meer voor Mama's het blog met tips voor het organiseren van een kinderfeestje. Hierin leggen ze gedetailleerd uit hoe je het beste een kinderfeestje kunt organiseren!
---