Vrijgezellenbingo: 25 opdrachten
Vrijgezellenfeestje op de planning? Maar geen zin of inspiratie om zelf allerlei opdrachten te bedenken? Geen nood, dat hebben wij al voor je gedaan. Download hieronder de gratis vrijgezellenbingo van Fundustry en daag de aanstaande bruid of bruidegom uit met 25 leuke, foute en gekke opdrachten. Lees snel verder, want er valt ook nog iets mee te winnen voor de hele groep.
Hoe werkt het?
Download de gratis vrijgezellenbingokaart van Fundustry.
Print hem uit op dik papier of plastificeer het.
Hang de kaart aan een koordje om de nek van de vrijgezel en laat hem of haar alle opdrachten op willekeurige volgorde uitvoeren.
Geef de vrijgezel de tijd. Hij of zij mag er de hele dag over doen!
Neem een dikke stift mee. Heeft de vrijgezel een opdracht volbracht? Dan komt er een kruis doorheen.
Heeft de vrijgezel 5 opdrachten op een rij weggestreept? Dat is BINGO! En bij bingo hoort een prijs natuurlijk, dus leef je uit.
Het is de bedoeling dat de vrijgezel net zo lang doorgaat tot dat de hele kaart is afgevinkt. Wat de beloning voor deze prestatie is, kunnen jullie natuurlijk helemaal zelf bedenken.
Let op: er zijn 3 opdrachten die jullie zelf moeten bedenken en invullen!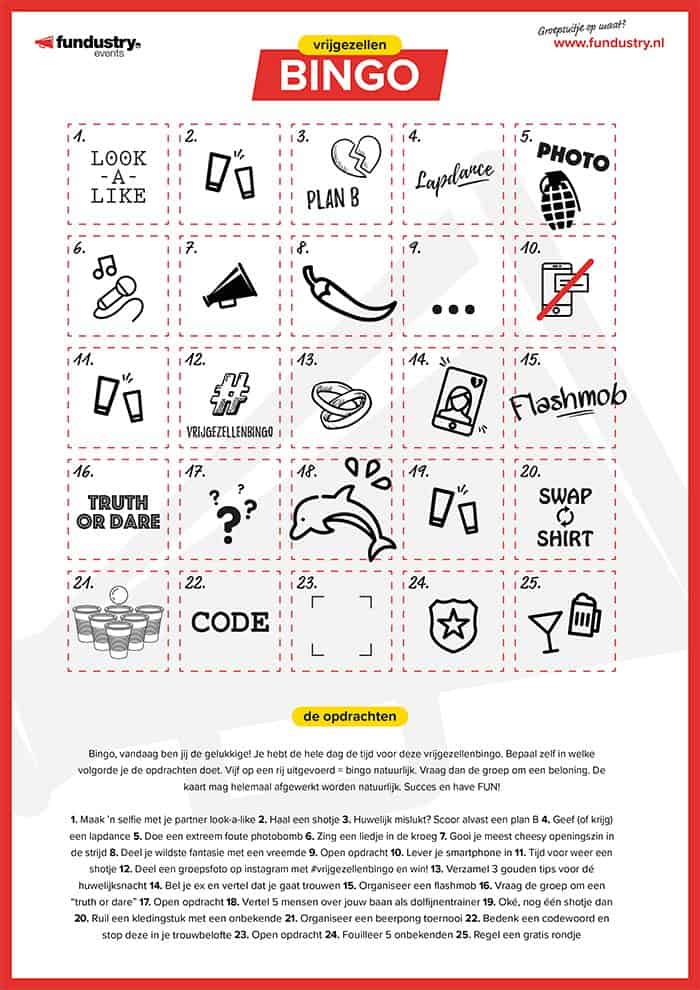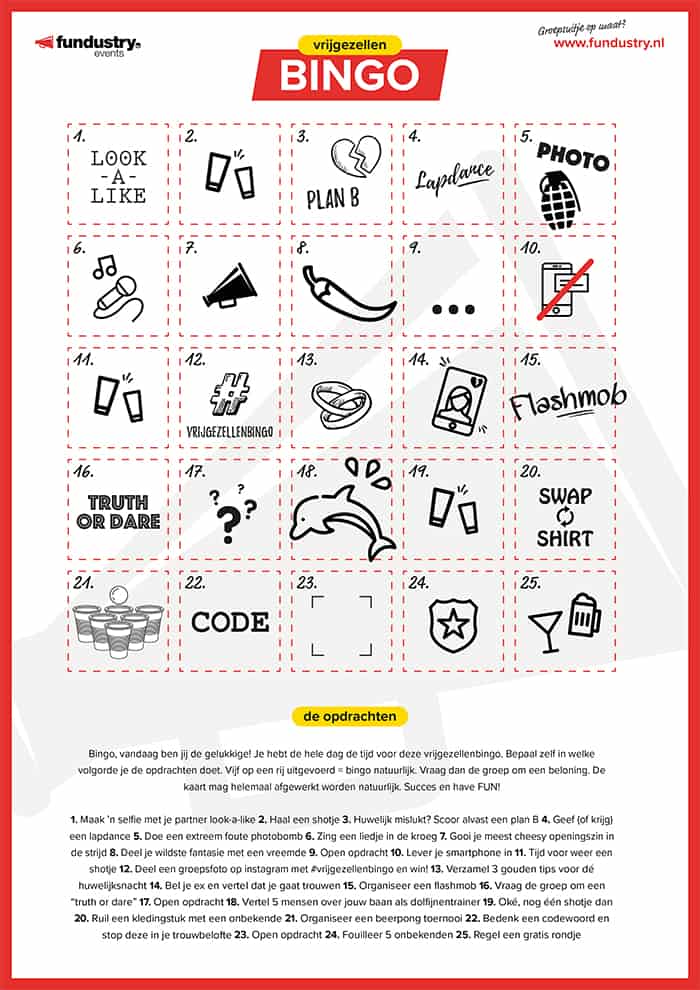 Winactie #vrijgezellenbingo
Extra leuk: een van de opdrachten is een winactie. Die staat in vakje nummer 12. Hoe werkt het?
Maak een foto van de vrijgezel tijdens een van de opdrachten van de vrijgezellenbingo
Plaats de foto op Instagram, Facebook of Twitter
Vermeld #vrijgezellenbingo in je bericht
De leukste foto van het seizoen wint een gratis potje paintballen of airsoft met de hele groep. Zodat jullie de vrijgezellendag nog eens dunnetjes kunnen overdoen!
Bekijk hier snel de voorwaarden

---
Meer over Vrijgezellenfeesten
---