Welk type bedrijfsevenement?
Er zijn verschillende mogelijkheden als het aankomt op het organiseren van een evenement. Wil je een nieuw product presenteren, een jubileum vieren of gewoon jouw bedrijf op de kaart zetten? Bepaal het doel van jouw evenement en kies zo uit één van de mogelijkheden. De focus zal zo liggen op het doel van het evenement. Je wilt natuurlijk resultaat halen. Ga netwerken, laat de mensen kennis maken met je bedrijf of introduceer een nieuw project aan je medewerkers. Wordt het evenement heel formeel of juist lekker informeel? Ongeacht wat de formaliteit van het evenement is moet er toch gezorgd worden voor een goede sfeer. Fundustry biedt feestelijke bedrijfsevenementen aan, kijk eens naar ons aanbod!
Wat is de beste locatie voor een bedrijfsevenement?
Het zoeken naar een toplocatie voor jouw bedrijfsevenement kan ook een uitdaging zijn. Geef je een bedrijfsfeest dan is een externe locatie misschien een goed idee, een open dag wordt natuurlijke op eigen locatie georganiseerd. Denk goed na over wat de intentie van het evenement is. Wil je jou bedrijf op de kaart zetten of wil je een dag goed vergaderen met je werknemers? Dit zijn belangrijke vragen bij het kiezen van de locatie. Bij Fundustry is het in ieder geval geen probleem een perfecte locatie te kiezen. Zo kan het op eigen locatie, een externe locatie of op een van de leuke locaties van Fundustry. Lees meer over het kiezen van de perfecte locatie voor jouw bedrijfsevenement!
Hoe regel je de catering op het evenement?
De catering op jouw evenement is niet iets waar je op moet besparen. Een koude soep die geserveerd wordt of niet genoeg drinken tijdens de borrel. Je wilt niet dat dit op jouw evenement voorkomt. Zorg daarom voor het juiste personeel in het juiste thema van het evenement. Op een bedrijfsfestival zijn foodtrucks erg populair terwijl er bij een open dag misschien meer behoefte is aan een heerlijk buffet. Bij Fundustry regelen we de catering voor het gehele evenement. Zo kun jij weer aan de slag met andere dingen. We zorgen voor enthousiast personeel dat de hele dag/avond voor de gasten klaar staat met de lekkerste hapjes en drankjes!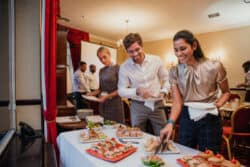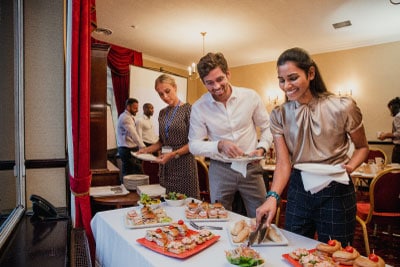 Hoe promoot je het evenement?
De ontvanger van de uitnodiging moet tijd vrijmaken voor jouw evenement. Zorg ervoor dat je uitnodiging er mooi en strak uitziet. Verstuur de uitnodiging op tijd zodat de gasten de datum vrij kunnen houden. Vergeet bovendien niet de dresscode te vermelden. Daarnaast kan er op de website of op social media kanalen promotie gemaakt worden. Met behulp van een mooie reclame in het thema van jouw evenement trek je de aandacht van de gasten.
---