Mannen en vrouwen vrijgezellenfeesten
Er zit natuurlijk een groot verschil tussen vrijgezellenfeesten van mannen en van vrouwen. In dit blogartikel ga ik een aantal leuke en grappige activiteiten benoemen die leuk zijn voor mannen vrijgezellenfeesten en een aantal die leuk zijn voor vrouwen vrijgezellenfeesten.
Verschil vrouwen en mannen
Doordat er zo een groot verschil zit tussen de man en de vrouw is dit natuurlijk ook goed te merken tussen de vrijgezellenfeesten van de mannen en die van de vrouwen. Mannen zijn over het algemeen wat lomper en grover en dit is ook te merken in de activiteiten die ze doen tijdens hun vrijgezellenfeest. Vrouwen daarentegen zijn over het algemeen wat netter en meer bescheiden, wat ook weer te merken is in de activiteiten die vrouwen voornamelijk doen.
Mannen vrijgezellenfeesten
Hier onder vind je een aantal typische vrijgezellenfeest activiteiten voor mannen:
Paintball
Om mee te beginnen een klassieke vrijgezellenfeest activiteit die het altijd goed doet, paintball! Bij paintball is het doel om de tegenstanders te raken met paintballs. Paintball kent veel spelvarianten zoals; Team Deathmatch, Capture de Flag, Free-For-All en natuurlijk de bunnyrun. Bij de bunnyrun geldt de ongeschreven regel dat de vrijgezel deze moet lopen en zijn vrienden en familie hem dus mogen beschieten gedurende de vrijgezel het veld over rent. Zo vergeet de vrijgezel in ieder geval niet snel meer zijn vrijgezellenfeest. De vrijgezel krijgt, nadat hij de Bunnyrun heeft gedaan, van ons een heerlijk koud biertje om even mee bij te komen!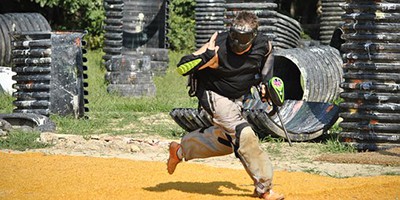 Highland games
Een andere activiteit die je kunt doet tijdens een vrijgezellenfeest zijn de Highland Games. De Highland Games bestaan uit 4 verschillende onderdelen; touwtrekken, bandflippen, vatrollen en paalwerpen. In Schotland is dit een typische mannensport die gespeeld wordt tijdens de traditionele clanspelen, echt een mannen uitje dus! Dit wordt gedaan in 2 verschillende teams en aan het einde wordt gekeken welk team er gewonnen heeft.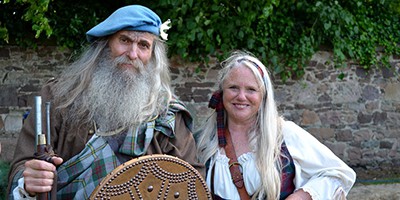 Vrijgezellenfeest Mens Special
Deze activiteit is voor de echte diehards en voor de mannen die van een echte uitdaging houden. Tijdens deze activiteit ga je op een, speciaal daarvoor aangelegd parcours, met de quad rijden en kun je jouw vrienden eindelijk laten zien wie nog echt de snelheidsduivel is. Nadat je dit hebt gedaan stap je met de groep in een ruige terreinwagen en ga je een stuk offroad rijden.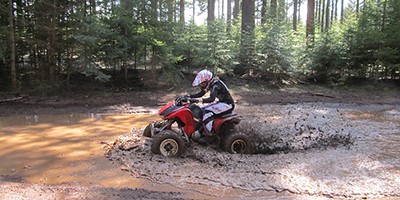 Vrouwen vrijgezellenfeesten
Hieronder vind je een aantal typische vrijgezellenfeest activiteiten voor vrouwen:
Paintball
Je zou misschien denken dat voornamelijk mannen met hun vrijgezellenfeest gaan paintballen, maar dit is niet helemaal waar. Steeds vaker komen vrouwen met hun vrijgezellenfeest ook paintballen. Het is erg leuk om te doen en je kan het zo ruw maken als dat je zelf wilt. We hebben zelfs roze overalls voor de vrouwen, dus daar kan het niet aan liggen.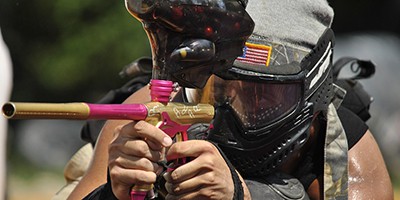 Women Bachelor
Met deze activiteit kun je onder andere een sushi workshop doen, houten huisjes bouwen, een solex game tour rijden en segway rijden. Tijdens deze activiteiten krijg je professionele begeleiding en alle benodigde materialen. Dit is een erg leuke activiteit voor stoere vrouwen! De activiteiten variëren per pakket, klik op de link en check wat de mogelijkheden zijn per pakket!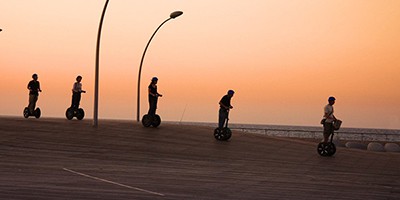 Wie is de mol
Vinden jullie Wie is de mol ook zo een leuk programma of hebben jullie gewoon zin om een middagje lekker te puzzelen? Dan past dit uitje perfect bij jullie. Bij dit uitje ga je met jouw groep de stad in om daar vervolgens verschillende opdrachten uit te voeren, deze opdrachten leiden uiteindelijk tot de mol. Tijdens deze activiteiten krijg je professionele begeleiding en alle benodigde materialen.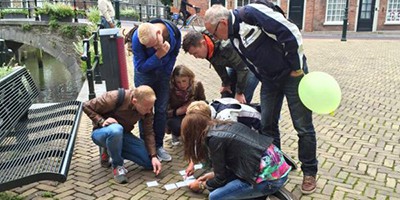 Boek een onvergetelijk vrijgezellenfeest!
Lijkt jou een van bovenstaande ideeën nou echt super leuk of ben je toch opzoek naar iets anders, kijk dan gauw op onze website en boek jullie onvergetelijke vrijgezellenfeest!
Vrijgezellenfeest vieren op locatie
Wil je een vrijgezellenfeest vieren in een grote stad? Dan kun je terecht op onze volgende pagina's:
---