Workshop Graffiti
Spuit erop los!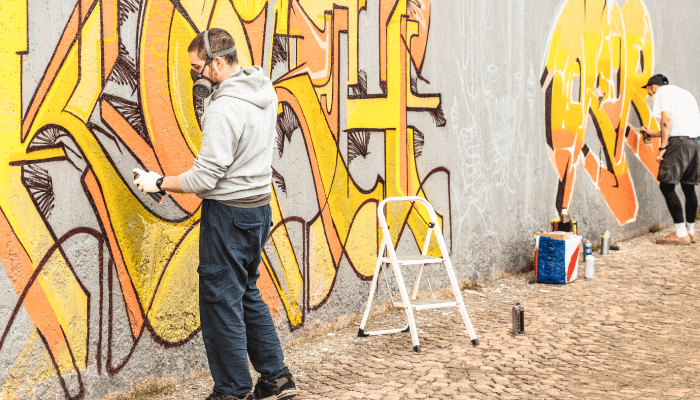 ✓

Workshop Graffiti Spuiten
Boek direct
Fundustry XL Deal
Compleet pakket!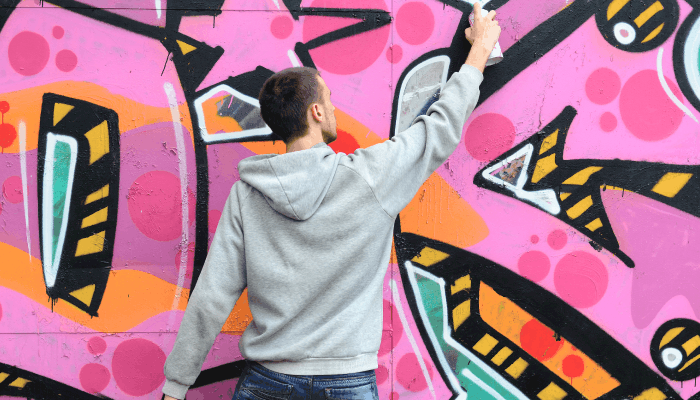 ✓

Koffie met Muffin

✓

Workshop Graffiti Spuiten

✓

Kipmenu incl. drankje
Fundustry XXL Deal
Meest populair!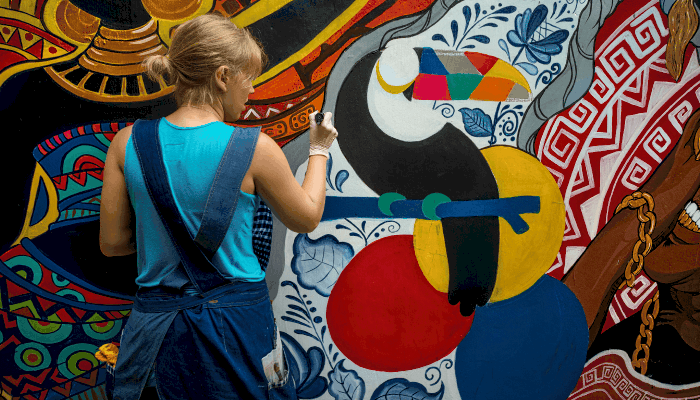 ✓

Koffie of Prosecco met Muffin

✓

Workshop Graffiti Spuiten

✓

Extra activiteit naar Keuze

✓

Keuze uit BBQ of 3 gangen menu
---
Deze bedrijven zijn al fan!



---
Workshop Graffiti Spuiten
Heb je zelf altijd al eens een Graffiti kunstwerk willen maken of ben je erg creatief, maar heb je nog nooit een graffiti kunstwerk gemaakt? Dan is de Graffiti workshop perfect voor jou. Tijdens deze creatieve workshop maak je je eigen unieke kunstwerk geheel naar eigen wens. De Graffiti Workshop is geschikt voor zowel mannen als vrouwen. De workshop kan op een Fundustry locatie of op een locatie naar keuze gegeven worden. Het is tijdens de Graffiti workshop wel handig om oude kleren aan te doen.
Ontwerpen en Spuiten
Tijdens de Graffiti Workshop ga je eerst een ontwerp maken van wat jij mooi vindt. Denk bijvoorbeeld aan graffiti letters, je eigen graffiti naam, een portret of een sjabloon. Je kunt het zo gek maken als je zelf wilt. Dit ontwerp ga je vervolgens met potlood op een schildersdoek van 60x80cm schetsen. Wanneer je tevreden bent over je ontwerp ga je deze met een spuitbus op waterbasis inspuiten. Er zijn ook opzetstukjes aanwezig om je kunstwerk zo gedetailleerd mogelijk te maken. Wanneer je tevreden bent over je creatie, dan mag je deze meenemen naar huis om je kunstwerk op een mooi plekje neer te zetten of op te hangen.
Spuitbussen op waterbasis
Er wordt gewerkt met spuitbussen op waterbasis. Deze spuitbussen worden gebruikt omdat je deze makkelijk binnen kunt gebruiken zonder dat daar nare gevolgen aan zitten. Ook is verf op water basis geur arm, snel drogend, niet vergelend, elastischer en beter voor het milieu! Verf op waterbasis is niet per definitie uitwasbaar, voor het grootste gedeelte wel, maar spetters zijn op eigen risico!
Groepsuitje
De Graffiti Workshop bevordert de samenwerking binnen een groep. De workshop bevordert de samenwerking binnen een groep omdat je elkaar kunt helpen of samen kunt brainstormen over bepaalde ideeën. De Workshop is dus erg geschikt voor bijvoorbeeld een vrienden- of vriendinnen dag, bedrijfsuitje, personeelsfeest of vrijgezellenfeest.
Upgrades
Bij de basis workshop Graffiti krijgt iedereen 1 schildersdoek. Wanneer het 'extra' pakket gekozen wordt, dan krijg je als groep een gezamenlijk doek extra. Dit zou tijdens een bedrijfsuitje erg leuk zijn omdat je dit doek dan bijvoorbeeld in het kantoor op zou kunnen hangen. Bij het uitgebreide pakket krijgt een ieder 2 schildersdoeken. Zo kun je twee in plaats van één kunstwerk maken.
Thuis Graffiti Spuiten
Deze workshop op eigen locatie houden is ook mogelijk. Voor eventuele prijzen kun je terecht bij 'Boek direct'. Een workshop kun je al doen met een klein gezelschap vrienden of familie. Uiteraard hebben we ook genoeg plek voor grotere groepen.
Combineer dit geweldig uitje met een heerlijk menu!

---
Boek Graffiti Workshop














Is je groep te groot om te boeken?
Vraag dan een offerte aan!
---